The University of Tennessee student body held its annual Student Government Association elections this spring. However, things were much different than in years past.
Due to the world facing a pandemic, the election process was entirely foreign to all campaigns in the running. They had to think in ways they never had before and utilize forms of communication more efficiently than ever.
The election was also different this year, though, because the UT student body elected its first-ever Black woman SGA president: Karmen Jones.
Although all campaigns worked diligently and creatively this spring, the Change campaign came out on top, with Karmen Jones reaching this incredible milestone as the first Black woman SGA president. But, this feat was not achieved easily.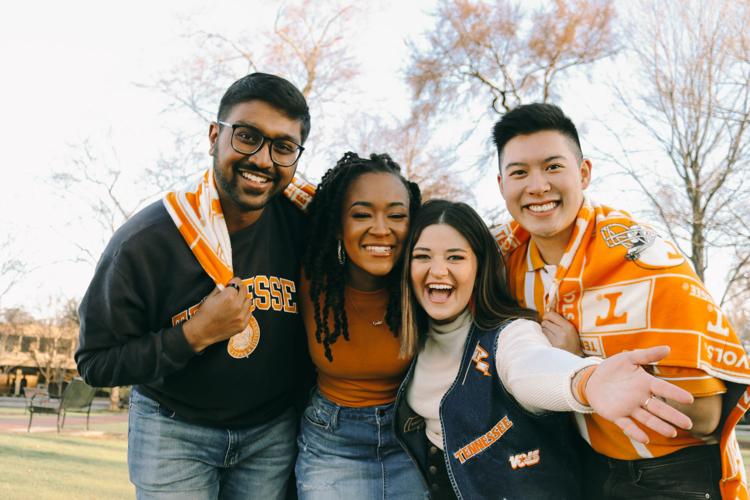 Of course, the pandemic created many issues for all campaigns involved, but Jones faced other difficulties and had other experiences on her way to becoming SGA president.
It all started Jones' freshman year at UT in First Year Council. She started with various leadership roles, taking things step-by-step to see what she could do inside the organization. However, Jones noticed a few things during her time in FYC.
"Being one of the few Black women in SGA at the time, a lot of times I was very aware that I was being tokenized in certain settings," Jones said.
"I was also aware that every year I got closer to the [SGA] election season that I could participate in or control, I knew that usually Black people wouldn't run for number one; they always ran for number two. They were kind of willing to be a token in that role, because a lot of times they are used in that way when it comes to campaign season here at UT."
Jones adds that she was asked countless times by her peers if she was going to run for vice president, which is the role they assumed she would go for. Jones challenged this assumption, though, feeling that going for the vice-presidential position would not be beneficial to the student body or to herself.
Crediting a book by Stacey Abrams entitled "Minority Leader: How to Lead from the Outside and Make Real Change," Jones mentions that Abrams informs minority leaders that they have to work to break their own glass ceilings.
Jones says that with this book and a lot of prayer, along with a great team at her side, she was able to make it to the position.
Abrams' book also encouraged Jones to put herself out there more than she had previously.
"As a woman, and as a Black woman, you struggle sometimes with [wondering], 'Am I capable? Am I actually qualified?' But, the fact of the matter is that if you're Black and a woman, more than likely you're working two or three times harder than the people around you anyways. You worked hard to get into that space," Jones said.
"First, I had to overcome the inner obstacle of, 'Am I really worth this position? Am I on the same level as my predecessors?'"
Additionally, Jones had to deal with naysayers who "didn't know how she would do in racialized situations." There were several people who discouraged her from running for SGA president, even though she spent time working on diversity and inclusion in her FYC experience during her freshman year.
Jones is used to having these hard conversations, but she was still faced with confrontations from those who did not believe in her. Jones and her campaign dealt with many difficult situations in which they had to maintain poise and keep pushing against the odds, but she is thankful that the student body saw her campaign's vision for UT and chose them to lead.
Another trial Jones has faced is misunderstanding.
"I had to deal with people mistaking my being very pro-Black for being anti-other things. That's not what being pro-Black is. Ultimately, it all worked out. But now, in the role of president, it's hard because … I don't think people really understand the line that a majority of people of color [executives] have to walk when we walk into these spaces of power and influence," Jones said.
"We don't have the privilege to approach administration in the same way that, maybe, a white liberal person would, because we are automatically called 'aggressive.' … The way that people of color and our exec. have to navigate this is completely different than any other year."
Meanwhile, the SGA presidential role comes with other unanticipated challenges. Jones adds that, unfortunately, there is no guide to being SGA president. Plus, the added problems of the pandemic, along with racism, have created an entirely new and unique battle that Jones has faced.
The experience thus far, though, has been great for Jones, thanks to her faithful executive team.
"I have a great team, and I really love my exec.; I value them, we help each other in all the capacities that we can," Jones said.
Emma Kate Hall, student services director for SGA, shared similar sentiments of warmth for her colleague.
"I met Karmen my first semester at UT, and I was immediately struck by her spirit. Her empathy guides everything she does, and that's exactly what makes her such a dynamic and encouraging leader. It's rare to find someone with such ambition and high expectations who is truly motivated by serving others and only pursues opportunities that make things better for the people around her," Hall said.
"Karmen is not just a strong leader, but also a steady teammate. She would go to the ends of the earth for anyone on her team, and as student body president that now includes all Vols."
Hall has also noticed that Jones has a knack for being a student leader and wants the best for the student body.
"Karmen's heart belongs to the service of others, and there's nothing she won't do to advocate for change for the benefits of students on this campus. She makes me a better leader, a better student and a better Vol, and we are all better off for knowing her," Hall said.
It is clear that there is a tangible feeling of togetherness within the SGA executive team, led by Jones. While there is great teamwork, though, it does not mean that holding the position is an easy task.
"This role is different," Jones said. "When you look at it from an external lens, like when I was watching other student body presidents, I didn't know that it would be all of this. I get what [previous presidents] were saying when [they] said it was the toughest job. You're not just being a public figure; you're managing a whole student-led department."
According to Jones, being SGA president is also much more than just taking photos and doing public relations; there is an entire managerial aspect to the position.
Jones is both honored and grateful to hold such an influential position that the UT student body has entrusted her with, and it reaffirmed some of her doubts.
"[Becoming SGA president] reaffirmed that maybe I'm doing something right in life, and maybe I'm not a dumb college student that doesn't know how to navigate this," Jones said.
"It gave me a lot more confidence. When I walk into a room, I just know that, 'hey, you worked hard to be here, you have the ability to take up space and you deserve to take up space.'"
The position holds numerous responsibilities, though, and Jones ensures that this is not simply a position of '"clout."
"There are a lot of endless nights, a lot of fixing things, trying to work with people … it's a lot. You don't really get a lot of time to rest," Jones said.
Despite the trials Jones and her team have faced and will face, she adds that she loves her position, and she is looking toward the future and is excited to see where what she has learned and experienced will take her next.