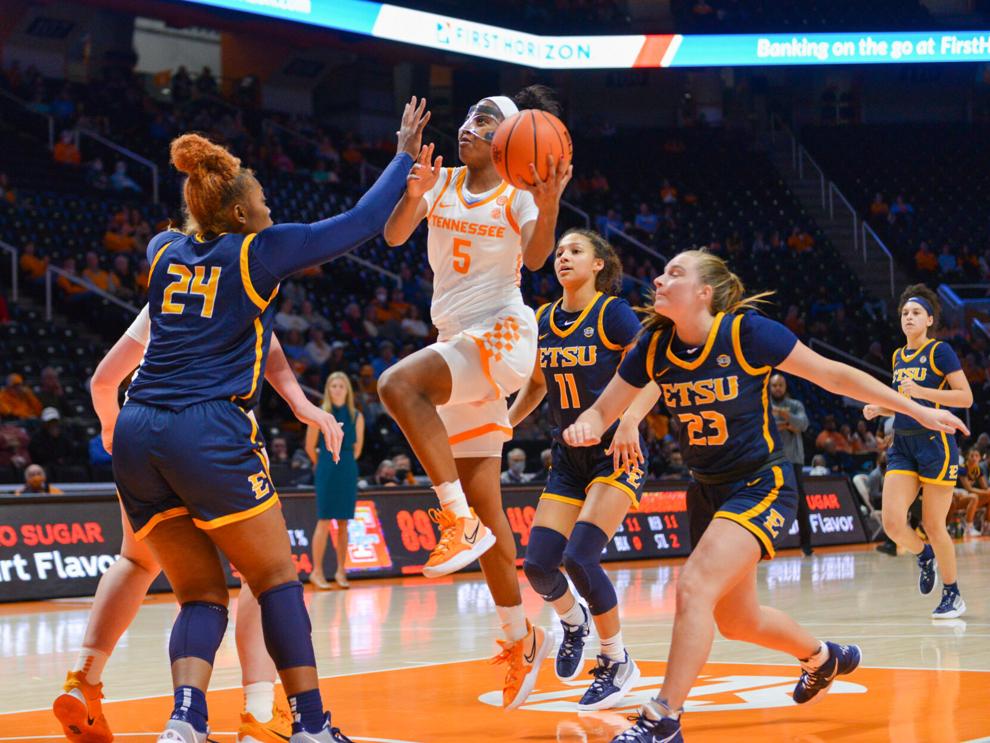 The Tennessee women's basketball team faces off against in-state foe East Tennessee State on Monday night after falling to third ranked Stanford Saturday. 
This will be the 28th time these two teams face off, and for the seventh consecutive season. 
The Lady Vols took the win in last season's contest 67-50, as they were led by Rae Burrell who put up 20 points. 
Tennessee leads the all-time series 24-2-1, and looks to win for the 22nd straight time against the Bucs dating back to 1971.
"I will say this, I talk very openly about this every single year with every team I've ever coached. I might have to go back and check it someday, but my teams don't check out," head coach Kellie Harper said. "They will not check out on Monday. It is not an option." 
The Lady Vols are coming into the game following their first loss of the season in the top-10 clash to the Stanford Cardinal, 74-63. The loss snapped a 10-game home winning streak, which dated back to Jan. 24, 2021.
"I did tell them if we're not going to learn from this loss, then why'd we lose? So, let's just go ahead and learn from it. I think part of what we're going to learn is positive and part is negative," Harper said. "The positives: we know how we need to play, we know what needs to look like. I think today, we've got to find more consistency."
Rae Burrell has been out since the season opener with a knee injury, but the Lady Vols have plenty of depth to fill the void left by Burrell. 
Jordan Horston leads the Big Orange in points per game and assists with 16.2 points and 4 assists a game, respectively. She is second on the team in rebounds with 9.8 per game. 
Tamari Key anchors the Lady Vols in the middle, averaging 8.8 points per game, 9.7 boards a game and 3.8 blocks per game. Her block average a game currently ranks her No. 1 all-time in a season for the Lady Vols, and it's second best in the nation. 
Through 10 games this season, eight different players have scored in double figures for the Lady Vols, including seven in multiple games.
In every game this season, at least one Lady Vol has recorded a double-double. Key leads the team with 6 – including one triple-double – followed by Horston with 5.
ETSU comes into the in-state matchup riding an eight-game losing streak, following a 61-48 loss to Jacksonville State on Thursday night. 
The Bucs come into Knoxville with a 1-10 record, and have lost all seven of their road games. 
Head coach Simon Harris is in his first season at the helm at ETSU. Harris previously spent the 2020-2021 season as an assistant at Ohio State, and had stints at NC State and Dayton. 
ETSU is led by Carly Hooks and Damiah Griffin, as they lead the team in scoring. Hooks averages 9.6 per game and Griffin tallies 8.3 a game. 
The Bucs have been scrappy on defense through 11 games this season, averaging 9.4 steals a game, but can only muster 54.8 points per game on offense.  
"We'll have a holiday get together with our team tomorrow as well. I think that will be really good after this loss," Harper said. "Sometimes, you just need to be with your teammates after a tough loss."
"They'll come very motivated on Monday. I'll be honest with you, I think they would have anyway. That's how much confidence I have in their competitiveness."
Harper looks to pick her ninth win against in-state foes at 6:30 p.m. EST at Thompson-Boling Arena.