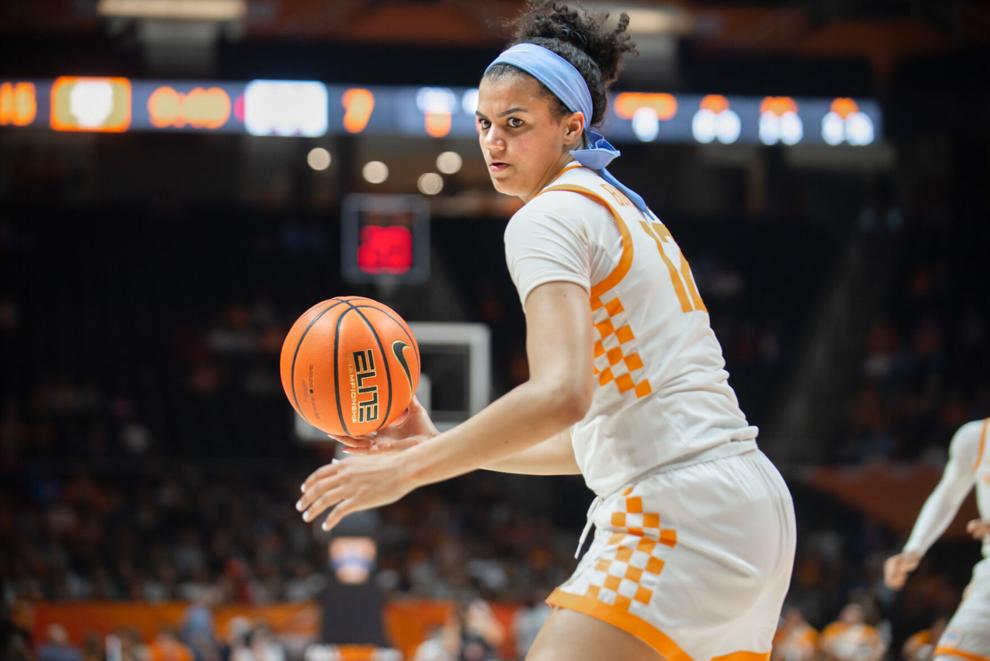 The Lady Vols came into Thompson-Boling Arena on a two-game losing streak, needing a win to stay in the top-4 of the SEC standings. 
On the other side, Mississippi needed a win to bolster their resume, and separate themselves from a four-way tie for seventh place in the SEC. 
Coming to Rocky Top is no easy contest, and the Bulldogs found that out the hard way, falling to the Lady Vols 86-64.
"Really, really proud of our team today," head coach Kellie Harper said. "I thought we made a lot of really good plays. I thought our defense was consistent for the majority of the game. I thought we were tough. I thought we shared the ball extremely well. I thought we were patiently aggressive offensively and I think our team played with a lot of confidence."
The Lady Vols have been riddled with injury all season, and tonight Harper and company were without back-up point guard Brooklyn Miles. 
"Brooklyn did not play tonight for disciplinary reasons," Harper said. "It's a one game suspension."
Without Miles, Tennessee was hit with more adversity, but this team has shown it can overcome any challenge in front of them. The Lady Vols jumped out to an eight point after the first frame after holding Mississippi State to shoot only 18% from the floor. 
The Bulldogs, however, woke up in the second frame, finishing the quarter shooting 42% from the floor and 40% from range. 
Tennessee only led by three points at the half, and it looked like it was in the direction of another close matchup. Coming out of the half, the Lady Vols had other plans. 
The Big Orange opened the third quarter on a 21-2 run and scored its most points in a quarter this season, erupting for 30 points. UT shot lights out 71% from the floor and 83.3% from beyond the arc.
"I feel like we come out of the locker room pretty aggressive offensively," Harper said. "I think we feel good about what we're doing. I wish I could say it was some magic that I'm telling them at halftime, but I think it's just their mindset when they come out to start the second half. They've had an aggressive attitude and outlook and I think it's helped us."
Tess Darby led the charge in the third quarter, shooting perfect from downtown, draining three three-pointers. Darby tallied her career-high with 17 points, six field goals made and five 3-pointers made.
"Having confidence that my teammates have in me, it's rubbing off on me," Tess Darby said. "I know they want me to shoot the ball and I just have to do that whenever they give me the ball to open up for others. It's fun, but whenever you're winning and you have other teammates that are having huge nights as well it makes playing even more fun. This team's fun to play with."
Jordan Walker also finished the quarter going perfect from the floor in the third period, going 3-for-3 from the floor, scoring 7 points in the frame. Walker had an all-around stellar performance, dropping 9 points, dishing out 7 assists and grabbing a season-high 8 boards. 
"I'm pretty proud of those numbers," Jordan Walker said. "I like to say I'm a big guard, obviously I'm not, but as we had ground to make up, I like being in there getting rebounds and push it out in transition. I know it'll help my team."
The Lady Vols outscored the Bulldogs 30-16 in the third quarter and led 60-43, heading into the fourth quarter. Tennessee carried the momentum in the final frame, shooting at an impressive clip of 63.2% from the floor and 50% from 3-point range. 
The defense was suffocating all night long, holding the Bulldogs to 36% shooting from the floor and 26% from the 3-point line. 
The star of the night for the Lady Vols was center Tamari Key. Key has been on a tear in the last three games, and continued that trend Thursday, finishing with her third straight double-double. She tallied 23 points and 15 rebounds. 
"I feel like my teammates were just giving me the ball with great positions to finish," Key said. "This is really good for us. I feel like we had a really great effort versus South Carolina. We kind of got back to ourselves and had fun in that game. I feel like we carried that into today's game."
The Lady Vols' center had another block party downlow tonight, tallying 6 blocks. With her outing, Key is now only 12 blocks away from claiming sole possession of the all-time blocks leader in Lady Vol history, only trailing Candace Parker. 
"I think it's surreal when I see everybody talking about it on social media," Key said. "I'm kind of just like 'oh that's cool.' I'm not the type of person to congratulate myself on things like that. But Candance Parker, she's amazing. To be able to be first all-time would be special."
It was an all-effort from top to bottom from the Lady Vols. Every single player dressed tonight for UT saw court action and four of the five starters scored in double-figures Thursday. 
"I think it's critical that we share the ball and we find open looks and understand that needs to come from everybody," Harper said. "I think at this point, we've talked a little bit about what we need to do offensively. We made some tweaks since we lost Jordan (Horston) and I think our team is really feeling confident with how we need to play and what it needs to look like. It's sharing the basketball, it's spreading it around, and finding the open shot wherever and whoever that is."
With the win Thursday night, the Lady Vols officially lockup up a double-bye in the SEC tournament next week, and for all the ups and downs this team has been through, it's a testament to how hard this team has worked together. 
"I'm really happy, given everything that we've gone through, all the ups and downs that we're still in position to lock up the double-bye," Harper said. "That's a pretty big deal. Proud of our team for hanging in to get to that point. Just happy that this team played well, happy that they're confident, and right now it's more about how we're playing. Getting that double-bye after what we've gone through, really proud of them."