On June 12, former Tennessee men's golf head coach Jim Kelson announced his retirement after a tenure that spanned a decade. Nearly a month to the day, Brennan Webb took the podium at the Ray & Lucy Hand Digital Studio as the team's new head coach, making him just the sixth head coach in the program's history.
"It's part of the reason I am so excited and the thrill that I got when Coach (Phillip) Fulmer called me," Webb said during his introductory press conference on Friday. "It just goes to show what a special place this is. To have only six coaches in the history of the program, people don't ever want to leave here."
Webb comes to Knoxville by way of Murfreesboro, Tenn., where he spent the last three seasons as the head coach at Middle Tennessee State. He was named the 2018 Conference USA Men's Golf Coach of the Year after leading the Blue Raiders to a conference title and an NCAA regional.
Other accolades from his stint at Middle Tennessee were 14 different top-five finishes, as well as five first-place finishes in various tournaments.
Prior to his coaching career, Webb, a native of Ontario, Canada, played collegiate golf at East Tennessee State University from 1997 to 2001. He then played professionally for over nine years before serving as an assistant with South Florida and Georgia Tech.
His plethora of experience both as a player and a coach were what drew Director of Athletics Phillip Fulmer to pick Webb out of a pool of candidates.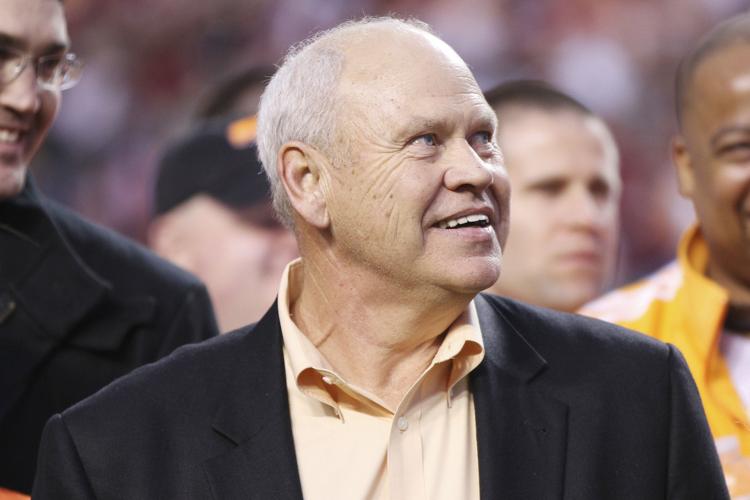 "In the process of meeting Brennan (Webb) and spending time with him, there were so many positives coming out of the visits," Fulmer said. "So many people around the state and nationally have tremendous respect for him.
"It became pretty obvious that he was going to be the best choice pretty early."
Another aspect that has garnered an outstanding reputation for Webb has been his ability to recruit, not just within the Southeast, but in the state of Tennessee. Recruiting was just another reason for Fulmer to hire the young head coach.
"During our conversations and meetings, Brennan (Webb) consistently talked about recruiting," Fulmer said. "On a national level, bringing young men who are playing the highest level of golf in the country. It became obvious that he's a great evaluator of talent."
A key to recruiting in collegiate athletics is facilities, and Tennessee has already broken ground on a new practice complex for the golf program. The facility was something Webb took notice of and he believes it will go a long way with his already-impressive recruiting resume.
"I loved my time at Middle Tennessee," Webb said. "I knew if I was going to leave there it was going to be for a place that had everything. With the completion of that practice facility, there is no excuses. There is nothing else that we need.
"There is nothing else any other man needs that wants to come here and be a professional golfer. I'm going to make sure my guys know there is no excuses. We're going to get going and that building will be the final step."
For Webb, there were several reasons to take the Tennessee job despite only having three years under his belt as a head coach at the college level. Facilities, of course, were a big draw, as was competing in the SEC and having the ability to recruit at a higher level.
But one of the biggest reasons for Webb and his family to make the move to Knoxville was East Tennessee, a place he is all too familiar with due to his collegiate years.
"The people," Webb said of what drew him to stay in Tennessee. "First and foremost, the people. It's obviously beautiful geographically, but it was very soon after I found out when I got here how special the people were from this area. I look forward to being a part of this community again."