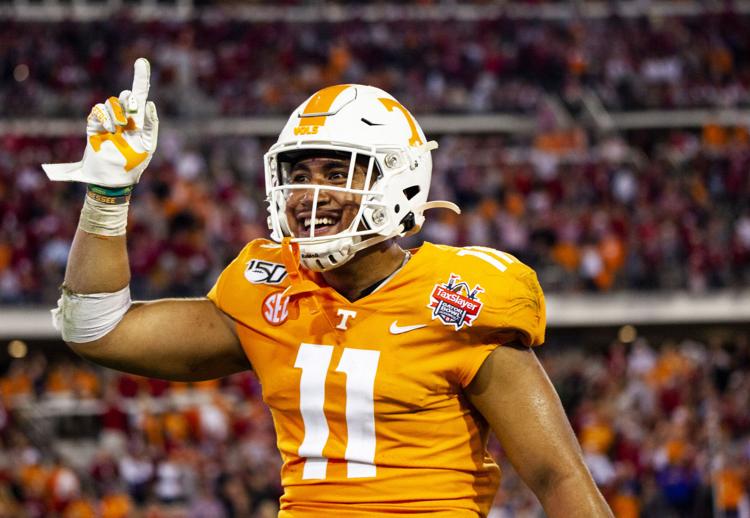 During Tennessee's rollercoaster 2019 season, one of the consistent bright spots for the Vols was the play of freshman star Henry To'o To'o. The young linebacker from California's powerhouse De La Salle High School quickly became a key part of the Tennessee defensive unit, playing in all 13 games, starting 12.
He finished the year with 72 tackles and a place on the SEC All-Freshman Team as well as beginning 2020 on the Watch Lists for the Bronko Nagurski Trophy, Butkus Award and Bednarik Award. While he was unavailable for comment during fall camp, Tennessee Media Relations provided an episode of their in-department podcast The Slice, where To'o To'o talked about how his Samoan-Tongan heritage.
"I'm Samoan-Tongan. … The main center of each culture is family -- faith. Coming from the Polynesian culture, we're huge on those two things," To'o To'o said.
To'o To'o grew up in an impoverished area of Sacramento, Calif., south of town in a home of eight -- at times, 10 — people. As To'o To'o recounts, his early surroundings contained gang violence, and his family helped him and his siblings through.
"It's kind of a rough neighborhood, lot of violence, lots of gangs around there. My parents did a great job of keeping us out of that," To'o To'o said. "My mom and dad were big on football. They kind of raised [us] up around playing football, but the way my dad raised us was using football to be a way to get an education. … The way my dad taught us, education is the key to all things, having knowledge about things."
As for what family means to him, To'o To'o spoke very highly of the bonds and support family provides in Polynesian cultures.
"Family is huge, being from the Polynesian culture background. We're centered around family. Family is everything to us. When in doubt, when the whole word turns against you, your family will always be there. Your family will never turn their back on you. They will always be the one you can turn upon," To'o To'o said.
To'o To'o holds his family to the highest regard and knows he can always turn to them for inspiration.
To'o To'o further explained how Polynesian culture impacts the way his family dynamic is extremely tight knit.
"I love my family to death, all my brother and sisters, all my cousins that I grew up with. I don't really call them cousins because we have a relationship that I call them my brothers and my sisters. I love them that much that I can have that tight of [a relationship] and that is how it is in the Polynesian culture," To'o To'o said.
The influence of To'o To'o's Samoan-Tongan heritage even affects how he plays the game of football.
". I think I just want to make the best impression. I want to be able to make everyone that is of Samoan and Tongan, or everybody that is related to me, I just want to make them proud," To'o To'o said. "That's the biggest part, it's to be able to make everyone around me happy and to make them proud, to make them know that I'm trying the best for them."