The Tennessee Lady Vols dropped a highly contested, five-set thriller to No. 7 ranked Pittsburgh on Sunday at Thompson-Boling Arena.
An eventful first set started out with the Lady Vols grabbing a short lead before Pittsburgh assembled a scoring run to take a four point advantage. Tennessee was able to close the gap, despite playing behind Pittsburgh for most of the set, tying the score at 19 and taking the lead on a Morgahn Fingall block at the net to force Pitt to take their first timeout.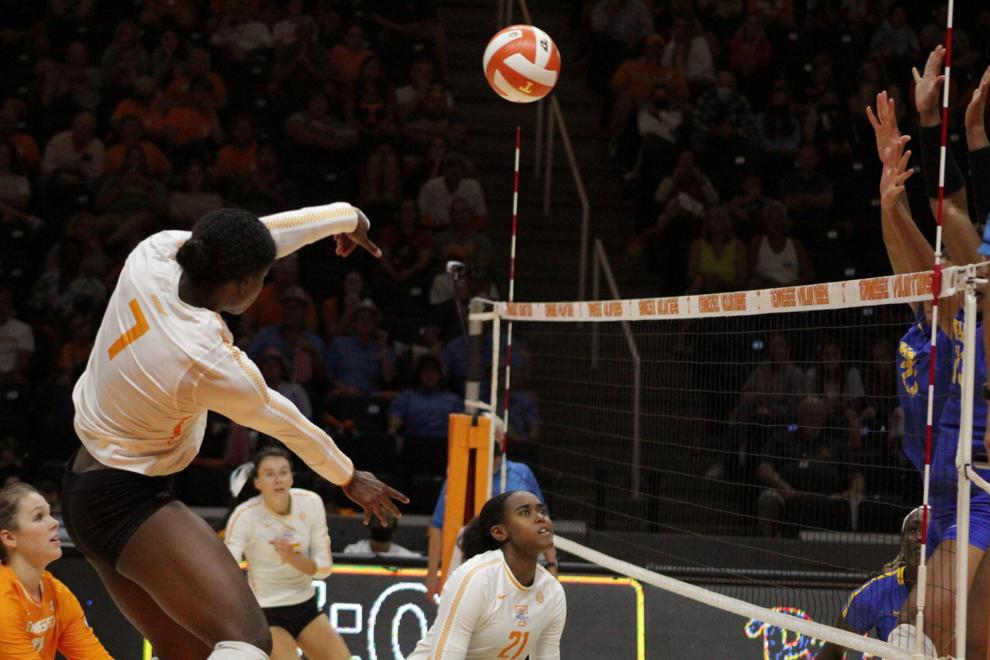 Coming out of the timeout Pitt responded with a four point swing to take a 23-20 lead. After a service error by Lily Felts Pittsburgh had set point with a 24-21 score.
Tennessee refused to go away, scoring two more points to cut the lead to just one. Pittsburgh finally wrapped up the set win on a Breanna Runnels hitting error with the final set score of 25-23.
Tennessee came out on fire to start the second set. A 7-1 run had the Lady Vols ahead 10-6 which forced Pitt to call a timeout that helped the Panthers regain some momentum, win three straight points and cut into the Tennessee lead. Tennessee responded again, scoring five unanswered points.
Tennessee continued to have success for the remainder of the second set and watched their lead continue to grow. The Lady Vols' blocking and hitting had a massive uptick in success compared to their first set which ultimately led to a Tennessee set victory in comfortable fashion 25-16.
The third set was a back and forth contest, as neither side was able to break through and grab control. Eventually, Tennessee mounted a scoring run that put them up 12-9 when Pitt decided to take a timeout to regroup.
Pitt answered the Tennessee run with a 3-0 run of their own to tie the highly competitive set at 12. The set continued to stay close between the two sides with 17 ties and four lead changes in the third set alone.
With the set tied at 22, the senior tandem of Danielle Mahaffey and Natalie Hayward combined for a clean block, gaining the upper hand for the Lady Vols. After a massive kill by Breanna Runnels, the Lady Vols had set point at 24-23 and failed to convert as Pittsburgh was able to respond with a clean kill.
Pittsburgh clinched the set on their second set point with a block at the net with the score being 28-26
Pitt jumped out early in set four, but Tennessee was able to hang around and answer later in the set. With neither team able to gain a substantial advantage, Tennessee mounted a scoring run that put them up by a score of 21-15. The Panthers answered with a four point run of their own, cutting it to 21-19 before Tennessee was able to regroup and ultimately winning by a score of 25-20 to send the match to a decisive fifth set.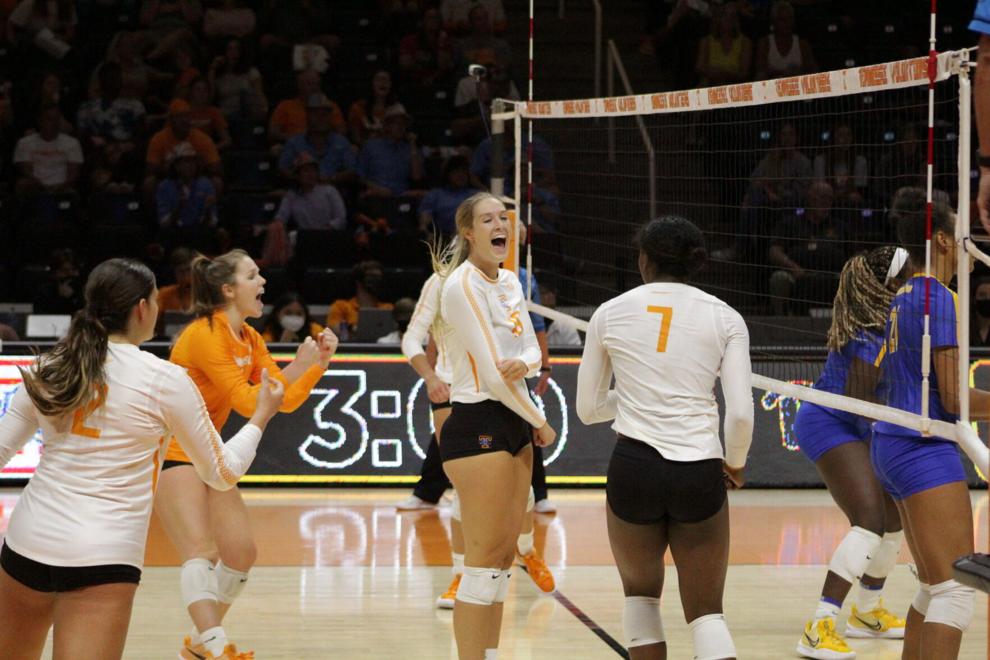 The Lady Vols chased the Panthers for most of the final set. After a spike by Pittsburgh, Tennessee committed a hitting error to lose the fifth set by a score of 15-10.
Tennessee will be back in action at the end of next week when they take on Morehead State on Friday. First serve is set for 7 p.m. EST.