The Tennessee volleyball team defeated Alabama at Thompson-Boling Arena Friday night. Tennessee swept the Crimson Tide 26-24, 25-16, 25-18, and pushed their winning streak to three matches. 
"We played them 12 days ago," said assistant coach Tyler Adams. "It was kind of a unique, quick turnaround. They played great in the first set and had a bunch of chances to win. We fought. And after that first set, we settled down a little bit and executed at a much higher level."
With this win, Tennessee has swept the season series against the Crimson Tide. The two teams faced off 12 days ago with Tennessee winning in three sets. With the win, Tennessee moves  above the .500 mark as they now stand 13-12, and 7-8 in the SEC, while Alabama falls to 12-14, and 4-11 in the SEC. 
Lady Vol outside hitter, Tessa Grubbs, finished with a game-high 14 kills. She came to life in the final set with seven kills on just 10 swings. She ended the match with a .571 hitting percentage, a match high, and hit .600 in the final set.
Tennessee's offense played well all night as they finished with a .385 hitting percentage. This stands as their fourth highest hitting percentage in the series during the rally scoring era. Other offensive contributions came from Danielle Mahaffey and Morgahn Fingall as they combined for 18 kills. 
"They managed a lot of tough situations," Adams said. "They got a lot of bump sets from our libero. They got a lot of bad ball situations and they did a good job, either scoring or putting pressure on Alabama. That is a huge stride for those two."
Mahaffey finished the match with a career high .550 hitting percentage and 12 kills. Fingall ended with six on a .308 hitting percentage. Addisyn Rowe tacked on eight kills, a mark she has reached in four of her last five matches. 
"I just wanted to keep the ball in play and be patient," Mahaffey said. "We always talk about being patient and waiting on the ball, waiting for your time to come. Whether the set is there or not just be patient and keep the ball in play. It was good for me to be patient."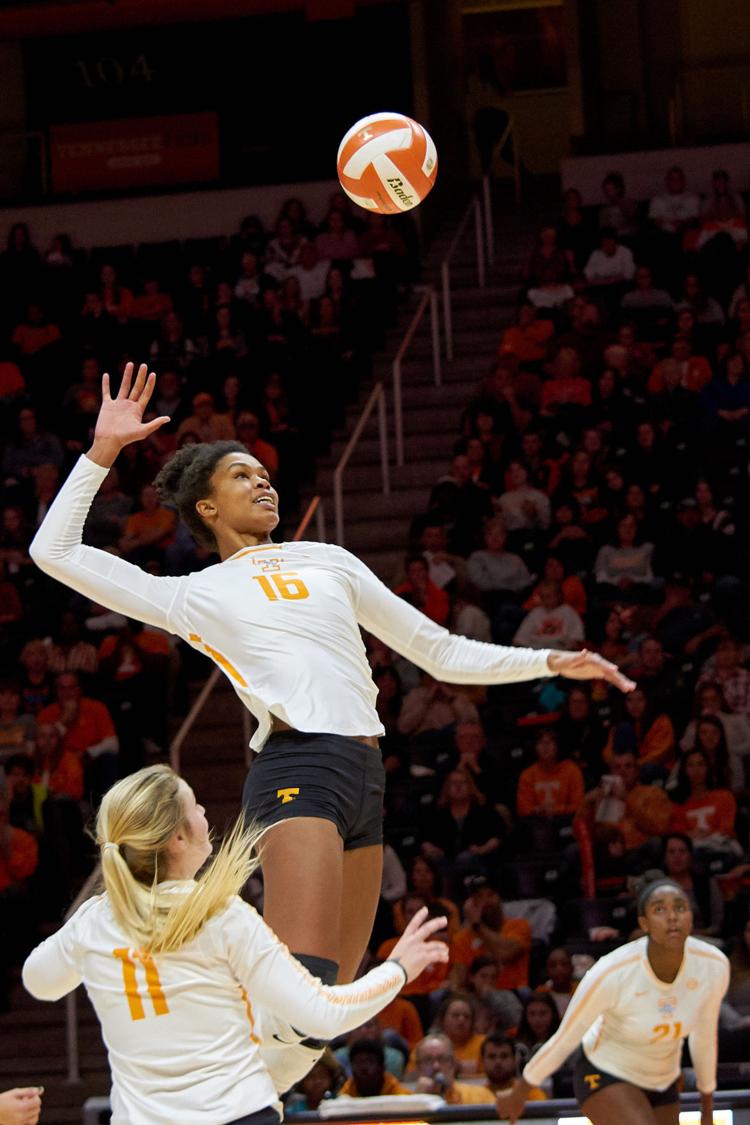 Alabama's Doris Carter was held to just seven kills this match, after she had 14 in their previous bout. She also finished with a .120 hitting percentage. No players from Alabama finished with more than nine kills. 
With the win, Tennessee moves passed Ole Miss in the conference standings and are just one game back from LSU in the SEC.
Now the Lady Vols await Missouri to continue their three-game homestand. In their last meeting, Tennessee lost in four sets, but Grubbs finished with an SEC-best .436 hitting percentage and notched 20 kills.