The Tennessee Volleyball team defeated Mississippi State at Thompson-Boling Arena on Sunday.
The Lady Vols won in three sets (25-15, 25-15, 25-23) and improved to 9-7 with a 3-3 SEC record, while the Bulldogs dropped to 11-7 with a winless record in SEC play that now stands at 0-5.
Historic Win
Sunday's victory over Mississippi State puts this series into the history books. This was Tennessee's 48th win against the Bulldogs which puts them tied with Georgia for the most wins over a single opponent in school history.
"I think that speaks to the history of the program and what these girls are able to do," head coach Eve Rackham said. "I also think nothing could have been more fitting than doing it on our alumni weekend. These amazing alums paved the way for the girls to be able to do this today and I am proud of that from a program standpoint and proud of our history with what our teams have been able to do."
Tennessee secured the victory in part of their stellar defense. Tennessee has held their opponents under a .100 hitting percentage in two of their last three matches. The Lady Vols only gave up 30 kills in the match, which ties the fewest kills allowed by Tennessee in conference play this season.
"We all had a big family talk," said Tessa Grubbs. "We know what we need to do, it is all on us. We know that we can control the tone and we needed to come back and take that over and to try to take this team back."
The tone was set in the first frame as the Lady Vols allowed a -.028 hitting percentage. Mississippi State's hitting percentage during the second and third sets only got up to a combined .014. 
The Lady Vols vs. Mississippi State
Old Habits Die Easy
Tennessee's two home losses this season came after they won the first two sets in each of their matches against Virginia and LSU. Coach Rackham stressed being able to finish matches even when her team is up 2-0. Fortunately for the Lady Vols, they were able to close this match out.
"Our team talked with each other and I think figured out a few things and they were just able to have a direct conversation with one another about what they needed from each other, said Rackham. "They came out today on the same page and I felt like that was really obvious."
Their victory was aided by outside hitter Lily Felts who led the team in kills, with 11. Alyssa Andreno tallied six of her 10 kills in the third set. She also finished with a match-high .588 hitting percentage.
Sedona Hansen recorded a double double, which stands as her 55th in her career. She got their by having a match-high 22 assists and 10 digs. 
"I think that we will point to this weekend as a turning point for our players, said Rackham. "After a really tough loss on Friday night, and now being able to bounce back and win is a lot harder than people may think from an emotional level. I think our team grew up a little bit this weekend and hopefully going forward we can use this as a reference for some more positive play."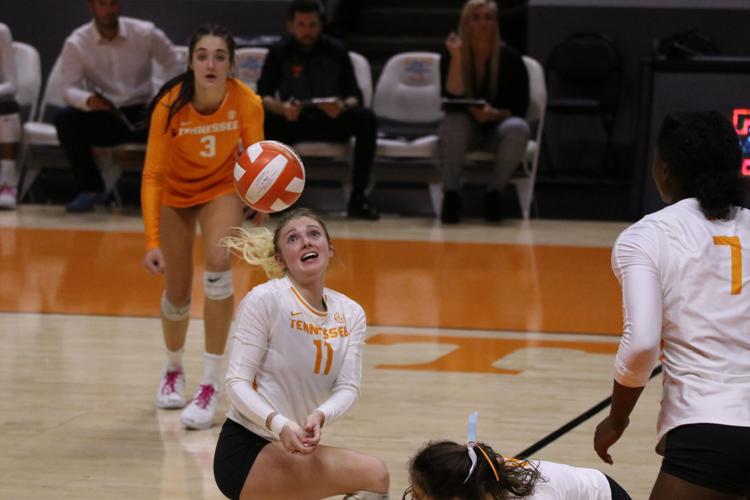 Extending the Kill Streak
Tessa Grubbs finished the match with 10 kills. She has reached double digit kills in every match this season. Grubbs has also reached this mark 35 out of the last 36 matches. 
"It is definitely from lots of practice, said Grubbs. "My setters delivering great balls and the middles hold the block for me so well that they really create opportunities for me which helps me out in a big way."
Up next, Tennessee welcomes Kentucky to Knoxville on Wednesday to close out the Lady Vols three game homestand.