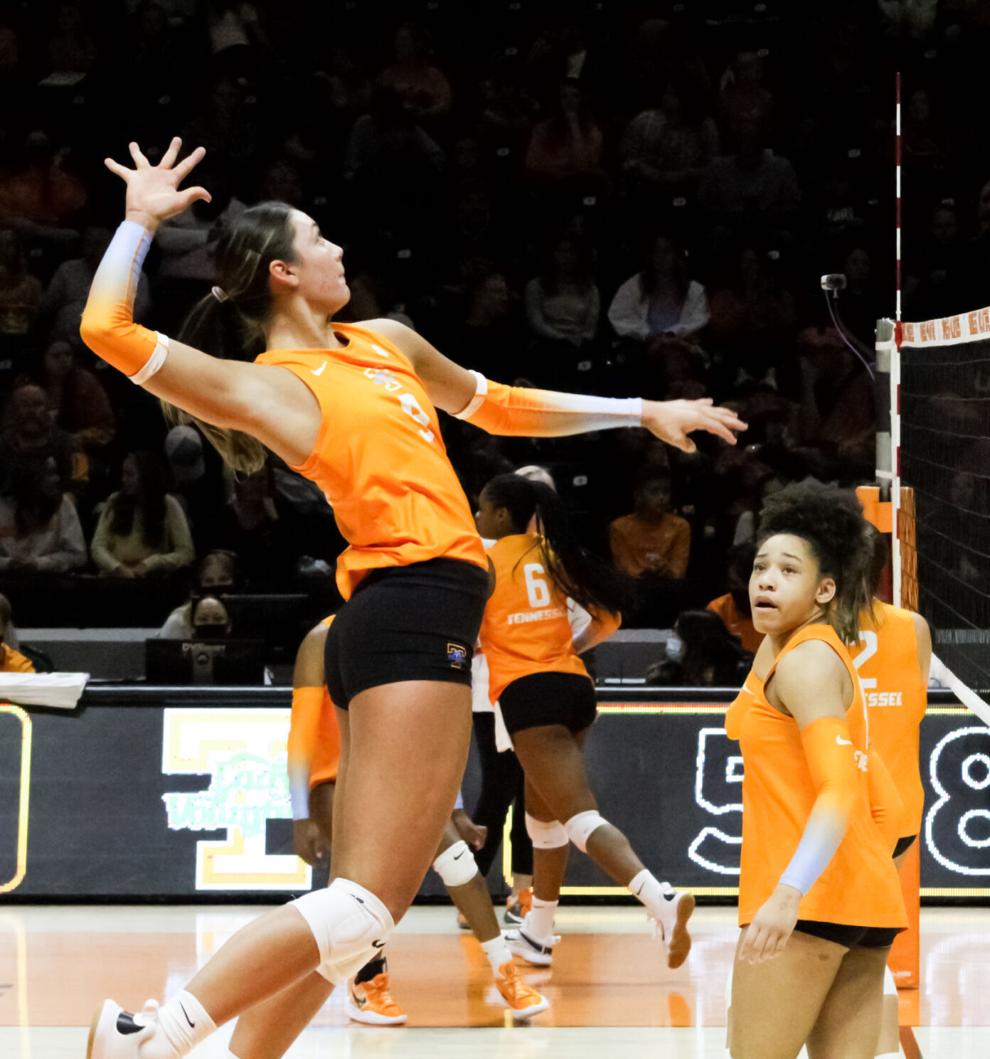 The Tennessee volleyball team hits the road to take on Missouri in the final match of the season Wednesday. The mid-week matchup will give the Lady Vols a chance to finish with 20 wins on the season.
"We're definitely looking forward to playing our last SEC match and trying to finish the season on a strong note," head coach Eve Rackham-Watt said. "We're also trying to find a few ways to continue to get better and use this match as an opportunity to improve."
Tennessee (19-8, 11-6 SEC) comes into this matchup fresh off two stellar performances against Alabama. During the two-game home series, the Lady Vols notched 87 kills, 26 blocks and 110 digs in just six sets. Outside hitter Breanna Runnels was on another level leading the team in kills in both matches with 17 in game one and 9 in game two.
Defensively, the Lady Vols are playing top-notch volleyball. Middle blockers Ava Bell and Danielle Mahaffey have been able to shut down any momentum of their opponent with ease.
If the Lady Vols can shutdown Missouri quickly, they will have a good chance to come home with the win.
"We've been talking as a team about these next nine practices we have before the NCAA Tournament," Mahaffey said. "We want to make sure that however much we can get better — we are doing that even if it's one more play or one more point."
Missouri (4-24, 1-14 SEC) has been struggling this season. The Tigers have lost nine of their last 10 matchups and are currently on an eight-game losing streak. Junior outside hitter Anna Dixon leads Mizzou with 339 on the season. As a team, they average a .188 hitting percentage on the season.
Fortunately for the Tigers, the Lady Vols have had difficulty on the road. Tennessee is 5-5 when playing on the road. That record, paired with a quick turnaround and limited practice time, could be an issue.
"It's kinda been like this all season long with this SEC schedule," Rackham-Watt said on playing on Wednesdays. "We've played clumps of matches and then had long stretches of no matches. It's just part of what we've had to adapt to this year. This team is used to it, this week is just another one for us."
The last time these two teams played was in 2020 at Thompson-Boling Arena, where Tennessee took both matches against Missouri. The Lady Vols will hope to do it again Wednesday at 8 p.m. EST.
"I think this group has been really invested all year long in wanting to have a good season," Rackham-Watt said. "They've had really high goals starting back even last spring and going into the summer and in the pre-season. I feel like they've stayed committed to those goals throughout the year and continue to get better and fight through adversity. I'm just proud of where we are and excited to extend the season as long as we can."