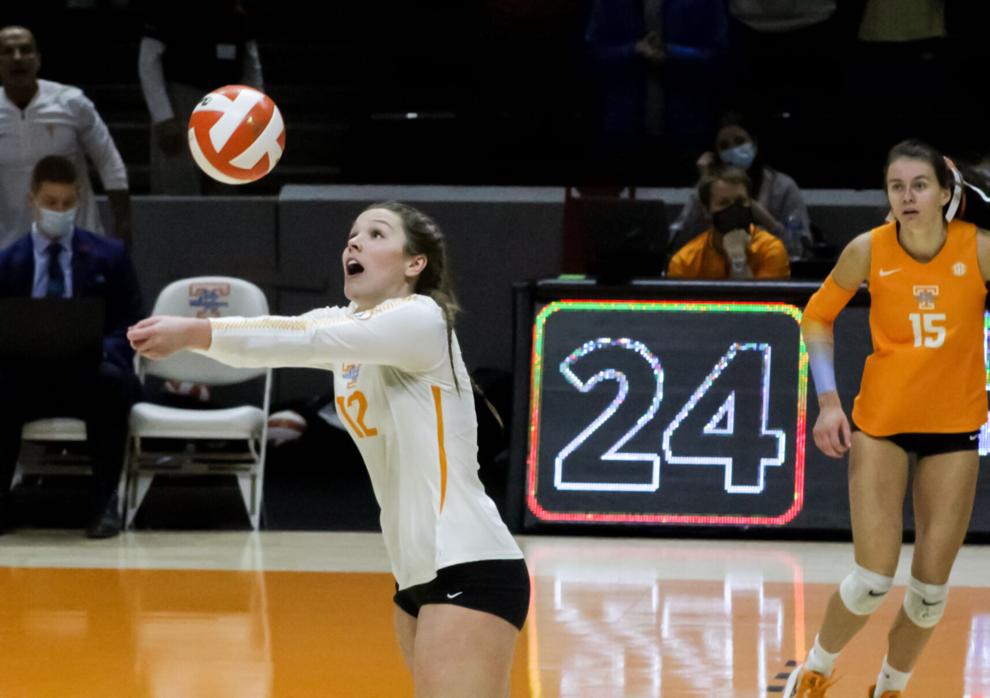 The No. 24 ranked Lady Vols will be on the road in Starkville, Mississippi this weekend for a two-match set against the Mississippi State Bulldogs.
Tennessee is coming off a strong straight-set victory over Ole Miss, which put an end to its 3-game skid.
"I was really excited about our response on Sunday," head coach Eve Rackham Watt said. "Ole Miss is a good team and they were playing well."
Tennessee got a strong showing from Breanna Runnels who picked up a double-double with 11 digs and a team high 14 kills.
With the victory, the Lady Vols moved to 17-6 overall on the season and 9-4 in conference play. Their record is good enough for fourth place in the conference standings
Looking forward to the weekend, Mississippi State enters the match with a 20-5 overall record, in addition to an impressive 11-2 record in conference play, with just one conference loss at home this season.
On offense, the Bulldogs are led by senior Gabby Waden. The Columbia, South Carolina, native is eighth in the conference in hitting percentage, hitting .343, and has over 120 more kills than any other player in the top-ten with 341.
On defense, the Bulldogs get the majority of their production from sophomore Lily Gunter. She is sixth in the SEC with 3.95 digs per set just ahead of Tennessee's Madison Bryant.
"They're a good defensive team," Rackham Watt said. "They play really hard and they have two good attackers who have been putting up good numbers."
As for the Orange and White, Tennessee looks for continued success out of senior middle blocker Danielle Mahaffey.
"Danielle is having a great year in the middle considering her newness to the position," Rackham Watt said. "She hasn't played a lot of middle and now I feel like she is really hitting her stride."
Mahaffey is currently second in the SEC with 1.38 blocks per set, and fourth in hitting percentage at .384.
On offense, the Lady Vols continue to showcase an impressive balanced attack. Runnels leads the team with 258 kills, followed by senior Morgahn Fingall with 248, and Knoxville native Lily Felts with 214. In addition to Runnels, Fingall and Felts, Mahaffey and Ava Bell have chipped in with 131 and 116 kills, respectively.
In addition to her 116 kills, Bell has led the conference in hitting percentage, with a .455 conversion rate on her attacks. Bell's mark is good enough to for fifth in all of Division I volleyball.
Both matches this weekend are set to begin at 2 p.m. EST and can be streamed on SEC Network+.