Eve Rackham is a person of many talents.
She is a writer and majored in journalism while in college at North Carolina. However, she is not much of a math or science person, which is a fact she proclaims herself. Forming words comes natural to her.
She is a teacher, not by trade but by choice. While her stage for imparting wisdom isn't a classroom, her ability to have an effect on young people isn't hindered by her lack of an education degree or an affinity for grading papers.
"I think, for me, leadership kind of came naturally," Rackham said. "I was always either a captain or organizer."
And Rackham is a coach. The Tennessee first-year volleyball coach boasts experience and a resume many at her age, 36, in her profession don't yet have. She was an assistant coach at North Carolina for nine seasons, including a role as assistant head coach from 2013-17, before being hired to lead the Lady Vols.
She is even a mother now, having given birth to her son at the tail end of her first season at Tennessee, one that saw the Lady Vols go 26-6, including 16-2 in SEC play, and appear in the NCAA Tournament. Under her leadership, Tennessee more than doubled its win total of 12 from the season before, a feat accomplished all while Rackham was pregnant with her son.
"She has come out and provided everything we've needed on the court, off the court, technique-wise, all of it," junior Tessa Grubbs said.
From star player to standout coach
Rackham, a Sebastopol, Calif., native, has had coaching on her mind since she was 11 years old.
"I was really young, and I just remember going, 'When I grow up, I'm going to either teach, or I'm going to coach,'" Rackham said.
She chose coaching and was able to practice her leadership abilities while growing up playing volleyball. Rackham was a stalwart in the game, competing on teams ranging from her middle school program to the Empire Volleyball Club.
"I was always kind of a big voice on the team, and I just loved the sport," Rackham said. "I loved the competition aspect. I also loved teaching it, whether it was to my teammates or now, obviously, to my players.
"But it was just something that came really naturally to me."
Rackham played volleyball for North Carolina, starting at setter for the Tarheels and helping lead her team to the 2002 NCAA Tournament Round of 16, one of the program's four tournament appearances while she was on the roster. She is the school's all-time leader in career assists-per-set.
She started her coaching career as an assistant at Colgate in 2004, making stops at East Carolina and Florida International before rejoining North Carolina in 2009. She was named assistant head coach in 2013.
Rackham made her name as a standout offensive coach and recruiter at North Carolina, serving on her alma mater's staff during the team's seven straight NCAA Tournament appearances and being awarded AVCA Division I Assistant Coach of the Year for 2014.
Despite her love for and success at North Carolina, where she made her mark as a player and a coach, Rackham still had another goal to check off her list. And Tennessee was the place to do that.
"I was at North Carolina a long time, and it was a great time for me," Rackham said. "But I think things run (their) course, and most assistants at some point just say, 'I'm ready to be a head coach.' And I got to that point, and I probably could have stayed, but this (Tennessee) job, this university, this place was way too good of an option. (It was) way too attractive of a job."
A winning season
Madison Coulter was starving for success.
The sophomore from Maryville, Tenn., had already played a season under the former regime and, along with her teammates, was hoping for a positive transition into a new era of Tennessee volleyball.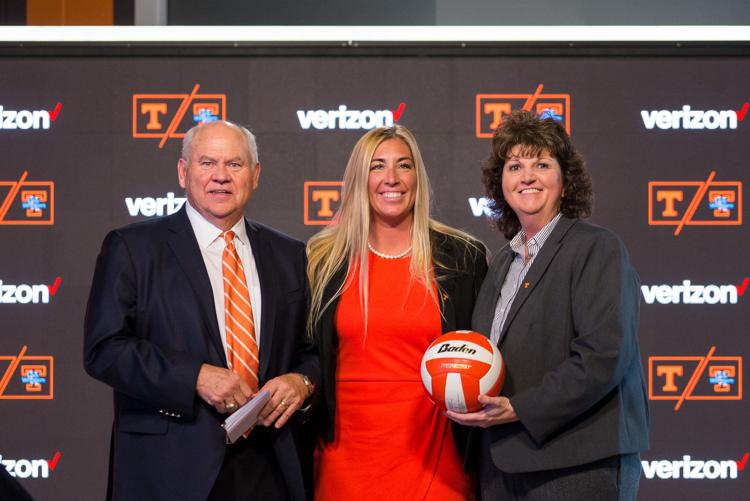 Enter Eve Rackham.
"We welcomed her with open arms," Coulter said. "We were ready for change, and she embraced that role, and she gave us someone who never falters in what she says. She always says what she means, and that goes a long way."
And Tennessee fit with what Rackham saw in her own future as well.
"I just felt like (Tennessee is) a place I could see myself. That's a place I could raise a family. That's a place I could find success," Rackham said. "That's a place that has all the pieces that you need to build a program. They've had success in the past. … Obviously it was dormant for a little bit.
"As soon as the job came open, I thought I could see myself there."
Rackham was officially announced as the Lady Vols' new volleyball coach by Tennessee athletic director Phillip Fulmer on Jan. 10, 2018. She filled out her staff with assistants Tyler Adams and Gavin Watt, volunteer assistant Heather Gearhart and Director of Operations Whitney Miller.
Rackham's first career win as a head coach came in Tennessee's first match against Michigan State in the Tennessee Classic. That morphed into a six-match winning streak to kick off the season for the Lady Vols.
Despite having to miss some matches late in the season due to the birth of her son, Jude, Rackham's leadership helped guide the Lady Vols to an 11-match winning streak to conclude the regular season and an NCAA Tournament berth. They bested Colorado State in the first round before being eliminated by Washington State in the second.
The Lady Vols ended the season with 14 more wins than the year before, a mark tied for the most in program history.
Building a foundation of respect
The respect and admiration Tennessee's players feel for Rackham is exhaustive.
Part of that is built on her on-court coaching. Rackham's "simplifying" teaching methods have had an impact on the performance of her players, particularly Tessa Grubbs.
"The techniques that we use are used to simplify everything instead of overthinking everything," Grubbs said. "Before (playing), I'll take a deep breath and Eve (Rackham) tells me, 'Stick out your platform. Early angle.' That's it. There's nothing extra.
"So kind of just simplifying the game almost, and also, they've helped us see so much more of the game."
Rackham's background as a former player and her experience working under standout coach Joe Sagula at North Carolina is meaningful to Grubbs as well. She has been where her players are now and can share knowledge about various types of situations with them.
But it's not just Rackham's volleyball expertise that has made an impact on the Lady Vols. Watching her coach and lead a program while pregnant is not something that went unnoticed.
"The respect I think that we all share for her is tremendous being that she walked around here carrying a baby," Coulter said. "I literally have never heard her complain once. Ever. And the only time she answered questions is out of volleyball, because when we were in (the gym), it was all volleyball.
"No personal life, nothing, even though we wanted badly to ask about the baby."
Because of her many talents and interests, Rackham may look back on this season and write about it, a thought she has already had, according to her. She may also use it as a teaching moment or view it as simply another step in her coaching career.
But no matter what the future holds for Rackham and the Lady Vols, in the eyes of many, she has already accomplished something special at Tennessee.
"She walked in here, did what she needed to do, went above and beyond it," Coulter said. "And I think that shows in our season."