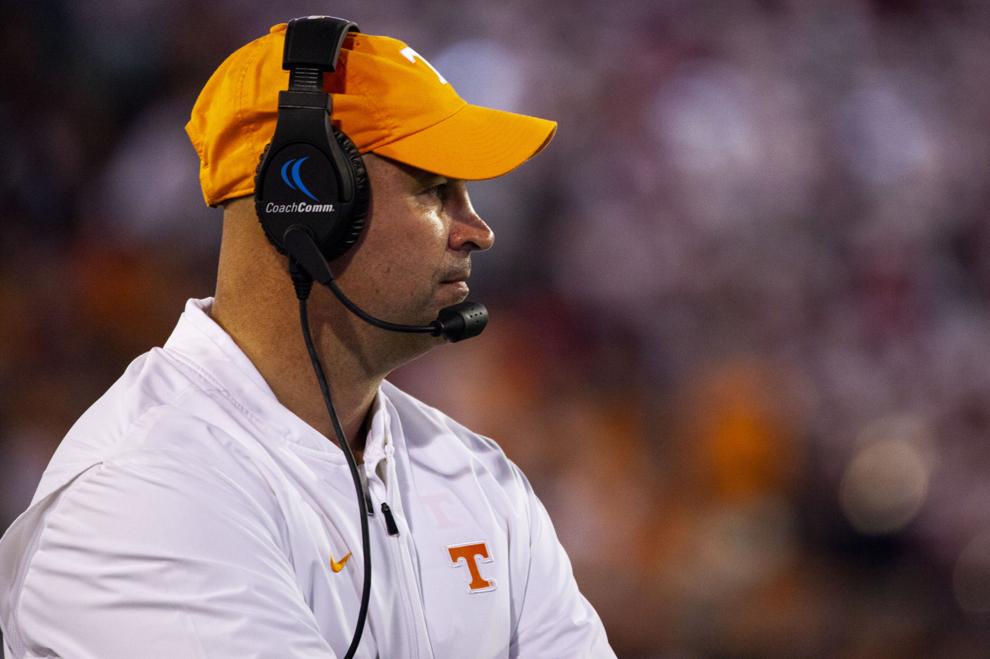 The firing of Tennessee's former head football coach Jeremy Pruitt presents the university with a handful of legal challenges, which may not be fully resolved until the NCAA's investigation is complete, whenever that may be.
For now, let's unpack the legalities of Pruitt's firing as much as it's possible.
There are several important issues regarding Pruitt's termination. First off, does he actually have a case, or will his defense be dismissed? Well, it could go either way.
In Pruitt's original contract, there were over 30 fire-for-cause provisions laid out. Essentially, these are offenses by Pruitt that give the university a good cause to fire him and in which he does not get the buyout for his contract, which is a total of $12.6 million.
His termination letter included several lines from his contract on which this was allowed.
"Conduct or omission(s) by Coach that constitutes a Level 1 or Level 2 violation of one or more Governing Athletic Rules."
"Conduct or omission(s) by a person who reports, directly or indirectly, to Coach that constitutes a Level 1 or Level 2 violation of one or more Governing Athletic Rules."
According to Tennessee Chancellor Donde Plowman, Pruitt had committed several Level 1 and Level 2 violations, though the exact violation and how many, she did not know. The reports seem to indicate that he was in violation of failure to control his staff, more than something specific he did.
This brings up another question. What exactly are Level 1 and Level 2 violations? There are four levels of violations laid out in the NCAA rulebook: a Level I violation is a severe breach of conduct; Level II is a significant breach of conduct; Level III is a basic breach of conduct; and Level IV is an incidental issue.
Level 1 is the worst, most severe violation. According to the rulebook, "They seriously undermine or threaten the integrity of the NCAA collegiate model, and they provide substantial or extensive recruiting advantages, major competitive advantages or impermissible benefits."
Level I violations can include lack of institutional control, lack of head coach oversight of compliance, academic misconduct, failure to cooperate in an NCAA investigation, unethical or dishonest conduct, cash payments or benefits given to recruits or an extensive collection of Level II or Level III violations.
Pruitt would mainly fall under the lack of institutional control category, though as reports continue to come out, it might change.
Level 2 violations are similar to Level 1 but are categorized as significant, instead of severe. They would be violations that show not necessarily a lack of institutional control, as with Level 1, but are systemic issues. 
Again, it is unclear at this point the full extent of Pruitt's violations, but if Plowman and the investigation found a Level 1 or Level 2 offense, as they have indicated, they would have cause to fire him, without the contract buyout.
Pruitt, with the help of a retained attorney Michael Lyons, plans to challenge the termination on several fronts.
According to a statement from Lyons issued Jan. 18, the two believe UT had terminated Pruitt mainly for financial reasons and not for any of the fire-for-cause provisions from his contract.
Prior to the 2020 season, Pruitt had received a contract extension through 2025 and a raise, though he deferred the raise to 2021 to help with the financial trouble Tennessee athletics has had as a result of the pandemic.
"We believe the decision to be the culmination of an orchestrated effort to renege on contractual promises made to Coach Pruitt upon his hiring in 2017 and reiterated less than five months ago," Lyons said.
The speed at which Pruitt's five-page, single-spaced termination letter was prepared — according to Lyons, less than three hours after the meeting with Pruitt and Plowman — and the speed at which the letter was leaked to the public could be explained by a premeditated decision.
If this ends up being the case, and there is no evidence of any violations from Pruitt, then he might have a chance in court. 
Lyons also said in his statement that they plan to defend "any allegation that he has engaged in any NCAA wrongdoing, as well as examining the University's intent to disparage and destroy Coach Pruitt's reputation in an effort to avoid paying his contractual liquidated damages."
The most likely scenario in all of this is that Tennessee reaches a financial agreement with Pruitt and pays him a portion of the $12.6 million that would be owed had he not been fired with cause. There are countless examples of universities paying a settlement to a fired coach, instead of taking the matter to court.
Most recently, Gregg Marshall, the men's basketball coach at Wichita State, was paid a $7.75 million settlement to resign as the head coach. He had more serious allegations, but it is a comparable scenario to what Tennessee might do with Pruitt.
Regardless, time will be the most telling factor as more information becomes available about Pruitt and the recruiting scandal.