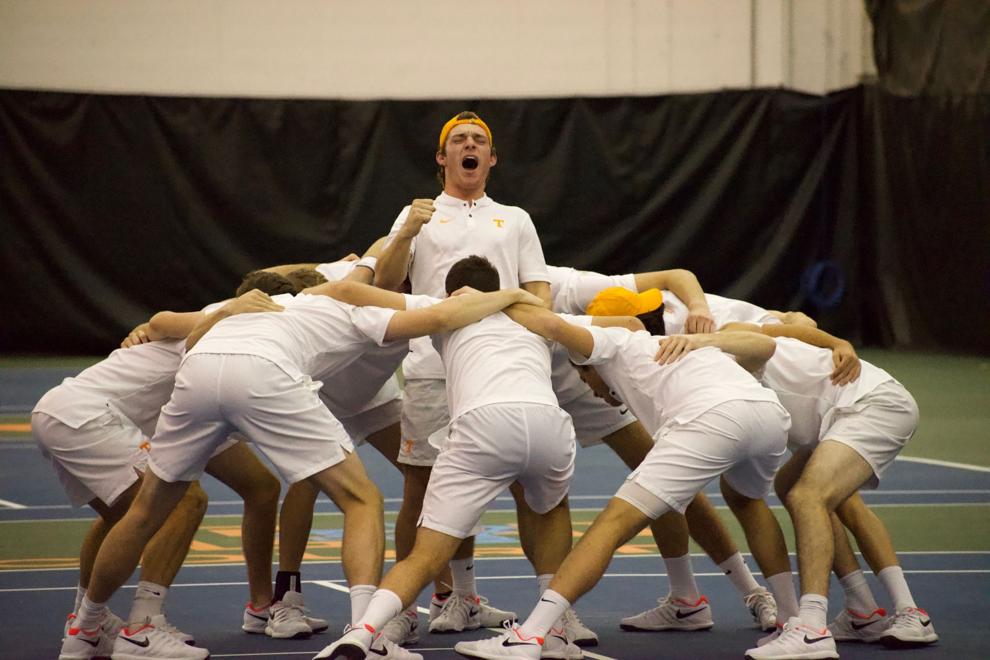 The No. 2 Tennessee men's tennis team handed No. 3 Baylor its first loss of the season on Sunday, 4-2, to advance to the ITA Indoor National Championship. Senior Emile Hudd clinched the match for the second consecutive day, winning a long second-set tiebreak 11-9.
The Vols have come a long way since getting eliminated in the first round of last year's tournament against North Carolina.
Tennessee has an astounding 30-5 record since that loss 374 days ago. The Vols got a taste of sweet revenge on Sunday when they defeated Baylor, who knocked them out of the NCAA Tournament last year.
The Vols began the match by taking the doubles point. They entered the weekend without winning the doubles point against all three of its ranked opponents, but have since won all three doubles points this weekend after head coach Chris Woodruff put Hudd and Shunsuke Mitsui on court one due to Pat Harper and Adam Walton's struggles this season.
Harper and Walton are 2-0 since the switch and seem to be on the moving towards returning to last year's form as Harper continues to recover from the surgery he had last summer.
Woodruff has called Harper one of the best doubles players in the country based on intangibles alone, and Woodruff believes Harper will break out of his struggles before long.
The Aussie pair began the set in a 3-0 deficit against Baylor's Juampi Mazzuchi and Matias Soto on court two. However, they stormed back to win the next five games and become the first to finish with a 6-4 win.
Johannus Monday and Mark Wallner won the clinching set 7-5 against Adrian Boitan and Tadeas Paroulek. Mondy and Wallner are 4-0 when playing together.
No. 13 Emile Hudd and Shunsuke Mitsui Were locked in a tiebreak with Finn Bass and Sven Lah before going unfinished.
In singles play, No. 114 freshman Mitsui continued to play brilliant tennis on court five, being the first to finish in his 6-4, 6-0 triumph over the Bears' Mazzuchi. Graduate student Walton soon dropped court one in straight sets, but Tennessee still led 2-1.
On court four, No. 122 Angel Diaz used crucial breaks to give the Vols a 3-1 lead, defeating Bass in straight sets.
Freshman Conor Gannon fought hard on court six, but fell to Paroulek 6-7(5), 2-6.
All eyes turned to court three for No. 100 Hudd and No. 123 Lah's second-set tiebreak that sent Tennessee to the finals. Hudd's 6-4, 7-6(9) win put the Vols in the ITA Indoor National Championships' final for the first time since 2011.
Tennessee men's tennis has never won a national championship in ITA or NCAA. Winning one would be a crucial step in Woodruff's process that he's preached so often.
The Vols will face No. 4 TCU at 3 p.m. EST on Monday at the Nordstrom Tennis Center in Seattle. Tennessee defeated the Horned Frogs 4-3 earlier this season.