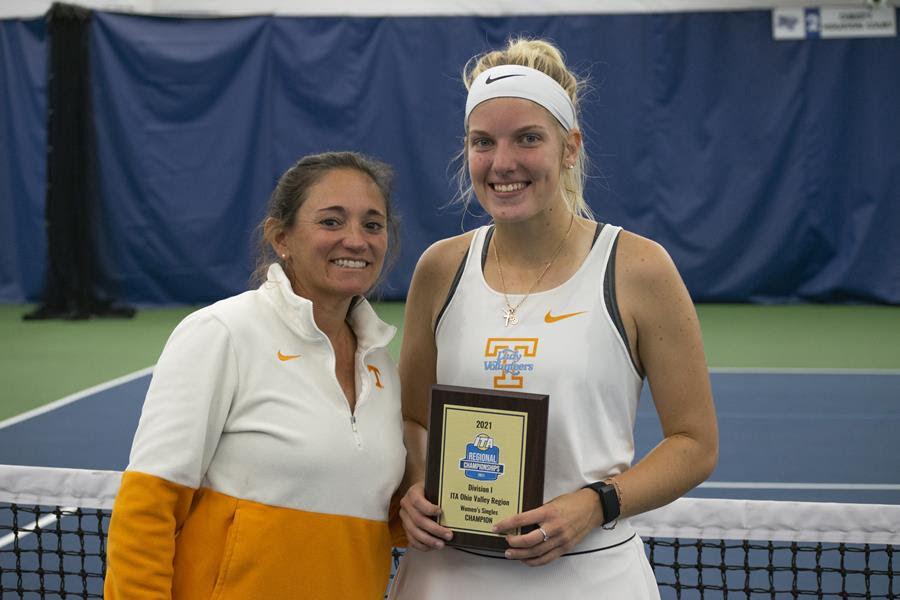 Elza Tomase and Rebeka Mertena earned a spot in the singles final at the ITA Ohio Valley Regionals, after both players won their semifinal matches Sunday. The Lady Vol teammates will face off against one another in the finals Monday morning.
"There is a level of tennis that Tennessee women's tennis has not seen in a while," head coach Alison Ojeda said following the conclusion of play. "I love that our two freshmen really did an outstanding job, from start to finish of the tournament, showing improvement in their mental toughness and in their tennis."
It was an incredible contest between Tomase and Olivia Symons, but Tomase came out on top at the end, defeating her fellow teammate, 6-2, 6-2.
"You hate that one of them has to lose because they both have worked so hard," Ojeda said. "At the same time, that is why we play tournaments and that's the fall."
Rebeka Mertena claimed the other spot in the final after her three set victory versus Csilla Fodor of Purdue. Mertena couldn't stop Fodor in the first set, as she dropped the first set 6-1. The last two sets were different stories, as she came back and fought hard to earn the three set victory, 6-2, 6-4.
"She did an outstanding job competing," Ojeda said of Mertena. "People see the score from yesterday, but no one knows she was down three match points. To battle through that yesterday, and she was down a set today, credit to her. She couldn't wait to get back to this day and this stage. She is here solely because of her, and that is fantastic."
Esther Adeshina captured the first win of the day for the Vols, as she triumphed over Anna Smith of Xavier, 6-3, 6-3.
Callie Creath claimed the final singles victory of the day for the Vols. She dropped the first set in a tiebreak, but came out strong in the second leading 3-2 before her Indiana opponent retired due to injury.
The Lady Vols couldn't carry the success they had on the singles courts to the doubles side, as they dropped both their matches. Tomase and Mertena could not stop Kentucky's Ellis Eades and Carla Girbau, losing 8-4. McGriffin and Symons were defeated by Louisville's Andrea Di Palma and Rhea Verma, 8-4.
Adeshina and Daria Kuczer racked up their second consolation victory of the weekend, taking down Middle Tennessee's Muskan Gupta and Lilly-Sophie Schmidt, 8-4.
Mertena is returning to the finals for the second-straight ITA Ohio Valley Regionals, when she faces off against her teammate Tomase. The tournament was canceled last year due to COVID-19, but Mertena faced off against Kaitlin Staines in 2019 and lost the match 6-1, 6-1.
First serve versus the fellow Lady Vols is slated for 9:30 a.m. EST Monday morning and will occur at the indoor courts at the Adams Tennis Complex, due to rain in the forecast.