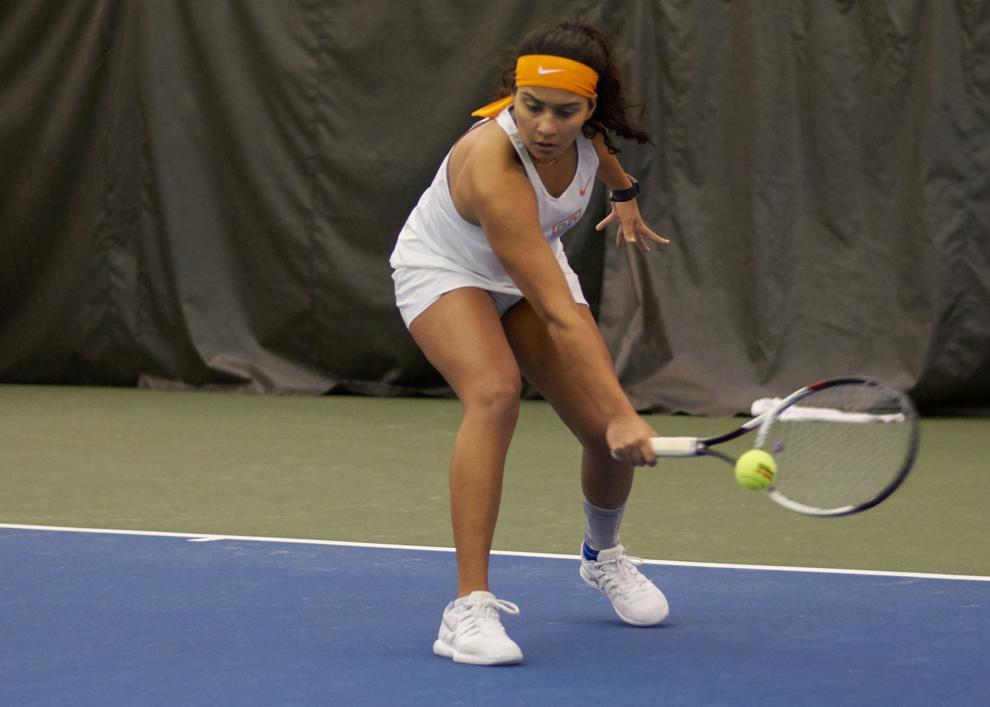 The 20th-ranked Lady Vols tennis team won three matches over the weekend in dominant fashion, riding strong play in singles and doubles to a weekend sweep.
On Saturday, the Lady Vols welcomed the Indiana Hoosiers and displayed fierce competition as they defeated them 4-0. The next day, the Lady Vols hosted a double-header where they defeated Bellarmine 4-0 and 7-0, respectively.
On Saturday, former SEC Player of the Week Esther Adeshina showcased an impressive 6-0, 6-1 performance in singles on court four. She broke Mila Mejic five times and only lost one game during the match. Adeshina started out her match in control and did not let up, giving Mejic no chance to play offensively. The junior from Indiana instead had to defend Adeshina's constant offensive play.
"I played pretty well today, I think I served really well," Adeshina said. "I got a lot of first serves in and got a few cheap points off of it, so I was really happy with that. Returning wise, my goal was just to put every return in the court and I think I did that today. I tried to set the pace a lot and tried to come in to make it difficult for her. I think I did the job well."
The match on Saturday was also defined by strong doubles outings with Eleonora Molinaro and Rebeka Mertena dominating on court three, 6-1, and recently ranked No. 6 Tenika McGiffin and Daria Kuczer winning on court one, 6-3.
Other key wins in singles were completed by Callie Creath, who made her dual debut on court six and defeated Lexi Kubas on the first set, before Kubas went out with an injury. The more deciding set was from Sophomore Elenora Molinaro, who held on all five games serving to win the first set, 6-3, and went on to win the second set in similar fashion, 6-4.
On Sunday, The Lady Vols performed well all-around, but the success was especially noticeable with Adeshina and Kylie Duckworth, who both won two doubles matches and a singles match.
Adeshina played her first doubles match with Daria Kuczer. The two — who have shared success frequently over the years — won at No. 1 in the morning match, 6-0. Adeshina was up 6-1, 2-1 in singles over Madison Devillez when Tennessee clinched.
During the afternoon finale, Adeshina teamed up with Duckworth, and the duo won their doubles games, 6-2. Adeshina remained on court two for singles, clinching the match after beating Rose Pastoret, 6-0, 6-0. Adeshina only lost one game in both matches on Sunday.
Duckworth got the win in doubles during the morning match, playing with Olivia Symons.This was Symons's first career dual match and first match overall since Oct. 30, 2021. The two defeated Channing Varnum and Maja Kozerski on court two, 6-1.
After her second doubles victory of the day with Adeshina, Duckworth took court six and dominated, 6-0, 6-0, for her first dual win since the 2019 spring season.
"Having that doubles success helped me feel free with my feet and just embrace playing outside on this beautiful day," Duckworth said.
Creath also contributed heavily for the Lady Vols, winning her only match, 6-0, 6-0, on court five during the first match. She was also credited with two doubles wins and a singles victory in the afternoon match — all of those were by forfeit.
McGiffin won twice in the No. 1 spot. The 41st-ranked singles player in the country was consistent in both matches, winning her first bout 6-1, 6-0. She won the final singles victory in the second match, 6-1, 6-1 over Madison Devillez.
"We took care of the things we could control on our end: high first serve percentages, good returns in the court and we hustled and we stayed focused," head coach Alison Odeja said of the weekend. "I'm glad that we were able to get on and off the court and now we can focus on recovery and getting ready for SEC play in two weeks."