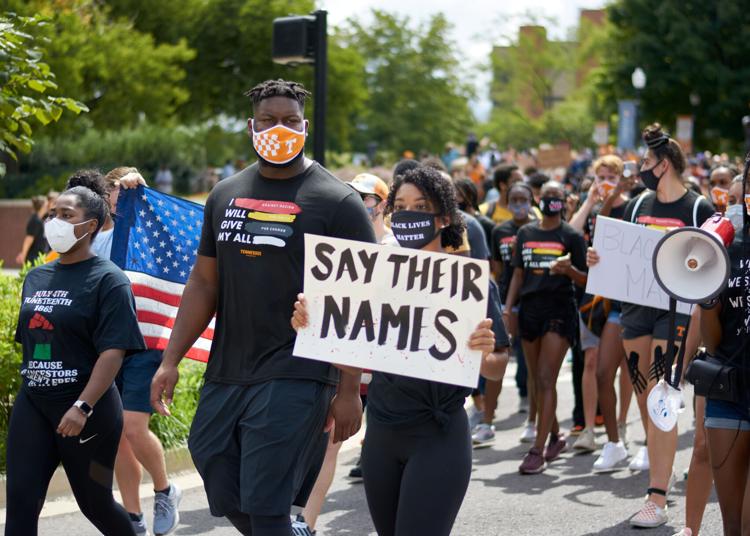 This summer, in the wake of the deaths of George Floyd, Ahmad Arbery and Breonna Taylor, Tennessee's football program founded a culture committee to help provide players with a voice and way to enact change at UTK.
Former Tennessee quarterback and assistant head coach Tee Martin is heading up the group with players being able to join on a volunteer basis.
"We started speaking openly as a staff and we just brought up an idea to have a committee or something like that," Martin said on Tennessee football's The Slice podcast. "It didn't have a name, but the idea of it was to create a platform for our student athletes to have a voice, to speak their feelings and to take that and create an action plan at the University of Tennessee that will make some changes. And it's really that simple."
Tennessee head coach Jeremy Pruitt praised the new project and its effects thus far.
"It's been really good," Pruitt said. "It's something Tee has done a fantastic job of heading up and getting our players involved and getting feedback. Once he's getting the feedback, it's us acting upon it."
The group is open to coaches and players alike regardless of race. Martin sees it as a way for everyone to make a difference however they can.
"I didn't want to announce to the media who was a part of it," Martin said. "It's not about that. It's about their voices being heard in-house, and us collectively as a family, a Tennessee family, bringing about change."
The group has helped bring in guest speakers, including the first African American football player at UT Lester McClain, helped register the whole team to vote and came up with the idea for Tennessee to wear black uniforms in its Oct. 17 matchup with Kentucky. Tennessee plans to auction off the jerseys after the game with proceeds benefiting local charities that help Knoxville minorities and youth.
The group meets multiple times a month, giving players an opportunity to voice what's on their mind and bring any idea or issues to light.
"We meet around every week or so, but it's been pretty good," quarterback Jarrett Guarantano said. "As you can see we're making a change around the University of Tennessee, and that's a tribute to the actual university and the people that are a part of this university that are allowing us to help make a change in the world."
Last month, Trey Smith and other members of the group coordinated a rally on UT's campus with athletes across Tennessee sport teams.
The large turnout of supporters marched from the torchbearer statue to Ayres Hall while giving opportunities for people to speak including Smith, Matthew Butler and Solon Page III.
"This rally has been planned with our players and other student-athletes across our campus for several weeks," Pruitt said before the protest. "I think, when we talk about platforms, here at Tennessee we're going to use our platform to help create change and be at the forefront of it. Our players believe in it, our staff believes in it, our administration believes in it. So we're going to continue to support them in this movement ... and it's something we'll continue for years to come."
The protesters expressed desire for change in a number of ways while specifically wanting the university to employ more African American professors and faculty members and to include a zero tolerance for hate speech clause to the Student Code of Conduct.
The rally was attended by a plethora of UT coaches including Martin and Pruitt.