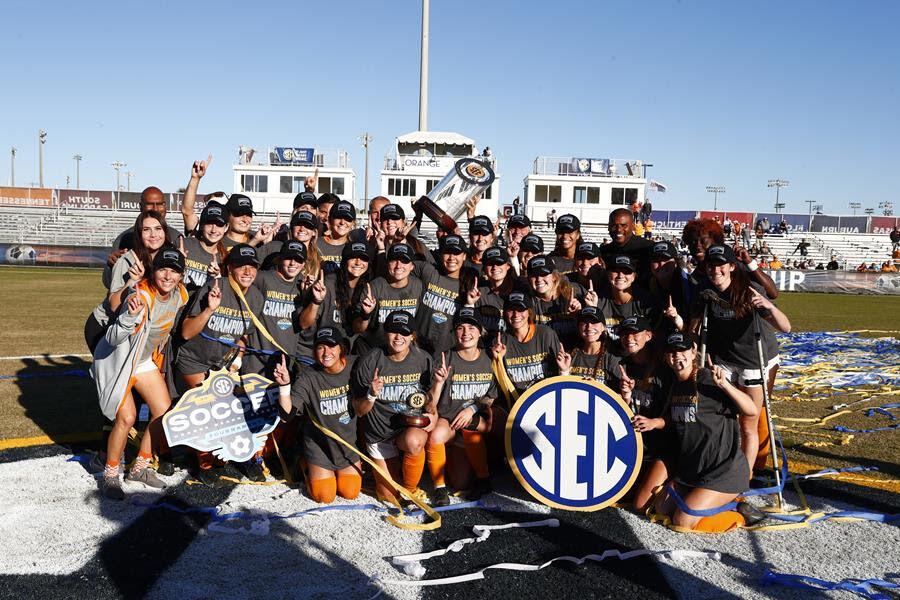 Tennessee soccer is on its way to an NCAA Tournament appearance, notching a No. 3 national seed after an impressive SEC Tournament run that ended with an SEC Championship.
The Lady Vols have already eclipsed their winningest season in program history with 18 wins and a chance to pick up several more.
From the gate, the Lady Vols proved they were destined for greatness this season. Tennessee didn't allow a goal in its first seven games, a program record 633 minutes without allowing a goal.
The Lady Vols dropped their first game of SEC play to Arkansas, but from there torched their SEC competition. Tennessee went on a six-game win streak and didn't lose again until Vanderbilt beat the Lady Vols 2-1 for their final loss of the regular season.
Tennessee won its final two games of the season before beginning its phenomenal SEC Tournament run.
The Lady Vols remarkable season didn't go unnoticed. Six Lady Vols and head coach Brian Pensky all received post season honors.
Pensky was named SEC Coach of the Year after his best season yet at Tennessee.
Mackenzie George earned First Team All-SEC honors, Wrenne French, Jaida Thomas and Taylor Huff earned Second Team All-SEC and Jordan Fusco, Claire Rain and Huff were named to the SEC All-Freshman Team.
Huff was also named SEC Freshman of the Year after a breakout season where she scored 8 goals and notched 4 assists.
The Lady Vols followed up their outstanding season by tearing through the SEC Tournament.
Tennessee beat Florida 5-2, Ole Miss 3-2 and Arkansas 3-0 for the championship.
Thomas was the guiding force on offense for Tennessee. She scored 5 goals in three games in the SEC Tournament, bringing her season total to 13 goals.
Following the SEC Tournament, George, French, Thomas and Abbey Burdette were named to the SEC All-Tournament team. Burdette was also given the Tournament MVP award.
"This was a storybook ending to the SEC season for this group," Pensky said following the Lady Vols win over Arkansas. "What a complete performance. Our kids came to win, simple as that."
The Lady Vols storybook season isn't over yet. Tennessee now begins its tournament run, starting with a first-round matchup against in-state rival Lipscomb.
"It's an in-state game so there's going to be tons of competitive energy," Burdette said. "I'm excited to get out on the field and compete, especially at home."
The Bison are 15-4 with some solid wins over Mississippi State and Miami. Lipscomb is fresh off an ASUN Conference Championship. The Bison outscored opponents 11-0 en route to a conference championship.
Tennessee will host the Bison Friday at 5 p.m. EST at Regal Soccer Complex.
The Lady Vols sit in a stacked division for the NCAA Tournament. Should Tennessee advance, it could see No. 3 seeded Michigan in the third round and No. 1 seeded Florida State in the quarterfinals. The Lady Vols will most certainly not have a cake walk in the tournament.
"We just need to continue to compete and fight and be as tough as we can," Burdette said. "I think as long as we carry that into the postseason, we'll be successful."