The 10th-ranked Tennessee soccer team secured a much-needed 3-1 win against the Georgia Bulldogs Sunday night, keeping its hopes for the SEC East title alive.
Aside from a needed win for the title, this game was also about making a statement. Tennessee (14-2-0) was coming off a tough overtime loss to in-state rival Vanderbilt. The Lady Vols' next game would be crucial to see how they would respond.
"So proud of our team," head coach Brian Pensky said. "I mean Thursday night was tough. The result was tough. The result against the opponent was tough, and the overtime factor, it's heartbreaking. Our performance Thursday night was phenomenal, and our kids felt that, they knew that, and they were angry at the result."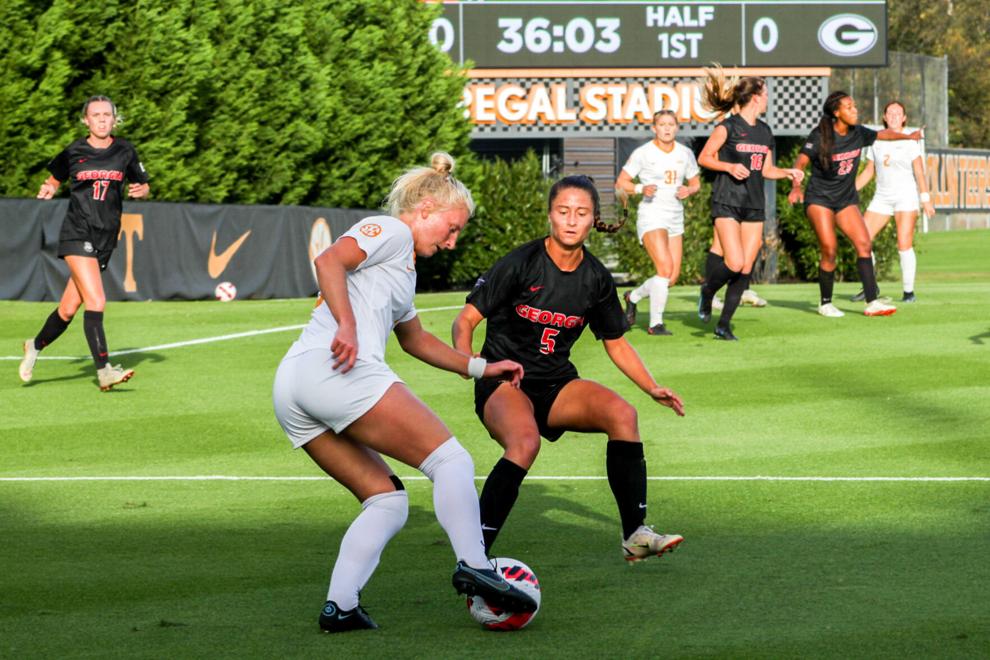 "We talked a lot about channeling that anger and frustration into tonight. It's always hard to turn around and get ready on a Sunday to compete, especially against a team that is so dangerous like Georgia," Pensky said.
The first half proved to be very physical for the Lady Vols. Brooke Wilson picked up her third yellow card of the season, and junior goalkeeper Lindsey Romig exited the game after colliding with a Georgia forward while coming to the front of the box to make a save.
Romig had 2 saves before she came out of the match. Backup goalkeeper Ashley Gabor filled in from the 41st minute onward.
"It was nice just to have her there," redshirt sophomore Jaida Thomas said about Gabor. "Last year we didn't have many keepers, so it was nice to have that backup and it was nice for her to step up for us and to have her there."
Gabor finished with 4 saves and only 1 goal allowed against a Georgia team that was undefeated in divisional matches.
"Ashley Gabor, coming in and just having ice in her veins, instilling confidence in the players in front of her because she was so confident in herself, so cool and calm under pressure," Pensky said. "If she didn't have a little nerves or anxiety, which I didn't see any of that. She'll be ready to go on Thursday."
The first half remained back and forth until UT got a corner kick with less than 15 seconds remaining in the half, and Cariel Ellis scored with a header on the serve by Hannah Zaluski, her first career goal at Tennessee.
"I was so excited. (My) first career SEC goal. I was happy to get it in the back of the net," Ellis said.
"Cariel created the energy for us and that's a big deal, and it certainly makes a coach's job a lot easier," Pensky said.
Tennessee would once again come out of halftime with a very aggressive approach. The Vols shot 5 times before Mackenzie George found the net in the 57th minute with an assist from Thomas. This put the Vols up 2-0.
Photo Gallery - Soccer vs. Georgia
Tennessee's defense would continue to come up big, as it limited the production from Georgia's top trio of graduate forward, Mollie Belisle, senior midfielder, Dani Murguia and freshman forward, Danielle Lewin.
The Lady Vols' strategy to contain those three scorers was to always keep them on their mind.
"Always be aware of them. Don't let them run free," Pensky said. "They're very good soccer players. They're clinical finishers and very good soccer players and that's obviously terrifying, right? Their movement is good, they love playing off of each other."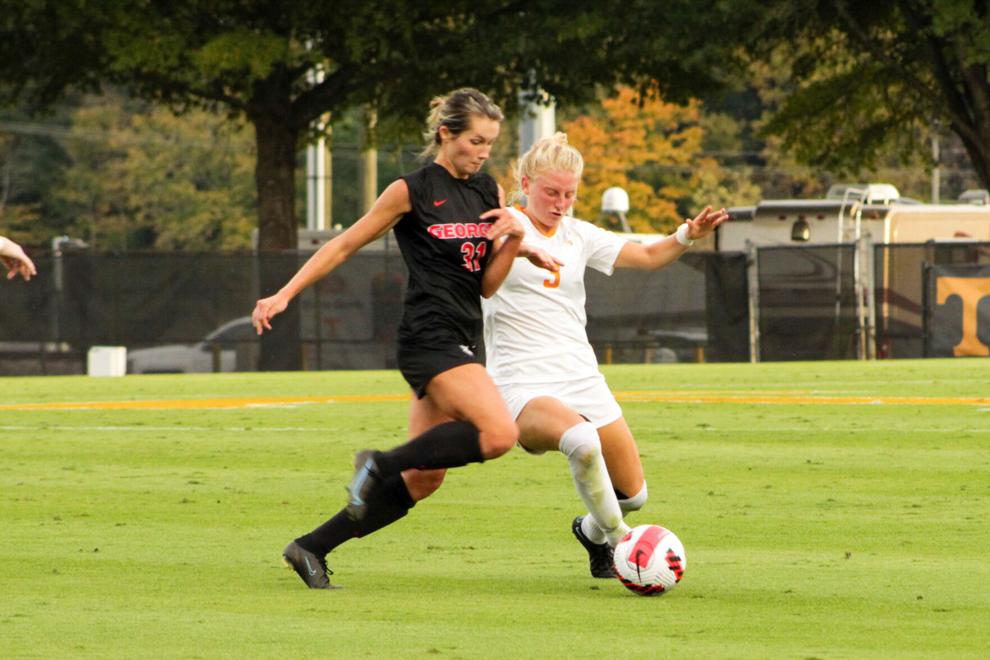 Georgia did not want to take a shutout. Sophomore forward Tori Penn came off the bench and scored the Bulldogs' only goal in the 69th minute.
Thomas added an insurance goal in the 88th minute after receiving a pass from George and sending the shot into the back-right corner of the goal from the top of the 18 to make it 3-1.
Tennessee finished the match with 17 shots – 8 on goal – while limiting Georgia to just 11 and 7 on goal. The Lady Vols also had 12 corner kicks compared to Georgia, who only mustered up a single corner in the first half.
With the win over Georgia, Tennessee is in position to win its second straight SEC East divisional championship.
Kentucky now stands in the way between the Vols and another divisional championship, a matchup scheduled for Oct. 28 at 6 p.m. EST form Regal Soccer Stadium.
"We win the game we win a trophy, we win the game we win the SEC East trophy," Pensky said. "That's not hard to motivate your team for that. As a coach, that's a piece of cake."