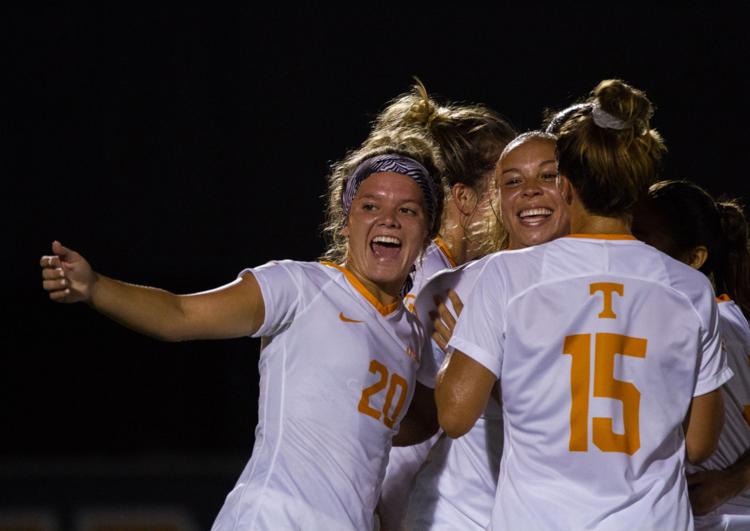 The 10th ranked Tennessee soccer team started their 2019 campaign with a win Thursday night defeating the Fordham Rams 3-1.
Here are three takeaways:
Wait lengthens
It's been 266 days since the 2018 Tennessee soccer team was eliminated in the Elite Eight against Stanford. The long and highly anticipated start to the beginning to the 2019 season would have to wait a little longer. 
Vols vs. Fordham University
The Vols won 3-1 against Fordham University at Regal Stadium on August 22, 2019.
After just four minutes of action referees pulled both teams off of the field for a weather delay.
"You never want to have a delay in the game," senior Katie Cousins said. "Brian (Pensky) said to us before 'hey, you guys might have this, so don't let it affect your mindset,' and that was our plan."
The weather delay lasted two hours and two minutes, and it was 9:11 p.m. before both teams took the field in front of a meager but rowdy crowd at Regal Stadium.
"They (the team) were great. There was some soccer, they were watching the SEC Network, watching a little Longhorn Network," head coach Brian Pensky said. "Before we came out for the initial warmup at six o'clock we said 'look, be prepared for a little bit of adversity tonight'. The team that handles that the best puts themselves in the best position to win."
Strong defensive performances
Tennessee returned the heart of its defense from its 2018 team, and with the Lady Vols' breaking in a new goal keeper it was a good night for them to have a strong night.
They did just that.
Outside of some first half turnovers the Lady Vols defensive suffocated Fordham. Fordham didn't get its first shot on net until the 83rd minute.
Fordham would get a goal and one other shot on the net in the last six minutes against Tennessee bench players.
"In those last moments I think we had eight freshman on the field, minimum seven," Pensky said. "A little bit of youth and immaturity there… I think we took our foot off the pedal and got out competed."
Fordham's program is known more for their defense than their attack, the Rams scored just 24 goals last year while allowing 19, but the performance was still impressive by the Lady Vols.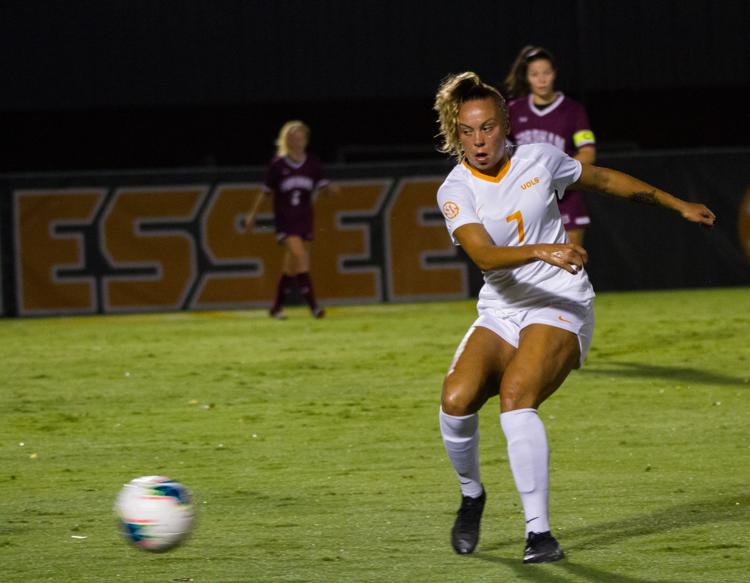 Odds and Ins
-Tennessee returned zero goalkeepers that had started a game in her college career and the battle for the starting spot remains an open competition. Freshman Lindsey Romig got the start, but redshirt-sophomore Charli Pogany came in at halftime and played the second half for Tennessee making an impressive save in the 82' minute.
-The injury bug appeared to get two Lady Vol stars Thursday night, but on second glance neither proved to be significant blows.
-Mary Alice Vignola got the Lady Vols on the board in the first half off of a corner kick, but exited the game shortly after and didn't return.
"Precautionary," Pensky said. "We think she's fine. We think she could have played. The doctors cleared her. Our trainers cleared her."
-Maya Neal, a back-to-back All-SEC selection, didn't play for Tennessee Thursday.
"Same situation," Pensky said. "She and I talked at halftime and she was going to warm up and we were going to put her on a few minutes into the half, but five to ten minutes into the second half we were up 3-0 and it wasn't worth it."
-Only two teams last season scored as many goals against Fordham as the Lady Vols did tonight.
Up Next
Tennessee will look to improve to 2-0 Sunday when they face Mercer. Kick off is set for 6 p.m. at Regal Stadium.