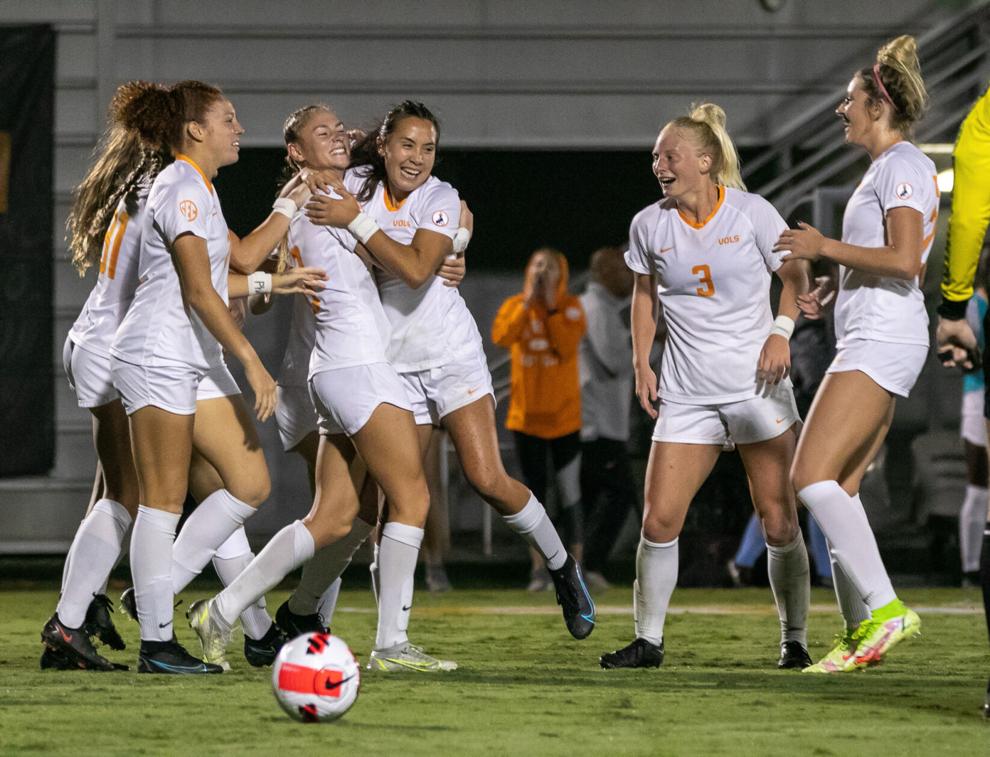 The Tennessee soccer team got its first SEC win of the season against Auburn Thursday night at Regal Soccer Stadium. The 17th ranked Lady Vols' (8-1-0) beat 12th ranked Tigers (7-2-0) in Knoxville for the first time since 2012. The match ended in double overtime as Brooke Wilson found the net only 11 seconds into the 100th minute.  
Here are three takeaways from Tennessee's win. 
Taylor Huff, the freshman midfielder, has already proven why she may be one of the best in the SEC. Even with distinct honors coming out of high school, she once again showcased her talent that makes her a threat anywhere on the pitch.  
Heading into the 85th minute, Huff sent a rocket to the net that would give the edge and energy for the Lady Vols to keep fighting. The tie sent the game into two overtimes where Tennessee would eventually find the golden goal to win in a walk-off fashion. 
Huff, who has started in 8 games this season and played over 574 minutes (seventh on the team), has contributed a lot despite being a freshman. Huff leads the team with 6 goals on 31 shots, with 16 of those shots on goal. She already has one game winner this season. Huff ended the game with 3 shots and 1 goal. 
"When Taylor beats a player, she's got the ability to hit a shot from a distance like that, gave the keeper no chance. Great finish, great effort, great goal," assistant coach Joe Kirt said. 
"They're calling her the freshman phenom, like she's absolutely a stud," redshirt junior Brooke Wilson said. "That's the type of thing we see her do every day at practice, so it doesn't really shock me. Right foot, left foot, she's good on both feet. An awesome technical player. It was awesome to see her finally get a reward for all her hard work lately." 
Opportunities and resiliency 
Despite the one loss to Arkansas, Tennessee has made the most out of every opportunity this season and have continued to display their resiliency even when behind. 
Tennessee averages 23.8 shots per game. So far this season, they are up to 214 shots with 101 on goal (a whopping 47.2%). They currently average just a little over 3 goals per game with 28 goals total thus far. 
Speaking of resiliency, Tennessee now has six goals during the final 10 minutes of a game this season after Taylor Huff found the net in the 85th minute. Like Huff's goal, Wilson also had a career highlight to end the game. Wilson was able find the net first in the second period of overtime, yet another way Tennessee has proven itself to keep fighting until the end. 
"It goes back to the players on the field. They're all competing, doing what it takes to win the fifty-fifty ball. That's where the game came from, their resiliency, their perseverance to finish the game and not take a step back," Kirt said.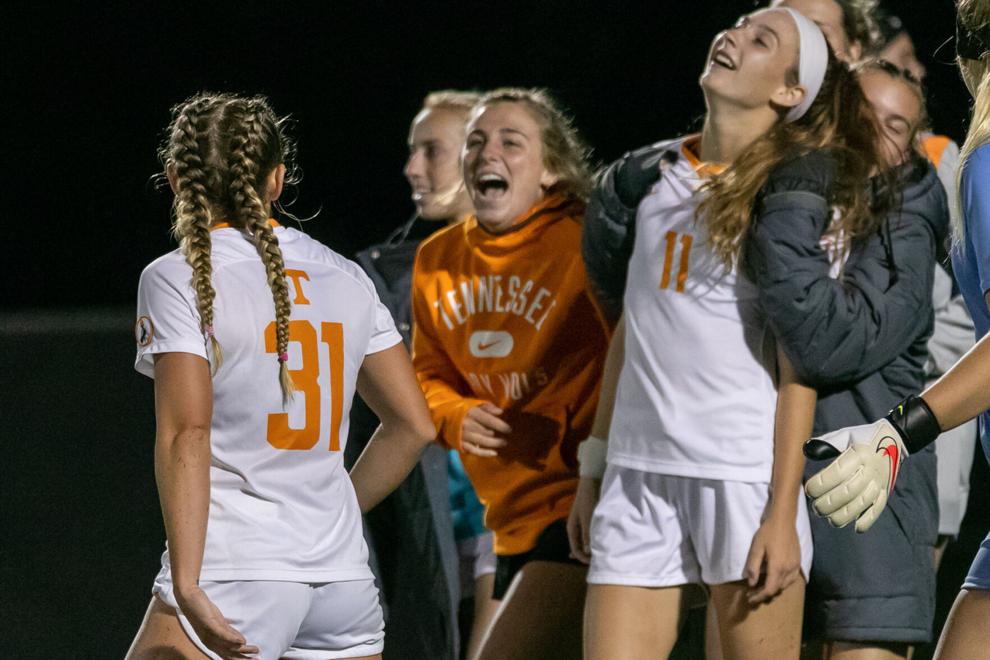 "Our team had really high energy going into the game. We knew this was like a must win game. Our bench didn't give up, our team didn't give up. It was constantly pound on the wall and pounding on the wall until it eventually was going to get through," Wilson said. 
It speaks volumes about those willing to give opportunities, even in high stress environments. Twelve different Vols have scored this season with 12 goals coming from off the bench. 
Wilson was given the opportunity and made the most of it. Spending all last season out with leg injuries, Wilson finally gets to go out there and compete this season. She has 4 goals on 12 shots this season, including 2 game winners. 
"Brooke has a nose for the goal," Kirt said. "We're fortunate to have a ton of players that can score for us. I figured the way the ball was bouncing around in there that someone was going to get a sniff. She came through again with a quality finish and sealed another game winner for us." 
"It was an opportunity I was trying to take. I Saw Mackenzie George cutting in a little bit. I was almost trying to show feet, but then she played it enough to where I could do it off one touch. It was like a perfect pass-set me up for a pretty easy shot," Wilson said about her game winning goal. 
Tennessee's defense has been arguably the best thing thus far into the season. 
Tennessee had a program-best shutout streak of 633 minutes through 8 games, though it was ended by Arkansas. Their previous record was 533 minutes, set in 2012. 
Tennessee has held its opponents to just 4 goals this season on 77 shots (5.2% shooting). The Lady Vols have allowed 33 shots on goal. The team has a total of 28 saves. The low number of saves equates to the number of shots they have given up, not very many. 
Tennessee has shown it can contain even the best players. Auburn Midfielder Anna Haddock has been tearing it up for the Tigers. Coming into the game, Haddock had 7 goals and was top five in SEC. Tennessee held her to 2 shots, one shot on goal, and no scores. 
"She's a great player, they have a lot of great players and are well coached," Kirt said on Haddock. "We knew we had to be aware of her at all times. Our midfield knew that. They did a great job of talking stuff out and not letting her get free. They were great keeping their feet and did a phenomenal job containing her. She's been really dangerous for them. Our midfield was phenomenal with her."