The Tennessee women's soccer team returned home for the first time in over a week on Wednesday, coming away with a win over the UC Davis Aggies at Regal Stadium.
The Lady Vols defeated the Aggies 1-0 to advance to 6-1-1 on the season before heading into SEC play this weekend.
Here are the highlights:
Injuries Affect Goalie Competition
The Lady Vols have had a competition for their starting keeper all season, but Charli Pogany has played all 90 minutes in Tennessee's last three games due to a minor injury to Lindsey Romig.
Pogany started in between the sticks for the third game in a row against the Aggies, allowing zero goals in the win, while grabbing three saves in her start. 
Romig started the majority of the matches up until the last three, where Pogany has played every minute of her team's games against Cincinnati, UMass, and UC Davis. 
Pogany has allowed all six of the goals that Tennessee had scored on them this year, but has 11 saves compared to Romig's four. Those six goals came in the Lady Vols only non-wins this year, splitting them three a-piece with Rutgers and UMass.
Rutgers, Tennessee's only loss, is now ranked eighth in the TopDrawerSoccer Top 25 while Tennessee is ranked 15th.
"I think Lindsey's getting closer," Tennessee head coach Brian Pensky said of his freshman keeper's injury. "She warmed up tonight and she looked great; Charli looked great in warmups. I'm very proud of her for getting a shutout."
Well Rounded Leadership
The Lady Vols have had an impressive showing of leadership this year from all players.
Tennessee has had 10 different players score a goal this year, and only one has scored more than two. Freshmen Sonia Ouchene Salón, Alicia Donley, Isabella Cook, and  Claudia Dipasupil have all scored one or more goals this year. 
"I was really proud of how they came out,"Pensky said. "We had an emotional, physical game on Sunday and some more travel issues getting back. So to come back 72 hours later, and to come out of the game like that, I'm very proud of our kids."
This leadership extends well beyond the teams seniors. Tennessee welcomed in 15 newcomers in 2019, signing on the number six ranked recruiting class, as rated by TopDrawerSoccer. 
Offensive Prowess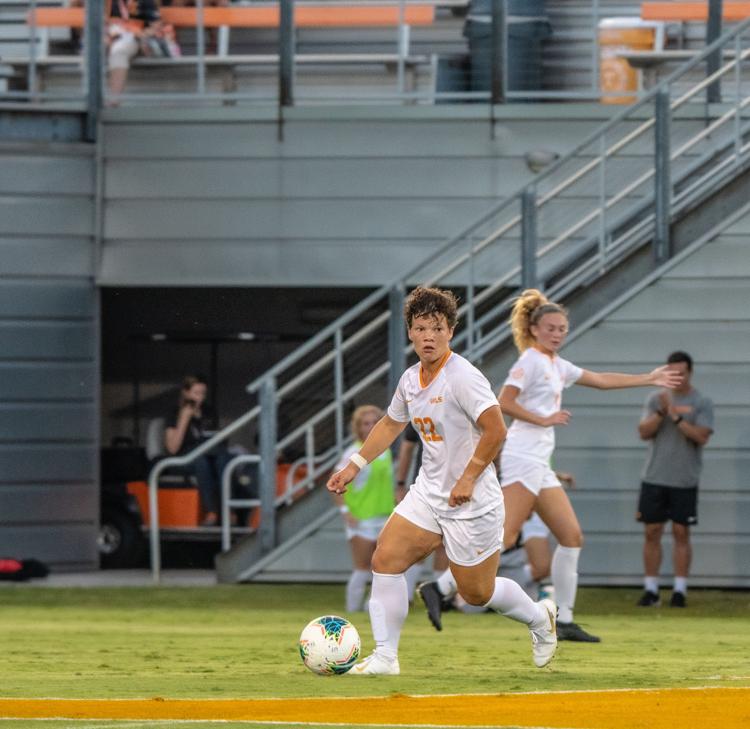 All year, the Lady Vols have prided themselves on a very powerful and dominant offense. This offense once again put up an extremely high shot count, totaling 21 shots with seven on goal.
Despite their ludicrous shot count, Tennessee struggled with accuracy in this game. They totaled 18 shots through 73 minutes, but not one found the net, and only five of those 18 were on frame.
"Unfortunately, we don't put a goal away," Pensky said of his team's slow start. "You go into halftime 0-0 and that's tough, but I still think we came out in the second half and controlled play."
In the 74th minute, senior MA Vignola ended her team's scoring drought with a goal she rocketed into the bottom left corner of the net.
"We knew it was going to be a tough game; they're a good team," Vignola said of her team's performance and her goal. "We wanted to come out and get as many shots as we could, especially on frame. We didn't get as many as we want to on frame."
Feels like '07
Tennessee has broken its record home winning streak.
In 2007, the Lady Vols had a nine game home winning streak which was tied to this year's home campaign until they were able to extend the 2018-19 streak to 10 games on Wednesday night.
Up Next
Tennessee Soccer will begin conference play next week when they travel to Vanderbilt on Sunday, Sept. 22.
"We'll be ready," Vignola said of the match-up.
Kickoff is set for 5 p.m. in Nashville.