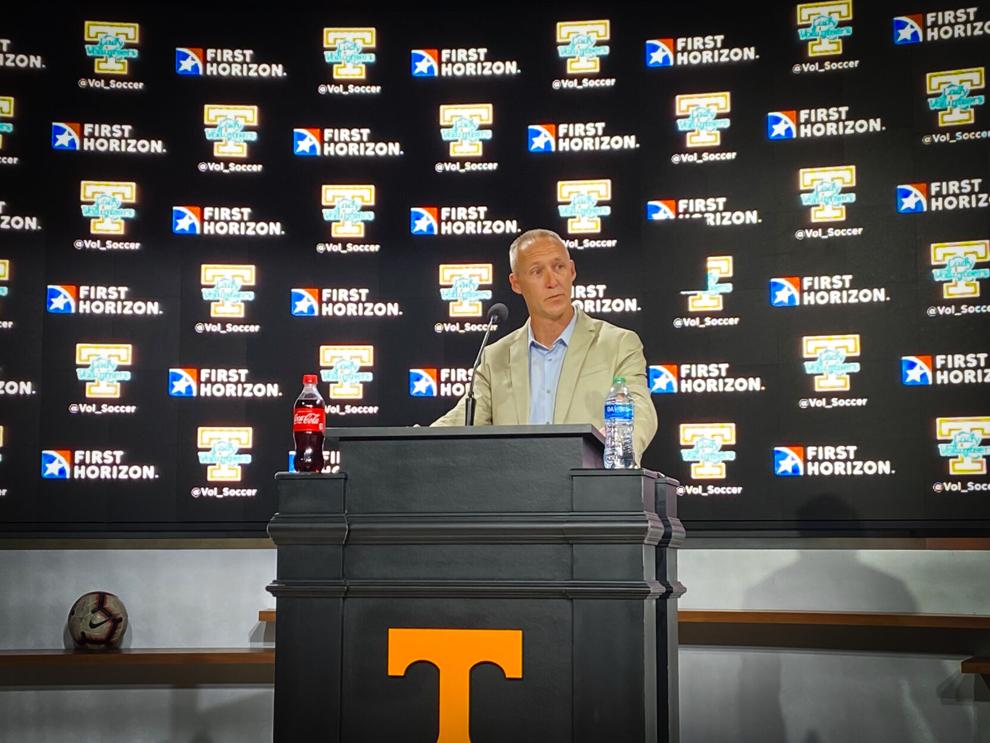 Joe Kirt never looked forward to coming to the office the Monday morning after a loss in his early years at Tennessee.
Former Tennessee women's basketball head coach Pat Summitt, who shared an office suite in Thompson-Boling Arena with the assistant soccer coach Kirt, would pop her head into his room and ask "'Coach, what happened out there this weekend?'"
"You learn very quickly that conversation isn't one you want to look forward to," Kirt said. "And winning takes on a whole new meaning after a couple of those chats."
Those difficult interactions with the third-winningest coach in women's basketball drove Kirt's desire for success through the roof, and he made great strides as a coach because of it.
Kirt's hard work paid off on Monday when he was formally announced to be Tennessee's fourth head soccer coach, taking over the program after Brian Pensky's departure to Florida State.
"We are committed to keeping Tennessee soccer at the top of our league," Kirt said in his introductory press conference, "and positioning ourselves to compete for a national championship."
White met with the soccer team on Monday to gauge the athletes and learn what they wanted from the next leader of their program after Pensky.
White not only leaned on the opinions of the student athletes, but with many of the best minds in the college soccer world, and he quickly realized that his most qualified candidate was already in the program.
"We realized that the best leader for this team, for the upcoming season and for the long haul was already on this campus," White said.
When White announced Kirt's promotion to the team earlier in the week, he had some fun with them by pretending he had made an outside hire. When the hire he introduced was 15-year Tennessee assistant Kirt, the players jumped out of their seats, cheered and mobbed their new head coach.
"We talk about how special they are, how much they make this so enjoyable and so rewarding," Kirt said. "To be able to continue that with these guys, I couldn't ask for anything more."
That moment proved that there would not be as difficult of a transition phase within the program as there would have been had White made an outside hire. The players already love and respect Kirt as a coach and a person. There's not many better situations to be taking over a program in.
"I could not have asked for a better experience to walk into," Kirt said. "Knowing these guys as well as I do and they with me – all the energy it takes to develop and cultivate those relationships, you don't have to spend it. We're on the same page … We can spend our time doing other things straight away."
Kirt's focus in the 2022 season will be on the players. He wants the environment of his team to be conducive for the players. He said Monday the one area he has grown the most over tenure in Knoxville has been listening to the players and making a better atmosphere for them – one in which they are not scared to be corrected or tentative to learn.
"As a young coach starting out, it's about X's and O's, and 'We've got to do this,'" Kirt said. "And you learn over time it's about investing, buy-in and understanding and strengthening our team and our relationships."
Kirt's promotion marks a new, but not divergent phase for the Lady Vols. Tennessee's core – one that won the 2021 SEC Championship – will be intact in the fall. Instead of tearing that core down after losing the stalwart Pensky, White was clear with Kirt's promotion that his intention is to remain competitive.
"We knew we had a championship-caliber team with a loaded roster," White said. "... This is not a rebuild, this is not a restart. This is, how do we continue to move forward and continue to build the program and take it to even bigger and better heights?"
As difficult as it is to lose a mentor, Kirt is choosing to focus on the positives from Pensky's departure. The fact that Pensky was even coveted by the reigning champions Florida State means that he was doing something right.
Tennessee is one of the top programs in college soccer, and now it is Kirt's to run.
"We're going to continue to do well and thrust Tennessee onto the national map," Kirt said. "And that's going to be where our thoughts are and where our goals lie."