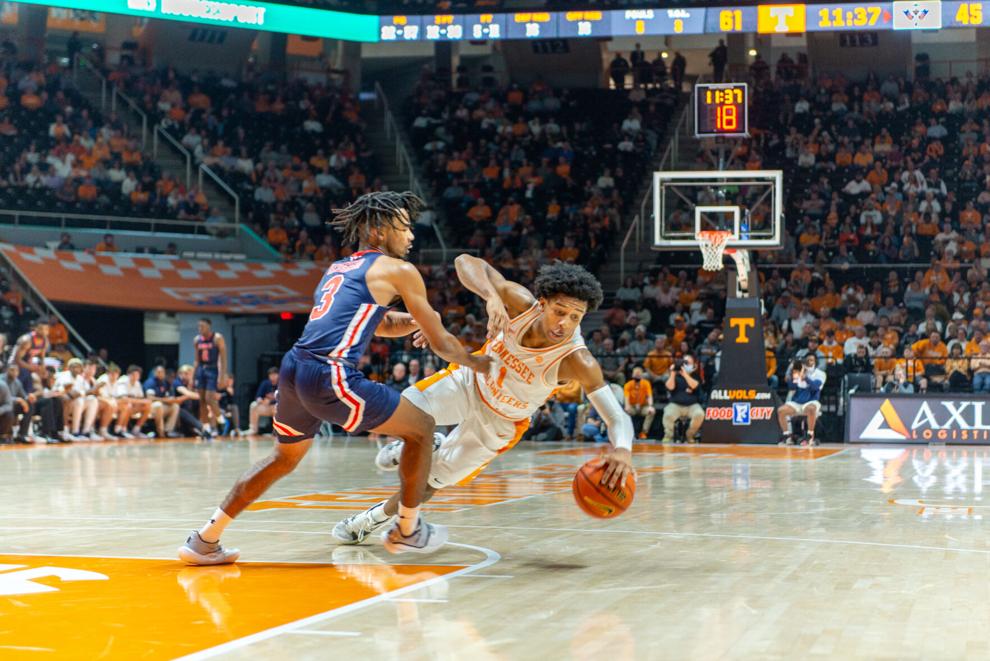 A new era of Tennessee basketball has arrived.
Gone are the midrange pull-ups and contested shots in favor of a more modern, simplistic approach — take the open look whenever applicable. The Vols were raining buckets from downtown in Tennessee's fifth straight win on opening night, setting a program record 17 threes to dispatch UT Martin, 90-62.
The Skyhawks came to play in the first half, though. It was clear within the first minute that head coach Ryan Ridder's squad hadn't journeyed 333 miles east to Thompson-Boling Arena to let Tennessee walk all over them.
The Vols looked lost in the early going of their young season, trailing by four to a unit returning zero players from a season prior — nine transfers and five true freshmen — heading into the under 12 timeout.
Most of that slow start stemmed from spotty defensive play, especially in the post. The Vols allowed 9 of the Skyhawks' first 13 shots to fall.
It wasn't much better on the other side of the ball. Tennessee could barely keep up on offense, shooting just 38% from the field heading into the halftime break.
"They came in with a game plan and worked it," Tennessee head coach Rick Barnes said. "They shot 42, 43% overall — you have to give them credit for that."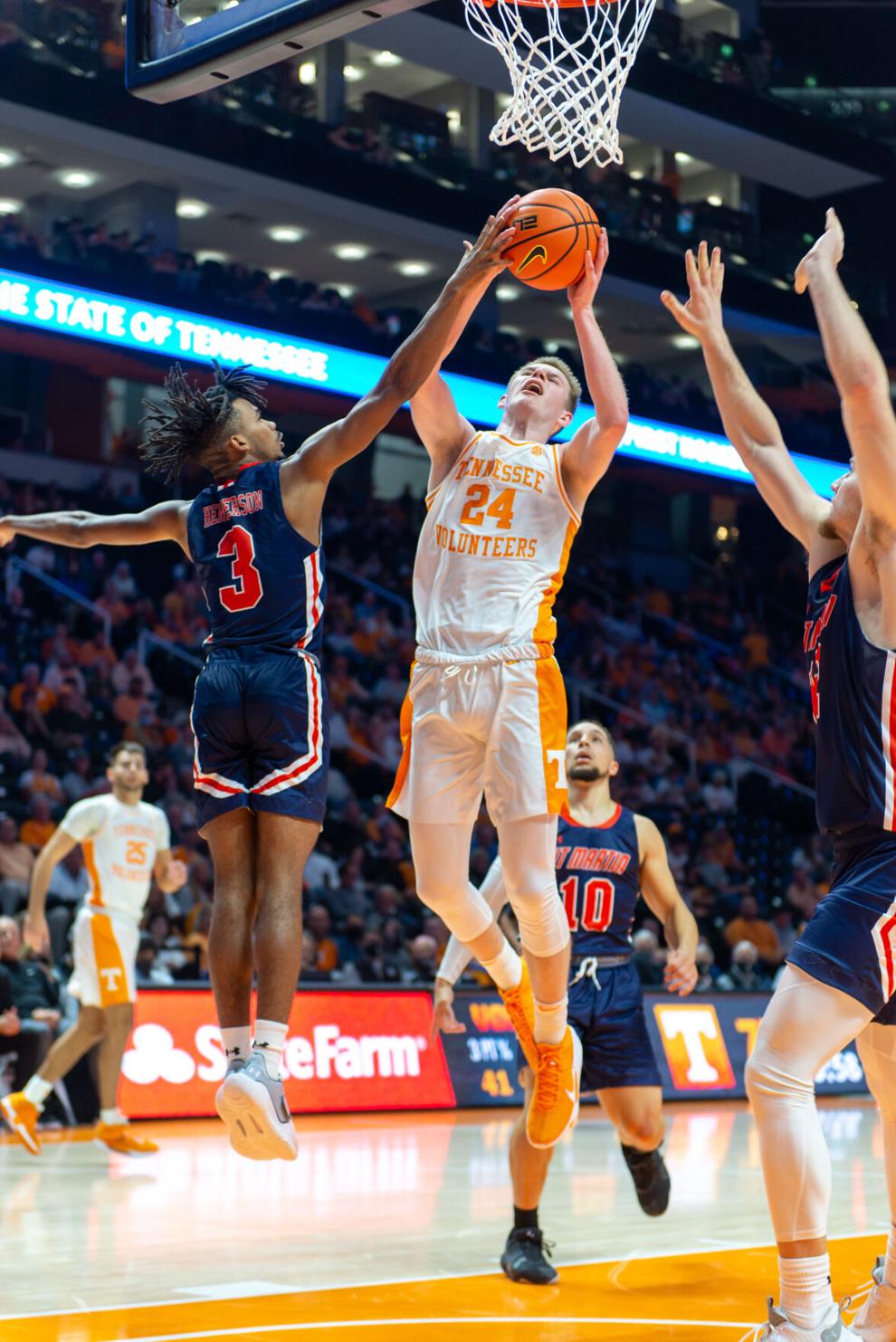 "It was a good opener for us because it exposed that we have to get better. This time of year we know we have to get better, especially playing against outside competition."
The Vols were without the services of sixth-year senior John Fulkerson, who sat out of Tuesday's game with a fractured left thumb. Talented freshman Jonas Aidoo didn't see playing time fresh off an illness that held the 7-footer out of practice in the late offseason.
"Jonas just got back (from illness)… Fulky has been doing everything he can do in practice without contact," Barnes said. "He needs to get a little bit under his belt … He's been here long enough and he knows — he'll give us another dimension that we don't have right now."
Uros Plavsic, Olivier Nkamhoua and Brandon Huntley-Hatfield split minutes down low in Fulkerson's absence and struggled. The Skyhawks did most of their scoring work in the paint throughout the night, making only 7 threes off 23 attempts compared to Tennessee's 17 for 40.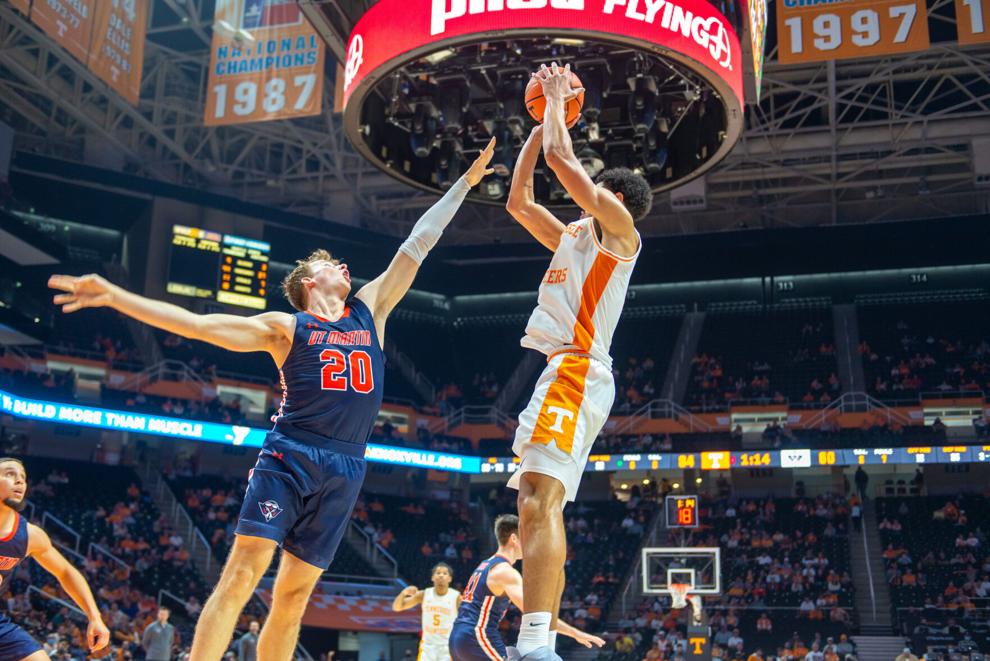 Rick Barnes emphasized letting the ball fly from deep after Tennessee's exhibition victory over Lenoir-Rhyne, a game that saw the Vols take 46 threes, their most in a game — exhibition or otherwise — in more than a decade.
"There's a fine line," Barnes said. "When we're open, in rhythm, the shots that we practiced, we are going to take them."
"After offensive rebounds, unless we can get a clean putback, we are definitely looking to spray a three."
It's a small sample size, but Tennessee isn't just heaving up shots whenever the chance arises. The Vols shot just under 43% from deep to match their shooting efforts from the rest of the court.
"We got a lot of shooters this year, a lot of people who can pass the ball, hit the open man," junior guard Santiago Vescovi said. "We have confidence in any teammate we have, they can shoot it. It's really fun."
Guard play was the difference maker in the second half for the Vols. Vescovi and freshman point guard Kennedy Chandler led the way for the Vols with 20 points each, combining for 23 in the first 15 minutes of the second half.
Chandler, a former five-star recruit, drained all four of his shots from downtown. What impressed most in his regular season debut was his playmaking ability when the Vols needed it. Chandler was good for 4 assists and an offensive board.
"He's fast. Every time I see him when I'm behind him I'm just yelling, 'Attack, attack, attack,'" Nkamhoua said. "I know every time he attacks and he's under control, knows who he's looking for, he can create something great. I don't think anyone can keep up with Kennedy."
"That kid can move."
Photo Gallery - Men's Basketball Season Opener vs. UT Martin