It was a sloppy start to the 2019-2020 basketball season for Tennessee, but the Vols got to 1-0 beating UNC-Asheville 78-63.
The Vols overcame 12 first half turnovers and 50 percent free throw shooting with a balanced offensive attack to cruise past the Bulldogs.
Tennessee had six players score eight or more points in the win as four different Vols reached double digits.
Tennessee's roster had only nine scholarship players active Tuesday night, including only three big men, but Barnes elected to roll with a small lineup not playing 6-foot-11-inch Zach Kent until the 3:47 mark of the second half.
While UNC-Asheville didn't possess a whole lot of quality interior scorers, the Vols' small-ball defense held up well against the Bulldogs.
"Defensively we were where we wanted to be until the very end," Tennessee head coach Rick Barnes said. "Physically we were there until the very end until they just put their head down and started driving ball. We're going to have to deal with that."
The weakness for Tennessee's small-ball lineup came on the glass where the Vols gave up 11 offensive rebounds including eight in the second half.
Turnovers were an issue in last week's exhibition game and that continued Tuesday night as they turned it over seventeen times. Tennessee's offense was sloppy from the get-go turning it over three times in the game's first three minutes.
The turnovers were an issue for the Vols' senior leaders in the backcourt as Jordan Bowden and Lamonté Turner combined for 10 turnovers.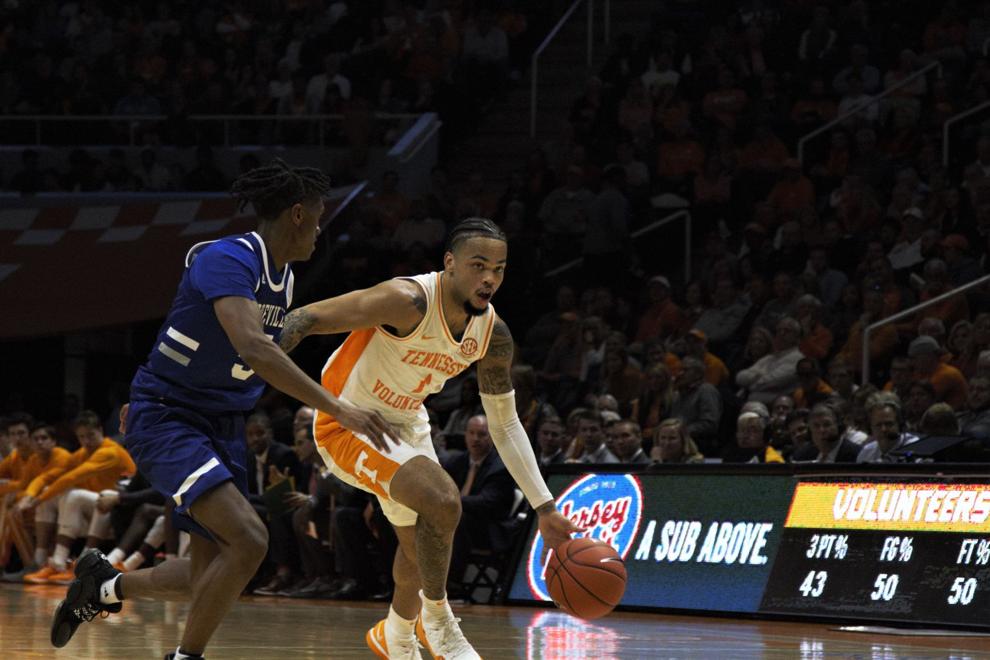 "Disappointed really in our senior play," Barnes said. "We're counting on Jordan Bowden and Lamonté Turner to do a lot for us and they're turning the ball over way too much. Shot selection is not what we want it to be from those guys."
Tennessee's core eight-man lineup featured three newcomers and the Vols clearly looked a little out of sync at times as the new group looks to jell together.
"I think turnovers are always part of a learning process, but that still shouldn't be an excuse," freshman forward Olivier Nkamhoua said. "We should still figure out where they're coming from. Is it bad execution? Is it just not taking care of the ball? And we just need to work on that."
Tennessee struggled to end the first half as UNC-Asheville put an 8-2 run together cutting Tennessee's lead to 36-28.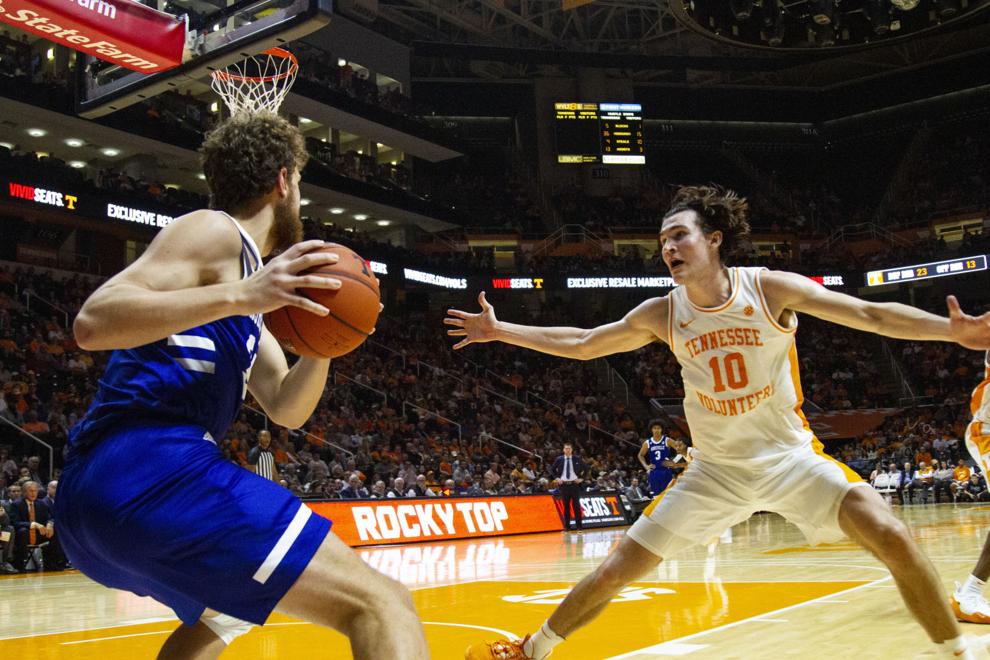 Tennessee wouldn't let the upset bid linger long as the Vols went on a 15-3 run to open the second half and extended its lead to 20 points just five minutes into the second half.
"Taking care of the ball was one of the messages (at halftime)," freshman guard Davontae Gaines said. "We kind of talked to each other before the coaches got in here and let each other know that we have to slow down on offense. Get good passes, get the ball to each other in the right places."
Tennessee would coast for the remainder of the game leading by as much as 25 multiple times before the Bulldogs ended the game on an 11-2 run cutting the deficit to 15 points.
It was a mixed bag for Tennessee's three freshman Tuesday. Former five-star Josiah-Jordan James had a quiet night scoring just two points in 24 minutes of action. The Charleston, South Carolina native added two assists and three turnovers.
Nkamhoua impressed in his debut recording seven points and seven rebounds in 15 minutes of action.
Gaines made the most of his 10 minutes scoring nine points on 4-of-7 shooting.
"Those guys have to slow down," Barnes said. "They're good basketball players. … It goes back to jitters in the game. It goes back to, 'I have to do something great every time I touch the ball." 
"You don't have to do that. A perfect example is Jalen (Johnson) and Ticket (Davontae Gaines) who did a terrific job. The ball found them."
Tennessee will return to action next Tuesday as the Vols host Murray State to Thompson-Boling Arena. Tipoff is set for 9 p.m. ET.