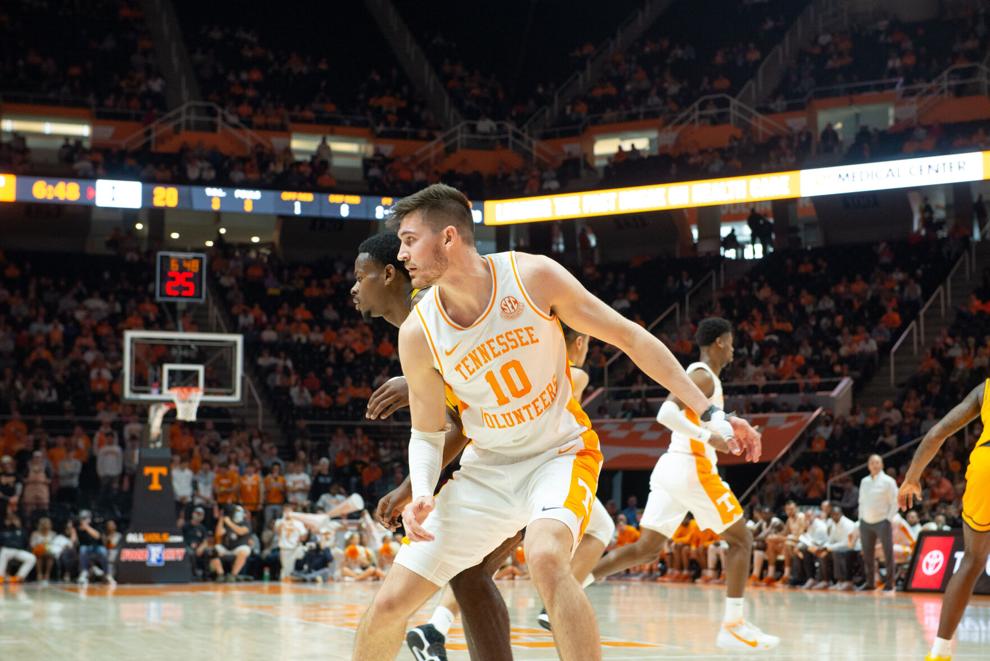 Tennessee is firing on all cylinders to start the 2021-22 basketball season. With dominating wins over UT Martin and ETSU, the Vols beat their first two opponents by more than 25 points for the first time since 2018.
Plenty has changed since then, but some familiar trends from that season are starting to emerge.
The start of the 2018 saw the Vols dispatch Presbyterian and High Point before heading to the Battle 4 Atlantis early season tournament in the Bahamas. There, Tennessee drew a Purdue team fresh off a Big 10 Championship title in the opening round.
After beating the odds and downing the No 18. Boilermakers, the Vols advanced to face Jay Wright's Villanova squad, one that would win the National Championship just a few months later. Wright's team — one that featured four future National Basketball Association (NBA) players — beat the Vols by 9.
Tennessee gets its chance at revenge Saturday. The Vols face off against the Wildcats in this season's Basketball Hall of Fame Tip-Off Tournament at Mohegan Sun Resort in Uncasville, Connecticut.
Were Tennessee to fend off Wright's Wildcats, the Vols would face either Hubert Davis' North Carolina Tar Heels or another familiar face in Matt Painter and Purdue.
"I go back to when we played them a couple years ago down in the Bahamas," Tennessee head coach Rick Barnes said. "Some guys on that (Villanova) team were role players then, and to see what they've developed into is just the ultimate compliment for Jay and his staff in terms of their player development."
"His guys are going to be competitive, they're going to play hard, and that's a chip off the block, because Jay's a very competitive person and has done a great job building a great program."
Three players from that matchup in 2018 will play Saturday as well. Super senior forward John Fulkerson is the only Vol returning against the Wildcats.
The "role players" Barnes spoke of at Villanova have blossomed to bona fide superstars.
Collin Gillespie scored just 2 points against the Vols in 2018, but is now recognized as one of the top point guards in the nation. The 6-foot-3 guard from Huntingdon Valley, Pennsylvania, is averaging 17.3 points, 4 assists per game.
Senior forward Jermaine Samuels is on track for his best season as a Wildcat, and has seen similar offensive production. Samuels dropped 20 points in a tough-fought loss to No. 2 UCLA last Friday.
Wright compares to Barnes in philosophy — recruit and develop raw talent into NBA-level production. The Wildcats have always competed with veteran talent and look to keep that trend alive this year with all five starters being upperclassmen.
Only four-star prospect Jordan Longino has seen noteworthy minutes this year for Villanova.
"I think it shows his confidence in his beliefs in terms of what he does and what he's looking for," Barnes said. "I know (Wright) is not going to sacrifice his beliefs and thoughts for recruiting someone he doesn't think is going to fit into his program."
"You can't play as hard as they do if you don't work hard, and I know enough about how they go about things that they're big believers in player development."
Villanova has proven to be one of the top offensive teams in the country to start the season, but has left much to be desired on the defensive end of the ball. The Wildcats will have a tough time accounting for the Vols' former five-star prospect Kennedy Chandler.
Chandler has been as good as advertised this season but is set for a big game this week especially with his near impossible-to-defend driving ability. The Wildcats, who play a loose man-to-man defense, have had trouble protecting the paint this year.
Tennessee features a myriad of talent with varying degrees of experience to back up Chandler, who seems to have already settled into his role even as a true freshman. Regardless, experience is something that Barnes believes could play a huge role in Saturday's contest.
"It's not going to be perfect, but you have to compete," Barnes said. "Again, we have some guys here that have been in some games like that. But the majority of this team hasn't — so we're going to find out a lot about ourselves this weekend."