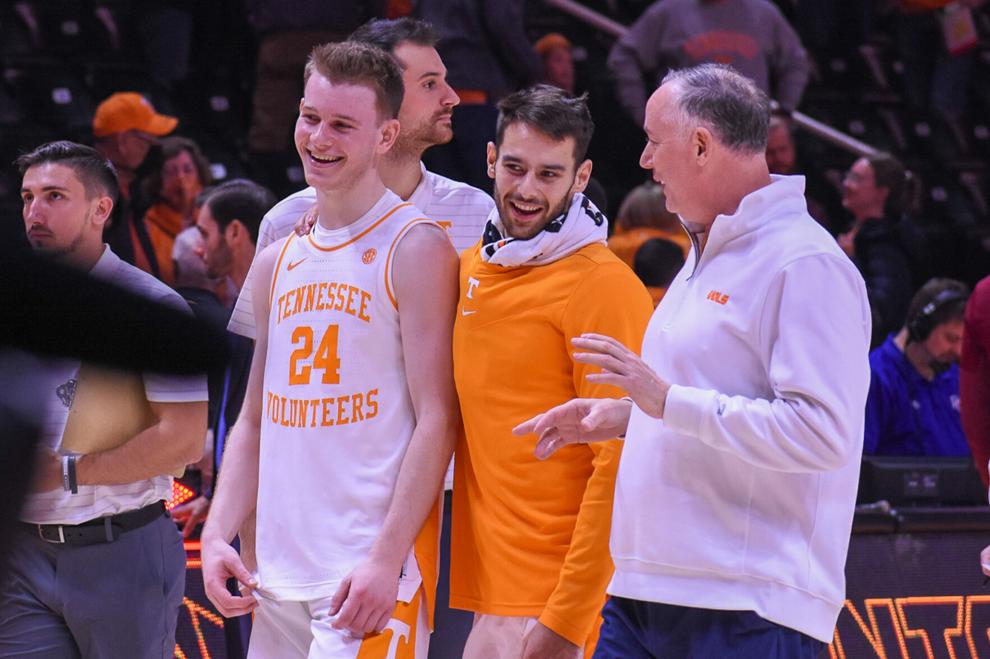 Rick Barnes schedules games against the small, mid-major schools for a reason. They are always a good test for the Vols. If they do not take the matchup seriously, then an upset can always happen. The Vols nearly learned this last Friday against Tennessee Tech.
When the Vols, however, string good practices together and enter the game with the right mindset, they have the talent to dominate smaller schools.
The No. 13 Vols learned from their mistakes, riding improved three-point shooting and defense to an 86-44 win over Presbyterian Tuesday night at Thompson-Boling Arena. In his return to the lineup, Justin Powell finished tied for a game-high points and was perfect from three-point range.
Powell missed Friday's contest against Tennessee Tech with the flu. He showed no signs of sickness as he dropped 15 points on 5-for-5 shooting from deep off the bench. With his five makes, Powell — a sophomore transfer from Auburn — is second on the Vols with 11 made three-pointers.
"My mindset is always just be ready," Powell said. "As far as coming off the bench, I don't mind it to be honest. Somebody's got to do it, so it might as well be me. We got a lot of guys who are good and everybody has a chance to have a good night every night. Whoever is shooting well that night, whoever is playing well that night, they get the call. And if not, the next man up. That's the beauty of our team."
Powell paced Tennessee's three-point showing that made large strides from Friday. The Vols shot 51% from beyond the arc and totaled their second highest number of three-point makes the season with 14. After Powell's 5 threes, Victor Bailey Jr. added 4 of his own. He was 3-for-17 from three entering the night. Bailey finished with 14 points.
"Obviously he's a great scorer. And that's what he did well tonight. And he can provide a lot for us," Powell said of Bailey.
Defensively, the Vols were equally as dominant. Presbyterian was averaging over 63 points per game entering the night and the Vols held them to a season-low 44 points. The Blue Hose committed more turnovers (25) than they made field goals (18), and Rayshon Harrison — a top-10 scorer in the nation — was held to 7 points. The win was the third time this season the Vols have held opponents to under 40% shooting from the field.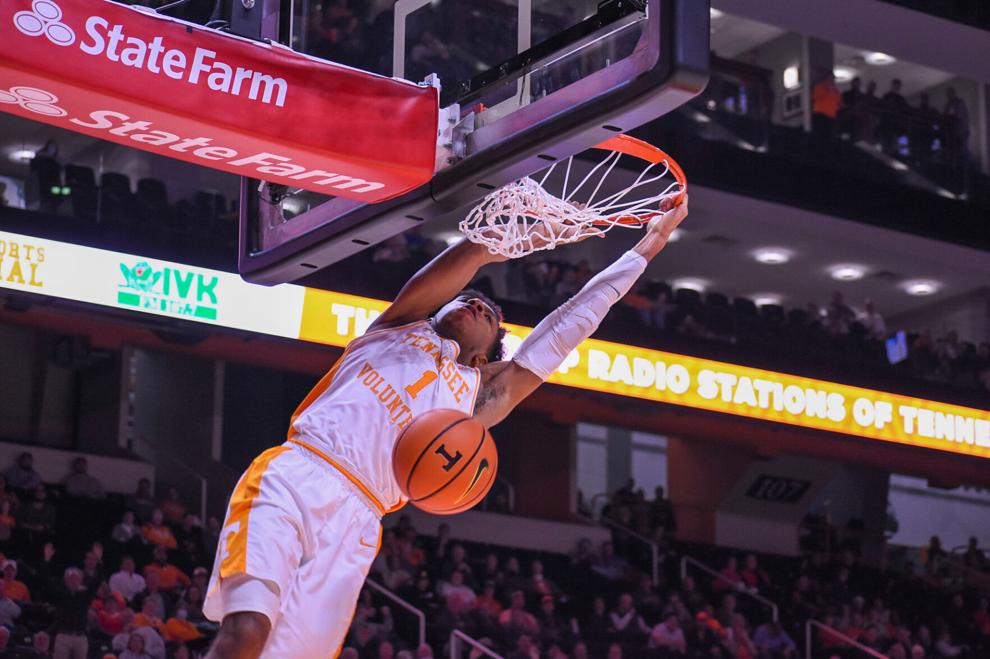 The Vols' improvements were exemplified in a pair of 15-0 runs in the first half. Presbyterian had actually taken a 10-8 lead six minutes into the game before the Vols pulled ahead. Bailey made 2 threes and totaled 8 points on the first run.
Kennedy Chandler shined on the second run, scoring 4 points and adding an assist and a steal. Though he finished tied with Powell for the team lead in points, Barnes was most impressed by Chandler's 7 steals on defense — what he was most displeased with Friday.
"Kennedy fought hard trying to really get his coverage right tonight and fight through some screens," Barnes said. "It's simple. You see how electrifying he can be on offense. From a coach's standpoint, you ask the question 'Why not on defense.'"
Chandler's practice leading into Tuesday was much better than his practice before Friday's game. His realization that practices and preparation matter, and that he cannot simply out-talent an opponent during games was crucial to Chandler's noticeable defensive growth.
"You got to come in practice every single day knowing that you want to get better and not taking any days off," Chandler said. "I had one bad practice the day before the game and that's what led to me not having a good game. He told me that I got to come back and have a good practice to get prepared for this game, which I did."
The Vols will look to sustain their progress as they begin a difficult road trip this weekend. They will play their first true road game Saturday at Colorado before heading to New York Tuesday night for the Jimmy V Classic in Madison Square Garden against Texas Tech.
"I think it's going to be fun going out to Colorado. Great place," Powell said. "It'll be fun to actually have a true road game and see what we're about. We're obviously going to hit some adversity the next couple of games, but it'll be interesting to see how we respond to that. It'll kind of define us and we'll see how we translate that into SEC play and be ready for that."
Photo Gallery - Men's Basketball vs. Presbyterian