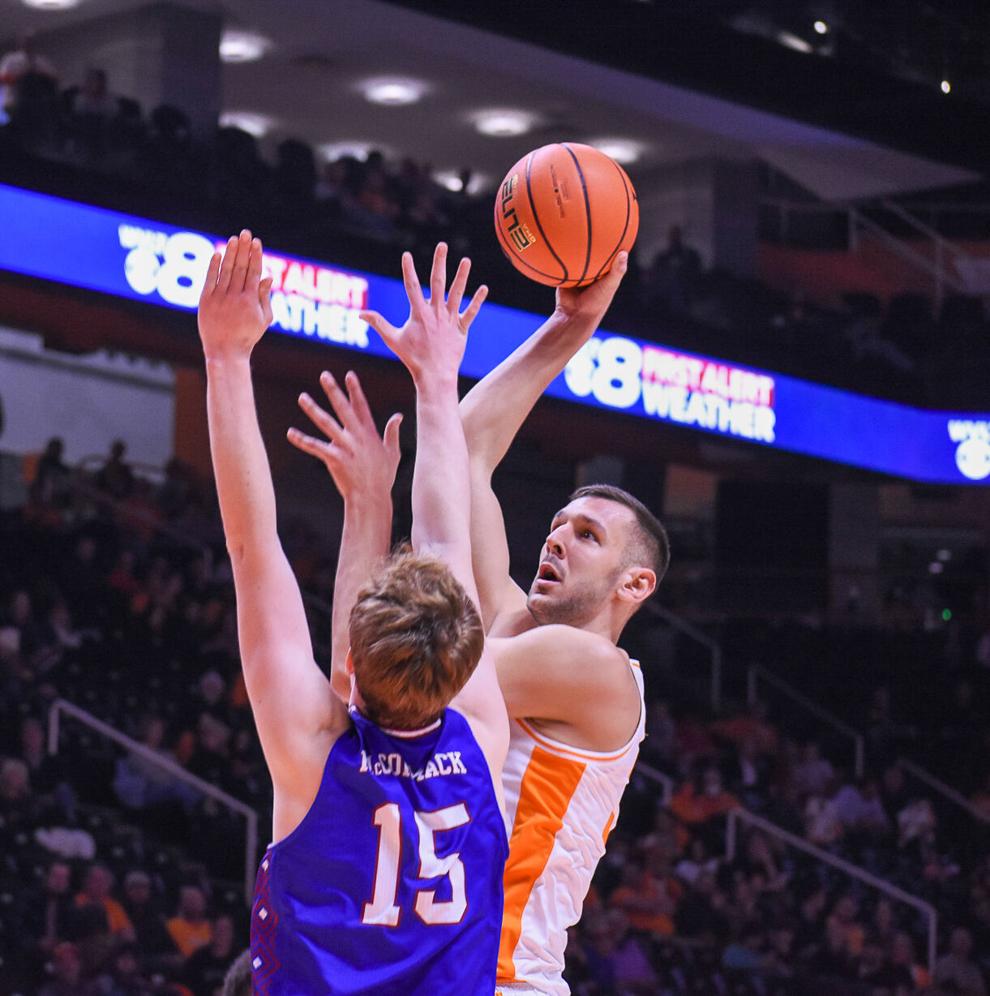 Tennessee basketball had no intentions of playing with its food again at Thompson-Boling Arena Tuesday night, dominating Presbyterian 86-44 to improve to a sound 5-1 on the season with a true road challenge against Colorado on the docket.
Here are three takeaways from Tennessee's outing against the Blue Hose.
Suffocating defense prevails against slow Presbyterian squad
Presbyterian's Rayshon Harrison entered Tuesday's contest averaging just over 21 points per game through seven contests. His monster weekend at the New Orleans University Classic just earned him a Big South player of the week.
But Harrison didn't fare as well against No. 13 Tennessee. The sophomore point guard contributed just 7 points on 3-10 shooting in 32 minutes.
It wasn't just Harrison, though. The Blue Hose were held to their lowest point total of the season, as well as the lowest since dropping a 2018 matchup against High point 77-44. The Vols haven't held an opponent to less than 44 points since a 72-43 win over Florida A&M in 2019.
Tennessee scored 33 points off 25 turnovers, blocked 6 shots and held the Blue Hose to an abysmal 38% from the field.
"We wanted to really not give them anything easy," Barnes said. "We knew that they're not a team that shoots a lot of three's, but they really try to hurt you inside."
"I thought our guys locked in, I do. I think the other night (against Tennessee Tech) was a great lesson for them."
Freshman point guard Kennedy Chandler was especially active on the defensive end, tying the Vols' program single-game record with 7 steals.
Tennessee went on three runs of 10 points or more throughout the game, including a 5 minute and 58 second run stretching from the end of the first half to the start of the second half.
Three pointers, Bailey fuel blitz on offense
Tennessee has been slow out of the gate in most games this season, and it was no different Tuesday night. Presbyterian jumped to an early 10-8 lead, taking advantage of tough mid-range jumpers that Tennessee left wide open.
Not for long though. The Vols adjusted on defense, ditching the 1-2-2 press for man-to-man coverage. The Vols went on a 10-0 run, raining threes to take a 24 point lead heading into the halftime break.
The Vols ended the first half on a 17-0 run.
"We did come back and play with much more of a purpose in terms of really trying to make every possession count," Head coach Rick Barnes said. "… Overall, everyone that played today made some kind of contribution in a positive way."
The Vols posted their best shooting night from beyond the arc Tuesday, draining 14 shots at a 51% hit rate. Tennessee's previous best on the season was against North Carolina, where the Vols posted a 45% hit mark from downtown.
Victor Bailey led the charge in the early-going, surpassing his season total of 3 three-pointers by dropping 14 points including 4 from deep.
"It was just a matter of time before (Bailey) would get going," Barnes said.
Bailey has proven himself to be an electric shooter when it is his night, but has struggled with consistency. The senior Oregon transfer had posted three 2-point outings heading into Tuesday night's matchup.
"That's the VJ that we wanted to see," Chandler said. "I told him, 'be ready to shoot, I'll find you.'"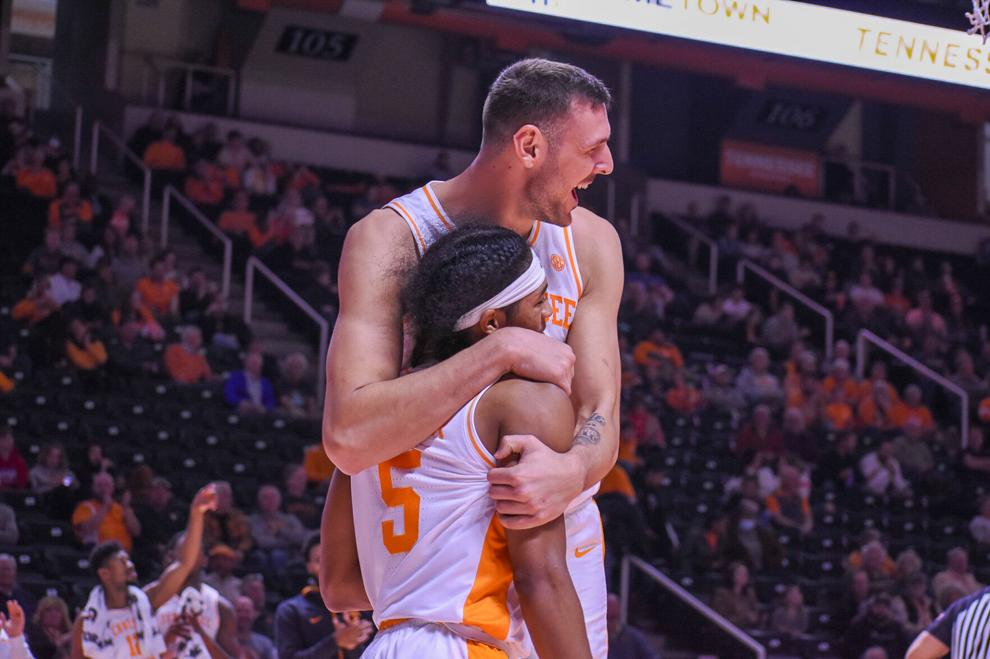 Justin Powell excites off the bench
Auburn transfer Justin Powell came to Tennessee relishing in the opportunity to compete for minutes in a deep Tennessee lineup.
"I love it, it's the reason I came here." Powell said. "I wasn't promised anything, I could have gone somewhere else and played 30 minutes a game but that's not what I was about. I wanted to come here and get better every single day and play against good competition, fight for spots."
"It's great being able to have depth on our team, go at each other in practice — it makes it better at the end of the day."
Powell was fantastic off the bench Tuesday night, going 5-5 from deep for 15 points, 3 assists and 3 rebounds.
The Vols averaged 26 bench points per game prior to Tuesday against the Blue Hose, where the Tennessee bench accounted for 38 points.
By all accounts, Powell and Santiago Vescovi have been Tennessee's best shooters this season, but Powell still subscribes to Barnes' philosophy that every game is different and has risen to the challenge when on the court.
"You're always going to get to get your call, always going to get your moment — you just have to be ready for it." Powell said. " As far as coming off the bench, somebody's gotta do it so it might as well be me. Everybody has got a chance to have a good night every night."
"Whoever is playing well that night, they get the call. If not, the next man up. That's the beauty of our team."
Photo Gallery - Men's Basketball vs. Presbyterian