Tennessee opened its 2021-22 regular season with an 90-62 win over UT Martin Tuesday night at Thompson-Boling Arena. Defense was an issue in the first half, but the Vols overcame the struggles by setting a new program record threes.
Here are three takeaways from the Vols' season-opening win.
Defense struggles early
Despite entering the game as 33-point favorites, Tennessee could not find its footing. As Rick Barnes lamented after the exhibition, Tennessee's defense has really missed the presence of Yves Pons.
UT Martin scored in the paint whenever it wanted, finding open lanes with ease. Martin's tempo — much slower than the one Tennessee is used to in practice — threw the Vols off.
"We practice at a very high tempo and pace. We don't practice a lot where teams are coming walking the ball down the court, getting to a set," head coach Rick Barnes said. "They clearly had a plan to spread us out and drive the basketball. We had a plan that we wanted to defend the three-point line. But when we say that, we still want to help each other in those gaps. And we weren't doing that."
The Skyhawks shot 55.6% from the field in the first half, and at one point were pushing the high 60s to low 70s. They didn't keep up that rate all night, but it was enough to hold a lead over the country's No. 18 team for 6:19 minutes.
Slowly but surely, Tennessee came around on defense. Brandon Huntley-Hatfield and Josiah-Jordan James led the charge, with 4 blocks and 5 steals, and 2 blocks and 3 steals, respectively.
For the Vols, it's important to not focus on Pons' absence. They believe they have the talent and bodies to make up for his loss. It's all about buying in.
"In order for us to reach our best level of defense, we've all got to buy in," Olivier Nkamhoua said. "It's hard. It's really hard to play good defense for 30 seconds and then rebound at the end of it for a full game every possession, every time you're on the floor. It's really about buying in and wanting to do it and understanding that's what it's going to take for us to win."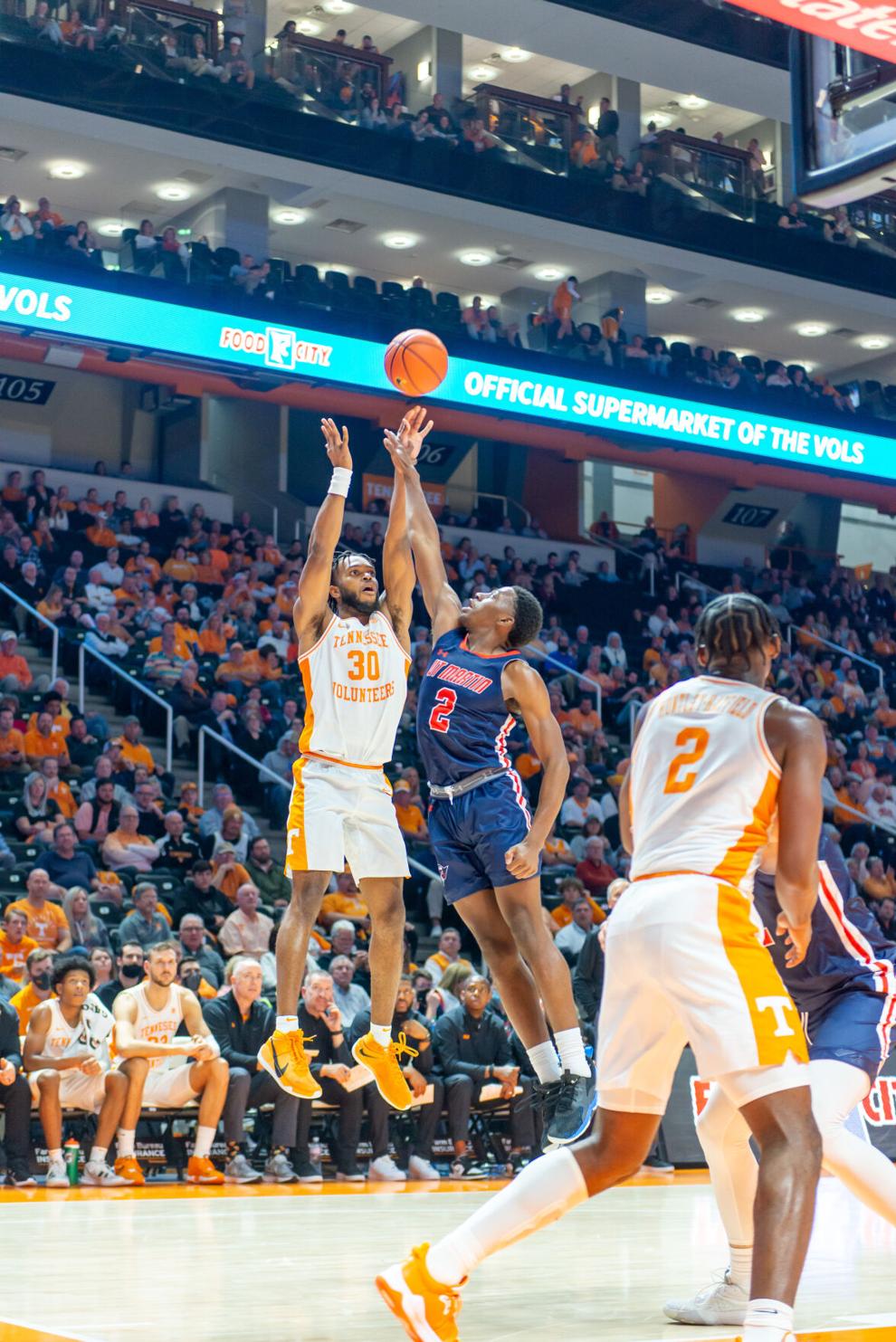 Tale of two halves
Tennessee looked like two different teams between the first half and the second half. Along with the defensive struggles, the Vols shot a measly 37% from the field and 50% from the free throw line. They were getting the open shots, but just missing them
The first four minutes after halftime were just as slow as before, as Tennessee scored just 5 points in that stretch. Fortunately for the Vols, UT Martin had gone just as cold, netting only 3 points over that span, meaning Tennessee had some room to figure things out.
When the Vols finally turned it around, they really started clicking, going on a 21-6 run at one point.
The junior forward Nkamhoua best characterized that turnaround. In the first few minutes of the second half, he picked up 3 quick fouls and came out of the game. When he got back into the action after 7 minutes on the bench, he went on a tear — totaling 2 points, 4 rebounds and an assist before fouling out.
On the night, Nkamhoua finished with a double-double of 11 points and 14 rebounds.
"Olivier, the more time he gets, the more we expect him to settle in," Barnes said. "He did a yeoman's job on the boards. He had a double-double. But it was his effort to go get it."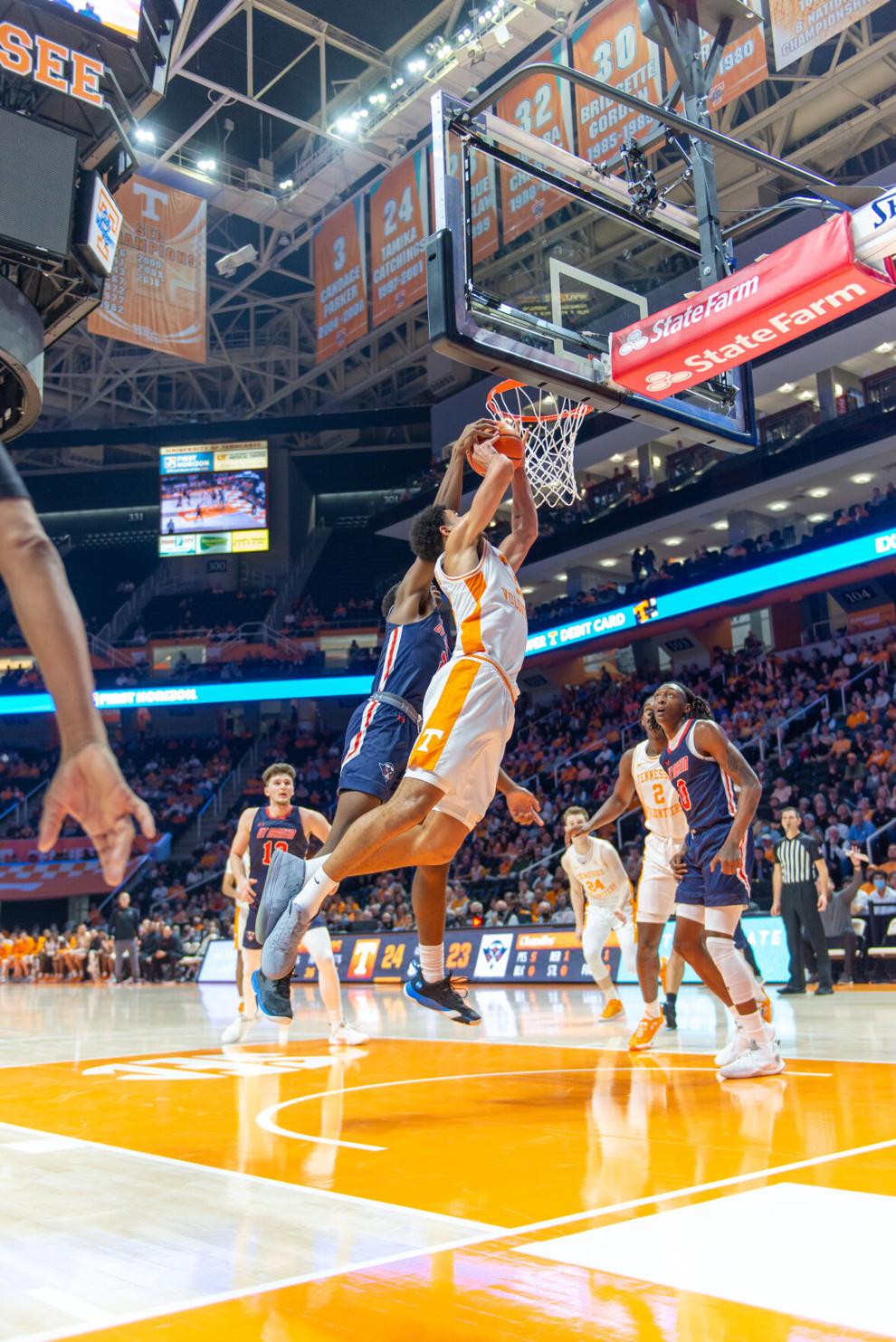 Record threes
The Vols did not shy away from taking their threes for the second consecutive game in 2021. Against Lenoir-Rhyne in exhibition, the Vols would have set a program record for three-point makes and attempts, had the game counted. They wasted no time breaking their record in the first game of the season.
"I think it's just fun to play around these players. We have a lot of shooters this year," guard Santiago Vescovi said. "We have confidence in every single teammate that we have. I think everybody can shoot it."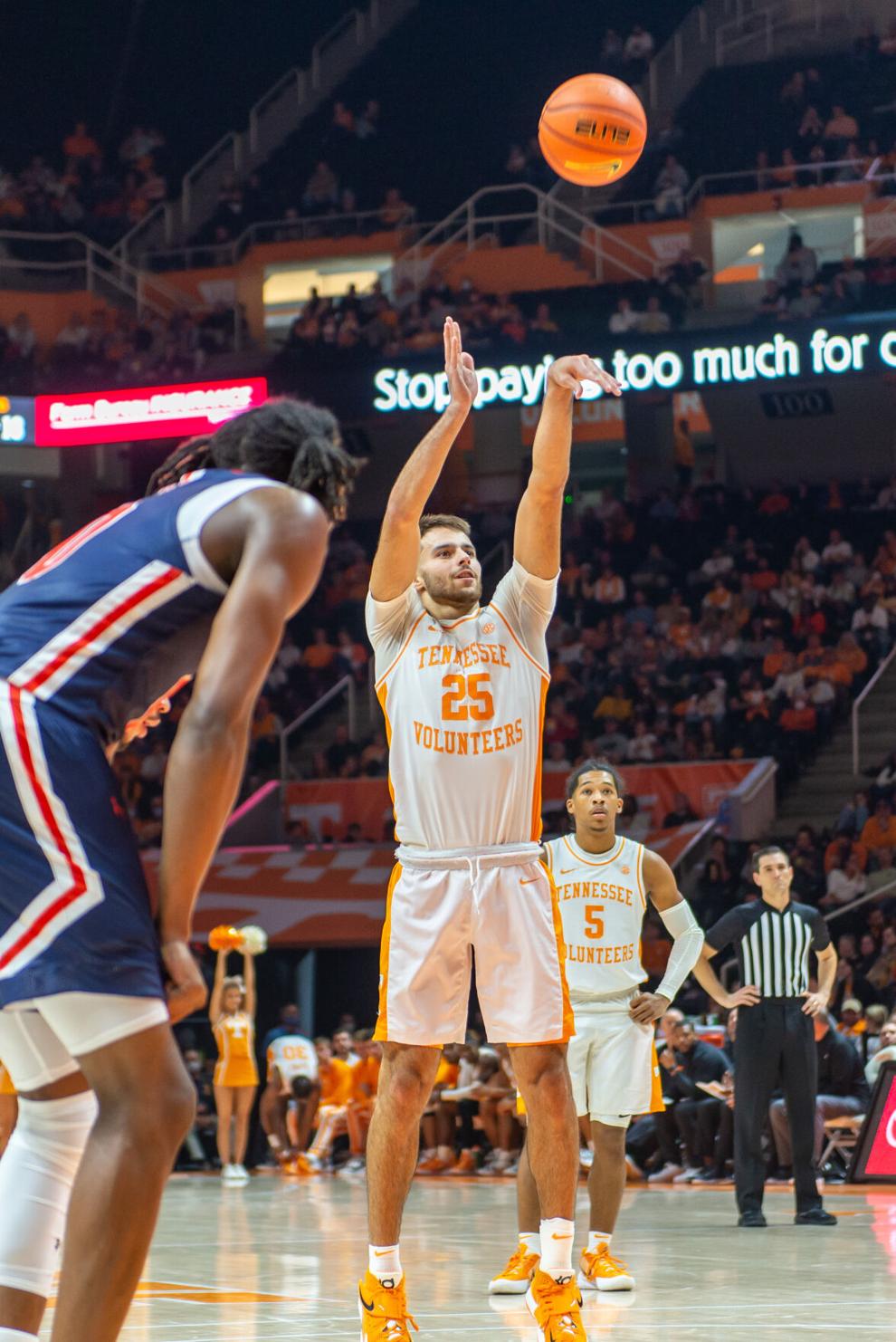 The Vols made 17 threes en route to a 28-point win, one more than their previous record of 16 set in 2016. The game's points leaders — Kennedy Chandler and Vescovi — were the biggest contributors to that mark. Chandler went a perfect 4-for-4 from deep, and Vescovi led the game with 6 total makes on 46% three-point shooting.
It all stems from the philosophy shift the Vols made over the offseason. Taking open shots — even if it's 40 threes — is better than trying to find a more appealing shot and risking a turnover. For Barnes, it all starts with a rebounding mentality.
"There's a fine line," Barnes said. "It's a really fine line. We've worked hard and when we're open in rhythm with the shots that we've practiced, we're going to take them. With that said, we have to have an offensive rebounding mentality. And tonight, I think we had (23). If we get offensive rebounds and we can't get a clean put back, we are definitely looking to spray it for a three. We really are. For us, it's an extra possession."
Photo Gallery - Men's Basketball Season Opener vs. UT Martin