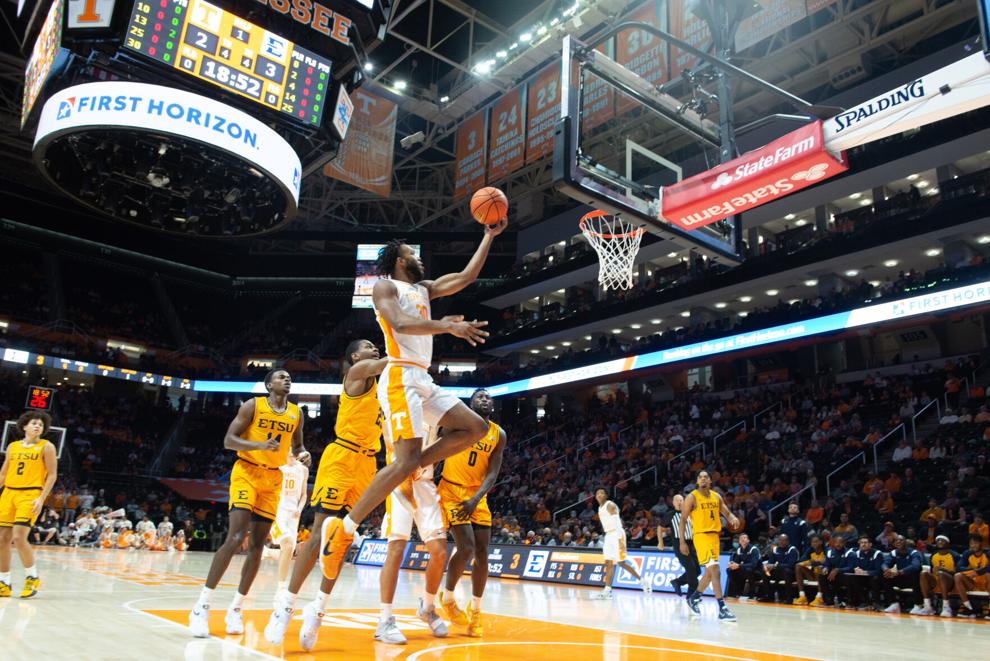 Tennessee posted another strong showing heading into the Mohegan Sun tournament in Connecticut, downing East Tennessee State 94-62.
Tennessee (2-0) now has a couple wins under its belt heading into Saturday's tournament where the Vols will face off against Villanova and one of Purdue or North Carolina.
Here are three takeaways from Tennessee's strong showing against the Buccaneers.
Oliver & company return to Rocky Top
Former Vols assistant head coach Desmond Oliver departed Rocky Top last year to take the vacant coaching spot at East Tennessee State, marking Sunday as his first return to his old stomping grounds.
"I love Desmond Oliver. I do," Tennessee head coach Rick Barnes said. "He has had a lot to do with where we are right now. He's been with me since day one."
"I'm excited because Des has been in the business a long time, and anybody who knows Des knows he's a grinder. He's waited a long time for the opportunity he has at East Tennessee State, he's deserving of it. He's going to do a great job."
Oliver is now 0-2 as a head coach, falling just short of upsetting the defending Southern Conference champion Appalachian State Mountaineers last Friday.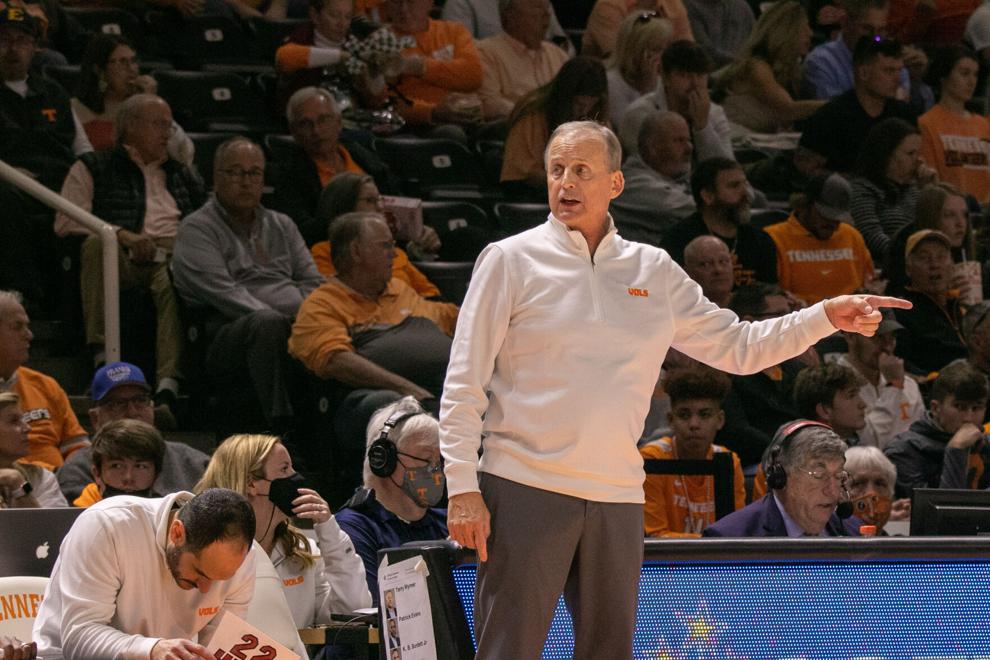 Barnes is 8-5 against former assistants after Sunday's 32-point victory. Tennessee's game two win was only the second time Barnes beat a former assistant by double-digits.
ETSU led for the first minute and eight seconds of the game, drilling an open three to take a 3-0 lead before a couple of Josiah Jordan James free throws gave the Vols a 4-3 lead.
Oliver's squad played catch-up the remaining 58 minutes and 52 seconds, trailing by as much as 40 in the final minutes of the game.
Chandler proving to be a star in the making
Freshman point guard Kennedy Chandler has been as advertised this season. His defense has been shaky at times, but it's hard to find any legitimate complaints concerning the former five-star recruit, unless perhaps you're Tennessee head coach Rick Barnes.
"I will say, there's not any sense of entitlement on his part in any shape or form," Barnes said. "He's competitive, but he wants to see everybody do well. He's got so much more he can give."
"He wasn't very good against (Tennessee) Martin, but I will tell you the last three days he's been tremendous."
However one chooses to spin it, Chandler was hot from the field Sunday evening. The Cordova, Tennessee, native scored 16 points on 6-9 shooting with a couple threes, 5 rebounds and 6 assists. All 16 of Chandler's points were scored in the first half.
Chandler's misfire from deep with seconds remaining in the opening period was his first missed basket from beyond the three-point line this season. The freshman point guard is 6-7 from deep through two games.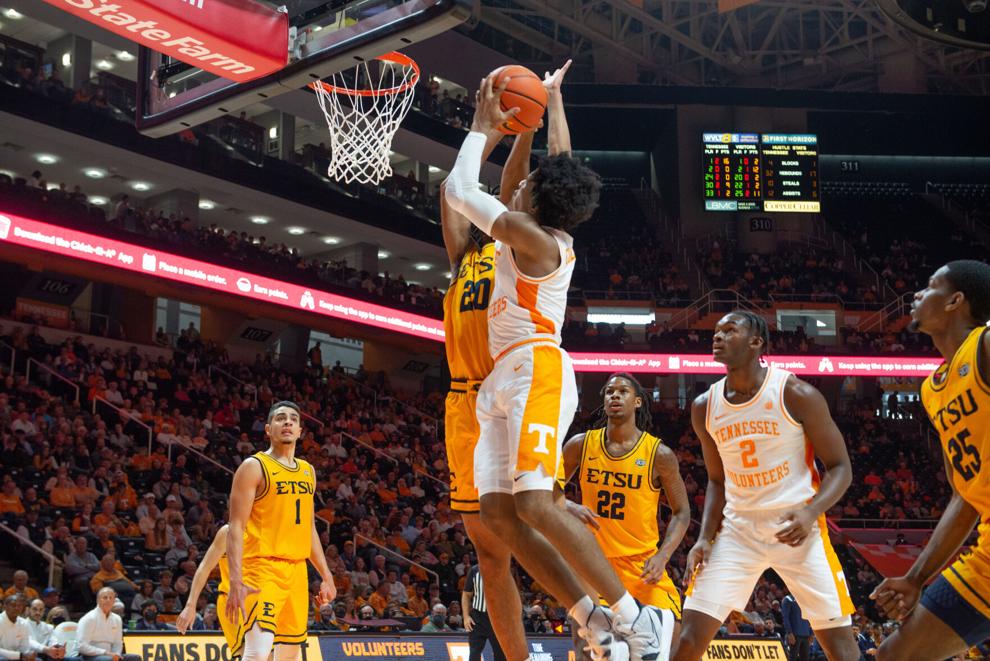 Sunday was Chandler's second straight game recording 10 points, at least 5 rebounds and at least 5 assists.
Coach Barnes insists Chandler's talents have not gotten to his head. The five-star freshman is remaining true to Tennessee's 'It's Not About Me' foundation.
"It's not about him, he's never made it about him," Barnes said. "He's going to continue to learn so much more as time goes on."
Nkamhoua shows out in the post
Junior forward Olivier Nkamhoua rebounded from a shaky performance in game one against UT Martin with an electric performance against the Buccaneers.
The Helsinki, Finland, native led the team in scoring and more than doubled his career high of 11 points with 23 in just 24 minutes of play. Nkamhoua also grabbed 8 boards, dished out an assist and recorded a steal.
Barnes has been historically good at developing veteran players into the major roles within his game plan in his coaching career. When considering Olivier Nkamhoua's play on Sunday, nothing has changed.
"In my opinion, coach Barnes is at his best with veterans," ETSU head coach and former Tennessee assistant coach Desmond Oliver said. "When good players are here for two to three years, he's the best teacher and player developer I've been around."
"(Nkamhoua) is going to have a great season. He and Fulky will end up being a tremendous one-two punch with guard play and shooters that shoot the lights out."
Olivier Nkamhoua will need to continue to take a big step to lead the Vols deep in the postseason alongside Chandler and Fulkerson.
Photo Gallery - Men's Basketball vs. ETSU