Tennessee returned to Thompson-Boling Arena for the first time in 2022 in its SEC home-opener against Ole Miss, but it was hardly the return it hoped for.
Despite leading for just over three minutes of game time, the No 18 Vols pulled off a 66-60 come-from-behind victory over Ole Miss in overtime Wednesday night.
Here are two takeaways from Tennessee's first SEC win of the season.
Vescovi's late magic fuels comeback
The Vols (10-3, 1-1 SEC) did not lead Ole Miss (8-5, 0-1) for a second of regulation. They looked completely lost offensively for the majority of the night, but in the end it did not matter. Santiago Vescovi pulled off some late-game heroics to erase a woeful shooting night.
Vescovi led the Vols with 17 points, but it was his last few makes that mattered most. As the Vols were crawling back, Vescovi was fouled as he sank a three, and he then completed the four-point play. Vescovi later hit another three with over a minute to go in regulation, faking a shot, stepping to the side of the defender and tying the game at 51-51 to send the Vols to overtime.
"It's crazy," freshman guard Zakai Zeigler said of Vescovi's clutch baskets. "It's just crazy. It's just amazing, cause I hand him one more, shot fake, step back, three ball. The crowd goes crazy. It's just like, game-changer. I haven't seen that before or witnessed it on the court, and playing on front of that many people."
In overtime, Vescovi scored 5 points on a three-pointer and 2-for-2 shooting from the free-throw line. His last three was the biggest of the night, as he stole the ball from Ole Miss's leading scorer on the night, Tye Fagan, and drained a three to give the Vols a 59-56 lead – a lead they never relinquished.
"It just feels good to have the whole environment going like that," Vescovi said. "Knowing that we're back in the game, that we have a chance to win it. We just got to be confident with ourselves, and I think we did it tonight. We got to bring that swagger that we all have, and I think that's one of the things that brought us back in the game today."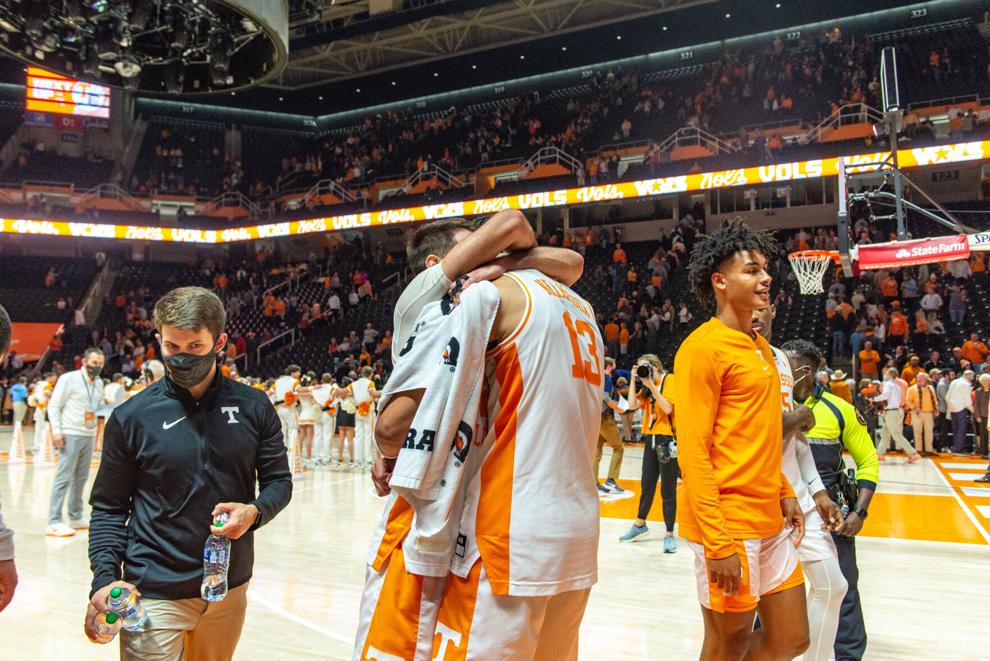 Defense bails out abysmal offense
Tennessee started Wednesday night's affair with its worst offensive stretch of the season. The Vols went the first seven minutes and 36 seconds of the game without a basket, before John Fulkerson finished a layup at the 12:24 mark.
Eleven minutes in, the Vols had only 2 field goals and they totaled 19 points by halftime. Fortunately, Ole Miss was as slow on offense as the Vols were, as neither team had scored at the first media timeout at the 15:57 mark. Ole Miss totaled a measly 21 points by halftime as Tennessee forced 11 turnovers.
I think having those defensive moments where we can get some steals," Vescovi said on the offense's slow start. "Those steals lead to some easy fast break points, I think that's going to help us a lot, get the momentum going our way. Just try to be more efficient, be focused on not turning the ball over, executing what we do every single day in practice."
The fact that Tennessee was even in the game in the final minutes of regulation was a testament to how dominant its defense was. Ole Miss shot 44% from the field and 50% from deep, but Tennessee saved the night by forcing 27 Ole Miss turnovers, more than the number of field goals the Rebels made on the night.
"I think good teams win games like that when they're not playing good basketball," Tennessee head coach Rick Barnes said. "Again, I don't want to take anything away from Ole Miss because they haven't played since the 21st of December and I have the upmost respect for Kermit (Davis) and his staff, but we found a way."