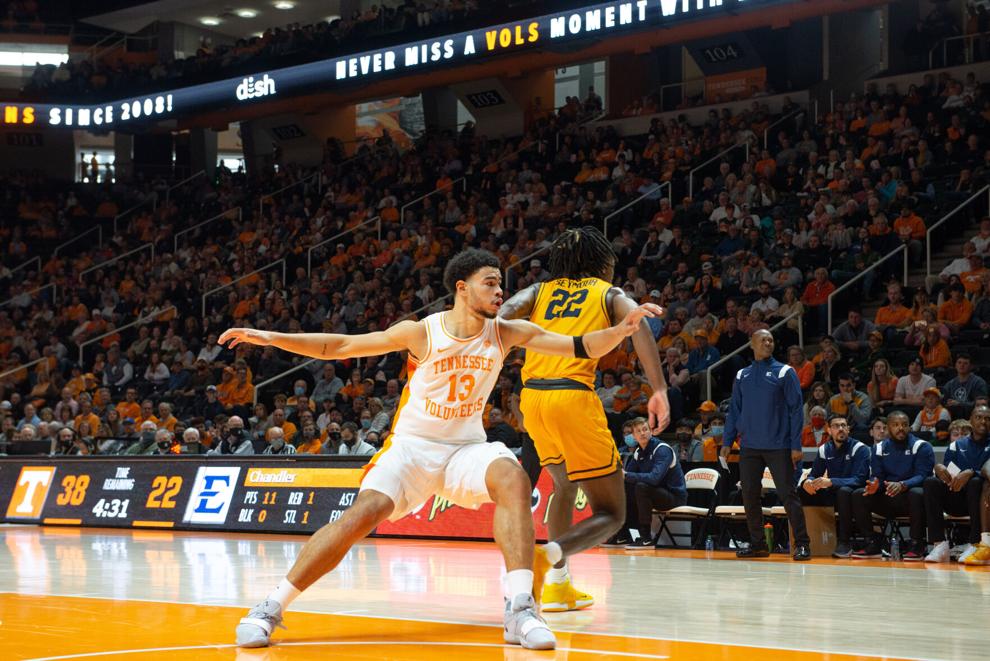 The No. 15 Tennessee Volunteers survived a spirited upset bid from Tennessee Tech Friday. The game at Thompson-Boling Arena saw the Vols play without starter Josiah-Jordan James and sharpshooter Justin Powell.
Here's how the Vols graded out in a sloppy effort against the Golden Eagles.
Backcourt
Tennessee's backcourt had far from their best performance Friday. Shooting was certainly the biggest issue here, as starters Santiago Vescovi, Kennedy Chandler and Victor Bailey Jr. shot a combined 11-for-30 from the field and 4-for-17 from three.
This kind of efficiency is not going to be enough to beat a lot of teams Tennessee has to play even in the coming weeks. This team is capable of making its threes, which is why a showing like Friday's was surprising.
On the positive side, Vescovi was a fantastic facilitator and ball handler for the Vols, as he finished with 7 assists and only 1 turnover in 34 minutes on the floor. Add in 7 rebounds and 13 points, and Vescovi had a nice all around game even with a low shooting percentage. He continues to be the team's most consistent piece.
Freshman point guard Kennedy Chandler had more of a mixed bag type of day. Chandler had his best defensive outing of the season so far, creating turnovers and racking up 5 steals. He also, however, turned the ball over 4 times. Chandler continues to make jaw dropping plays on both ends of the floor, but he's still a freshman that needs time to mature.
Grade: C-
Frontcourt
Tennessee's frontcourt held its own against a weaker opponent and did virtually everything it wanted to. Olivier Nkamhoua bounced back after a rough go at the Hall of Fame Tip-Off tournament with 18 points on a perfect 8-for-8 from the field.
Freshman Brandon Huntley-Hatfield impressed off the bench with 12 points on 6-of-7 shooting. Huntley-Hatfield was a huge part of the run that pushed the Vols into the lead in the second half as well and added 4 rebounds and 2 assists to his breakout performance.
Veteran John Fulkerson is starting to look more like himself again. He will only get better as the season continues, but some of the shots that weren't falling in his first three games of the season went in against the Golden Eagles, and he finished with 14 points and 6 rebounds.
All in all the Vols' frontcourt looked much better than they did last week. The level of competition playing Tennessee Tech is questionable, so it is difficult to tell how much better they have actually gotten.
Grade: B+
Offense
Tennessee's offense left much to be desired as a whole. The Vols' three point shooting was really poor — shooting 6-for-23 on the day including an 0-for-10 start. Tennessee wasn't taking bad shots, they were certainly open, but they just weren't falling. This is the second time in three games that shooting has been a major issue, but the return of a healthy Justin Powell soon should help.
Outside of the three-pointers the Vols were extremely efficient. They shot 26-of-40 from inside the arc and their big men dominated the paint.
Even with the poor three-point shooting five Vols scored in double figures, and they were playing without two key scorers. It wasn't a great performance, but it was enough to win.
Grade: C
Defense
Tennessee Tech had its second highest point total of the season against the Vols. That's not where the Vols want to be when some of those other teams Tennessee Tech played were Oakwood, UNC Asheville and Chattanooga.
Tech was able to drive the basketball and score in the paint and also matched the Vols' three-point makes on 9 less attempts.
Tech's Jr. Clay led all players with 19 points in the game while shooting 7-for-13 from the field.
Tennessee got the stops it needed in the second half to go on its run, but it wasn't an all around impressive effort.
Grade: C
Coaching & Overall
Tennessee coach Rick Barnes was clearly not happy with his team's preparation for Friday's game. The energy wasn't great with a few players, and with the flu floating around the team it's hard to tell if they were overlooking an opponent or were just a little sick.
Tennessee's offense was getting open shots, but they were just missing them, which is hard to blame Rick Barnes.
The team was short handed and they won. It wasn't impressive, but with the chaos of college basketball already in full swing, sometimes getting a sloppy win is good enough.
Grade: C+