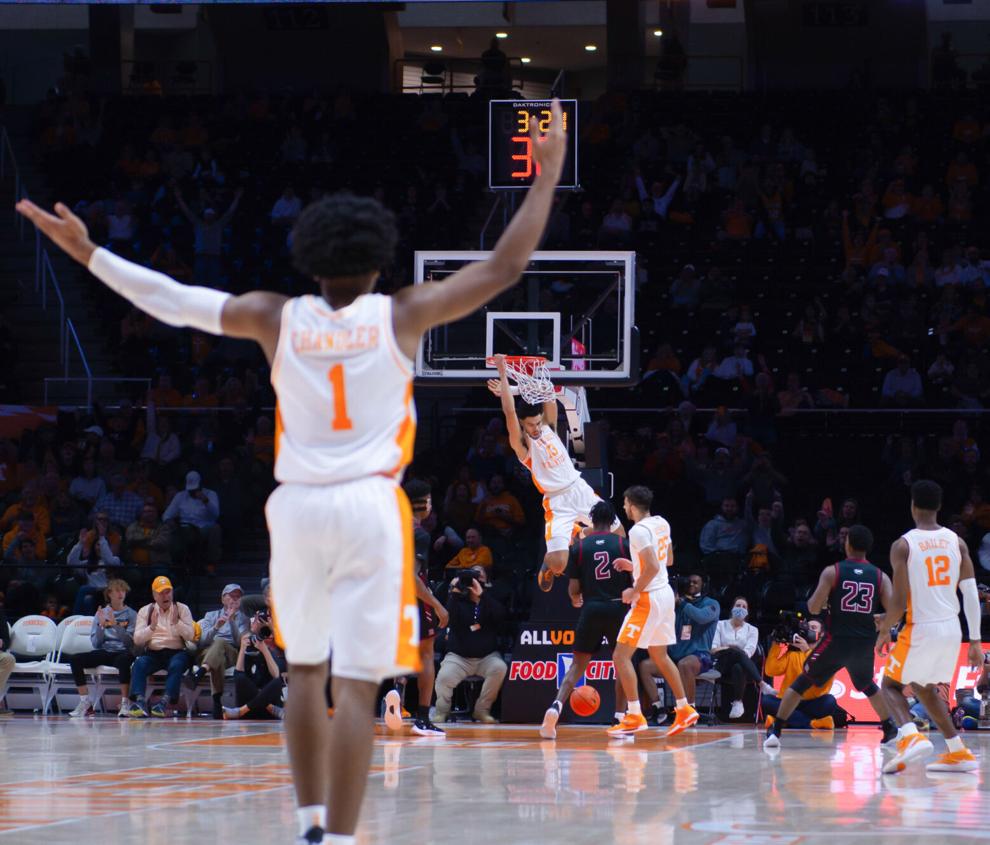 Rick Barnes put together his best recruiting class as Tennessee's head coach this past offseason, with five-star recruits Kennedy Chandler and Brandon Huntley-Hatfield the biggest commits. Both prospects were expected to have an significant impact when they stepped foot on campus, but few expected it to come so quickly.
Tennessee's brilliant freshmen led the way as the Vols rolled over Barnes' alma mater Lenoir-Rhyne 103-62 in an exhibition game Saturday at Thompson-Boling Arena. The freshmen duo combined for 36 points as the Vols nearly doubled Lenoir-Rhyne's offensive showing.
"Even before coming here, I've seen him play a lot. I love the way he plays point guard," Huntley-Hatfield said of Chandler. "He's really explosive. He makes us play fast. The chemistry is getting better, I feel like today was just the start. I'm really excited to see where he can take us."
Chandler finished with a team-high 21 points, 5 rebounds and 6 assists in 22 minutes of play. He showcased his speed and elite shooting, grabbing 2 steals while going 4-of-5 from beyond the arc. Chandler expects those numbers to be the norm as he becomes more comfortable in Tennessee's system.
"I'm still getting used to it," Chandler said. "I'm getting better every single day with the system, knowing what (Barnes) wants me to do at point guard and what he wants to do on the offensive end. It's a really great system, and everyone is starting to buy in."
Huntley-Hatfield was Tennessee's second leading scorer with a double-double of 15 points and 12 rebounds. The 6-foot-10 forward played 20 minutes off the bench in his Tennessee debut and had a big impact on both sides of the ball. Huntley-Hatfield's debut came as a shock to Barnes, but the seventh year head coach expects the same going forward.
"I think he surprised me today a little bit," Barnes said. "The last two weeks, he's taken a giant step, really has. He's taken a giant step in terms of understanding more. He's a guy that I'll be disappointed if he doesn't get better and better each day."
Almost half of the Vols' offensive blitz came from three-point range. Tennessee shot an uncharacteristic 46 three-point attempts, making 17 of them to finish at a 37% clip. Chandler and Auburn transfer Justin Powell each made 4 shots beyond the arc, and Josiah Jordan James hit 3. It was the first time the Vols shot more than 35 three's in one game since they took 39 three-point attempts against Chattanooga in the 2011-12 season.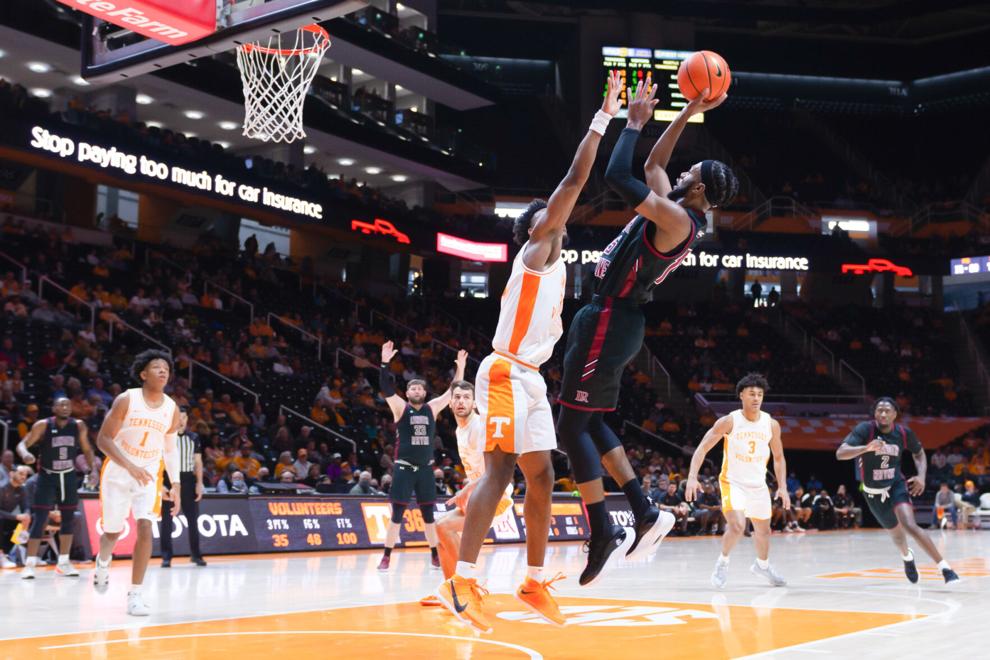 Three-point shooting has not been a staple of Barnes-led teams, but he has always preached the importance of taking open shots. Over the course of summer practices, Barnes noticed the Vols had a proficiency for getting open shots. He encouraged them to continue to take them.
"I have felt in the past that we had guys that refuse to shoot when they're open," Barnes said. "The fact is, when you refuse to take open, good shots, normally that possession ends up with the back against the clock and normally good things don't happen ... We want them to take some open shots, we want them to."
The result was, according to Barnes, "maybe 3" bad shots from the Vols.
"We play well off of each other, so we're always going to get open looks," Powell said. "We're always going to be able to knock down the three's. It's just a matter of running the court like coach (Barnes) always says and we'll always knock it down."
Tennessee likely won't get a chance at 46 three-pointers every game, so it will be important for Chandler and Huntley-Hatfield to take their game to the next level when the regular-season officially begins 10 days from now. Barnes believes that will come with improved mental preparation on their part.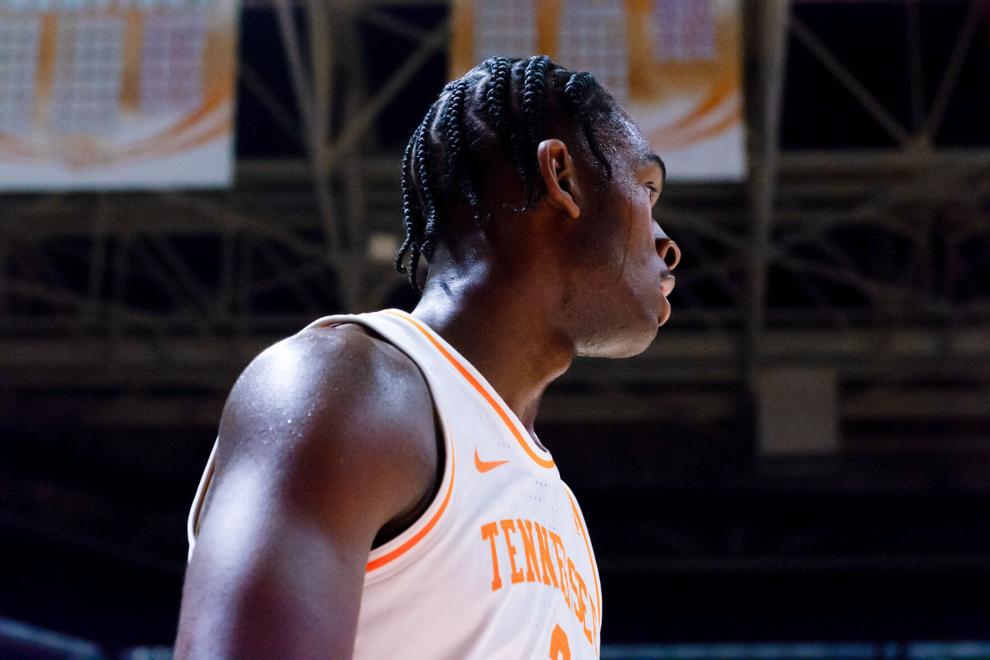 "Both (Huntley-Hatfield) and Kennedy, they're going to have to continue to really get themselves in elite shape to be the kind of players they want to be," Barnes said. "What time means is, can they work harder? I'm not sure they can work any harder with that, they've got to get there mentally where they understand and fight through it. That's going to be the next step."
Photo Gallery - Men's Basketball vs Lenoir-Rhyne