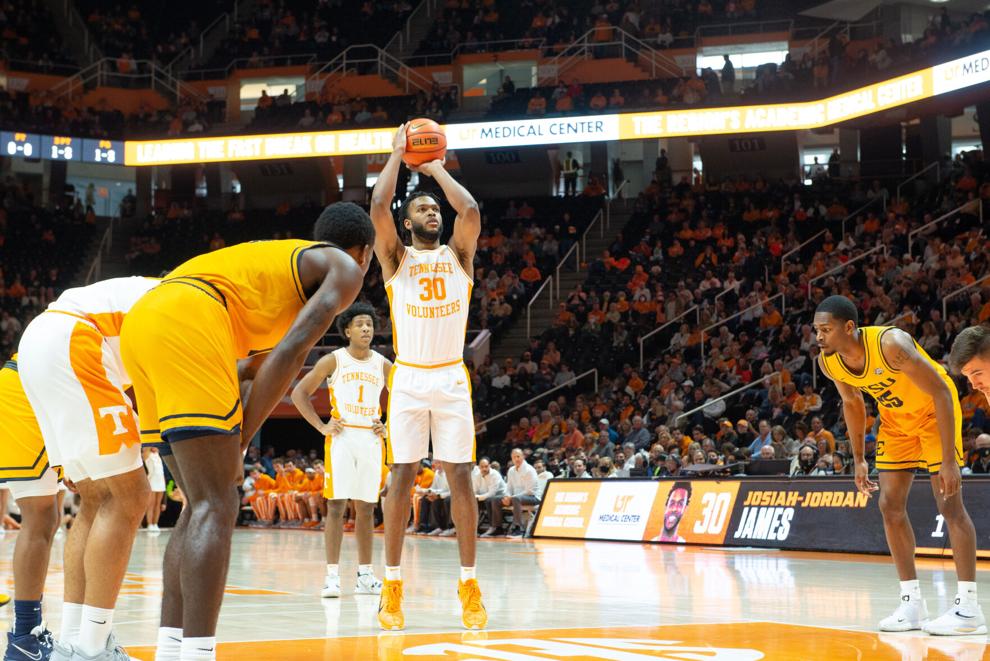 The Vols rose two spots in the AP Poll from No. 17 to No. 15 after their weekend at the Basketball Hall of Fame Tip-Off Tournament at Mohegan Sun casino Saturday and Sunday.
Tennessee split its weekend slate, dropping an uninspired performance against No. 5 Villanova before blitzing No. 18 North Carolina Sunday.
Here's how Tennessee graded out in its productive trip to Unacsville, Connecticut.
Backcourt
It's hard for a couple performances to vary in efficiency as much as Saturday and Sunday's did for Tennessee basketball's backcourt.
Santiago Vescovi was the constant for the Vols at Mohegan Sun. The Uruguay native was the only Vol to show up against Villanova, dropping 23 points and collecting 6 rebounds.
Vescovi was second behind only freshman spark plug Zakai Zeigler in points Sunday against North Carolina. Vescovi's 17 and Zeigler's 18-piece were enough to dominate the Tar Heels' guards.
Tennessee's backcourt struggled against the Wildcats, but had their best performance as a unit against North Carolina, combining for 59 of the Vols' 89 points.
Freshman point guard Kennedy Chandler looked like a freshman in game one, scoring just 6 points on 1-9 shooting. Chandler had a rough go on the defensive side of the ball as well.
The backcourt totaled just 4 turnovers against the Tar Heels compared to their 11 turnovers on Saturday.
Above all else, the Tennessee backcourt showed vast improvement from Saturday to Sunday, bumping up their score when the good and the bad cancel out.
Grade: B
Frontcourt
Tennessee big men were bullied Saturday. Super senior forward John Fulkerson showed flashes but never got in gear enough to attack the basket like head coach Rick Barnes would prefer.
Like many aspects of Tennessee as a whole, Fulkerson bounced back Sunday against a struggling North Carolina unit, scoring 13 points with 5 rebounds and 6 assists.
Olivier Nkamhoua did not have as dominant a performance at Mohegan Sun as he did against ETSU the week prior. Nkamhoua added just 7 points across the weekend.
Uros Plavsic showed flashes Sunday, but was a non-factor on the defensive side of the ball. The big man did provide some key minutes in relief of Josiah-Jordan James, who was held out of Sunday's game with an illness.
Brandon Huntley-Hatfield showed promise against the Tar Heels, going toe-to-toe with Armando Bacot the majority of his minutes on the court. The former five-star prospect added 6 points with 5 rebounds in a guard-heavy game for Tennessee.
Grade: C-
Offense
Tennessee had one of its worst offensive performances of the Rick Barnes era against Villanova, a team not know for its defensive prowess.
Shooting was abysmal against the Wildcats. Tennessee shot 33% from the field and an abysmal 5-28 from deep.
A lot of that stemmed from poor shot creation and foul trouble. Barnes was forced to hold Chandler and a few other players out with foul trouble in the first half, which just added to the growing issue.
As a running theme with the weekend, Tennessee had one of its best offensive performances of the young season Saturday, shooting 65% from the field in the second half alone.
Tennessee also picked it up from deep. The Vols hit 9-20 from beyond the line.
The Vols did well at spreading the scoring around among players. Four Vols scored in double digits Sunday, making it hard for an already shaky Tar Heels defense to get any traction.
Grade: C+
Defense
Defense was the one area in which Tennessee played well across the weekend.
Tennessee held Villanova and North Carolina to their lowest scores of the season thus far.
The Vols held both North Carolina and Villanova at or under 40% shooting, forcing looks from less efficient areas of the court away from deep and in the paint.
Tennessee also totaled 7 blocks across the weekend playing two of the better offenses in the country.
Tennessee struggled down low against the Wildcats, though. Villanova collected 14 offensive rebounds and did most of their work on the boards.
Grade: B+
Coaching & Overall
There's only so much Barnes can do when Tennessee shoots 33% from the field on Saturday. What speaks well for Coach Barnes is the way his team responded against a fair Tar Heels squad.
The Vols commanded Sunday's game from the tip, trailing for only one minute and 14 seconds.
North Carolina may not be the North Carolina of the past, but Hubert Davis has the Tar Heels playing well enough to contend against Tennessee — and there was no point in Sunday's game that was competitive.
So it's hard not to commend Barnes on a weekend Vol nation can be content with after Saturday's tough loss.
Grade: B