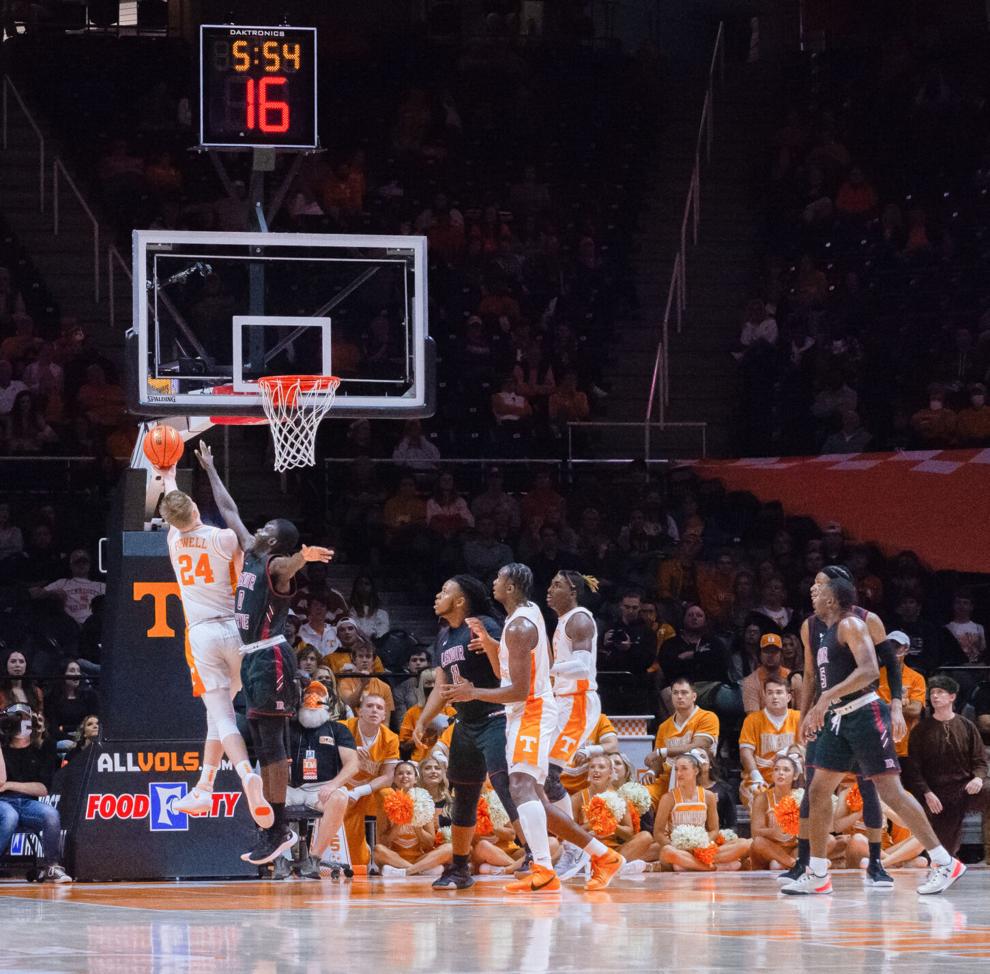 Tennessee basketball opened its 2021-22 campaign in an exhibition against Rick Barnes' alma mater Lenoir-Rhyne Saturday, cruising to a 103-62 win. Tennessee's five-star freshmen prospects were the stars of the day, as the Vols nearly doubled Lenoir-Rhyne's offensive showing.
Here's how the Vols graded out.
Backcourt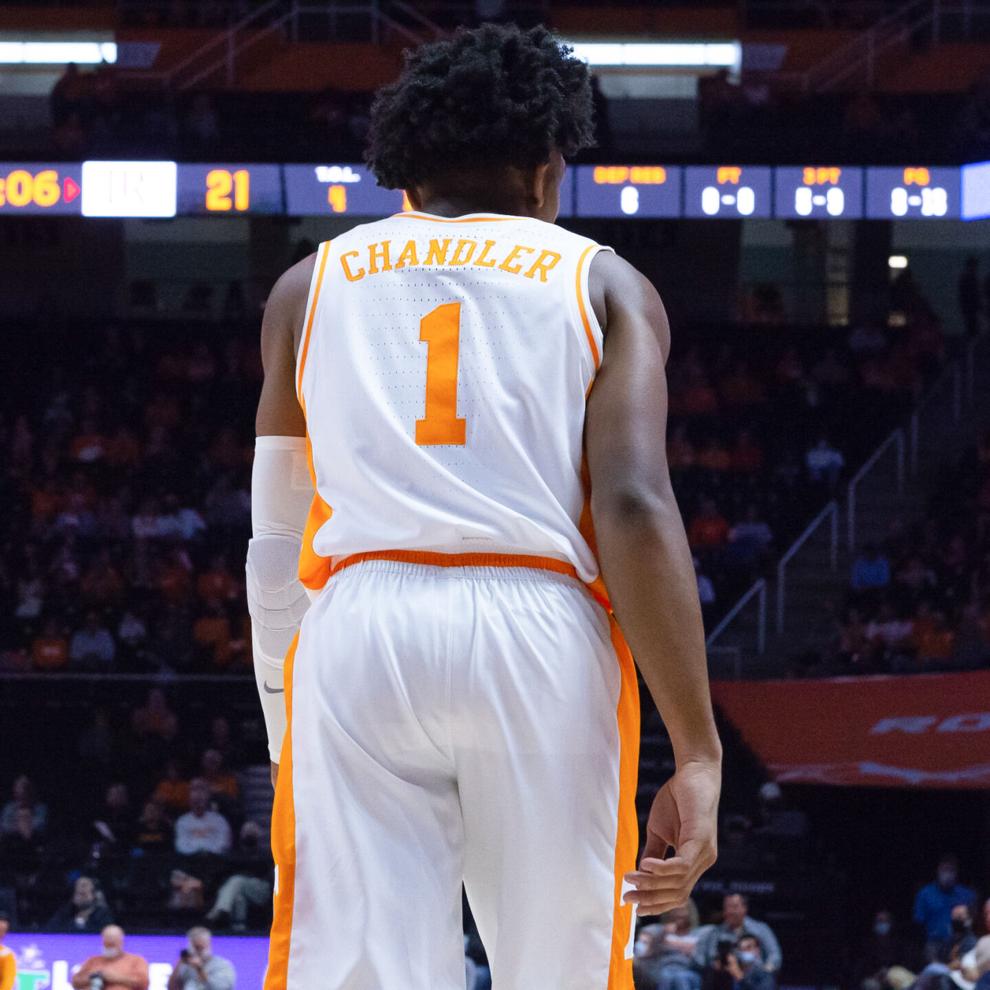 Tennessee's backcourt was led by an incredible debut from freshman Kennedy Chandler. The former five-star prospect was the game's highest scorer, pacing the Vols with 21 points on 80% shooting. Chandler shot 4-of-5 from three-point range and picked up 5 rebounds, 6 assists and 2 steals.
Junior Santiago Vescovi got the start at the two-spot for Saturday's exhibition. Though Barnes called Vescovi one of Tennessee's best shooters over the summer, the Uruguay native did not have good shooting game. He went just 1-for-9 from the field, including a 1-of-7 mark from deep.
Where Vescovi truly showed improvement was with his vision. He had a game high 7 assists, including one behind the back pass as he was falling down.
Justin Powell, a sophomore transfer from Auburn, finished third on the team with 14 points. He shot 50% from three-point range and was 5-for-9 overall.
Freshman Zakai Zeigler saw 12 minutes of action at guard and scored 7 points, including 1 make from deep. He also picked up 2 steals and an assist off the bench.
Grade: A-
Frontcourt
Brandon Huntley-Hatfield led Tennessee's frontcourt in a debut as impressive as Chandler's. Though he didn't start the game, Huntley-Hatfield still finished second on the team with 15 points and led the game with 12 rebounds, good for a double-double in his Tennessee debut. He shot 70% from the field in 20 minutes of play.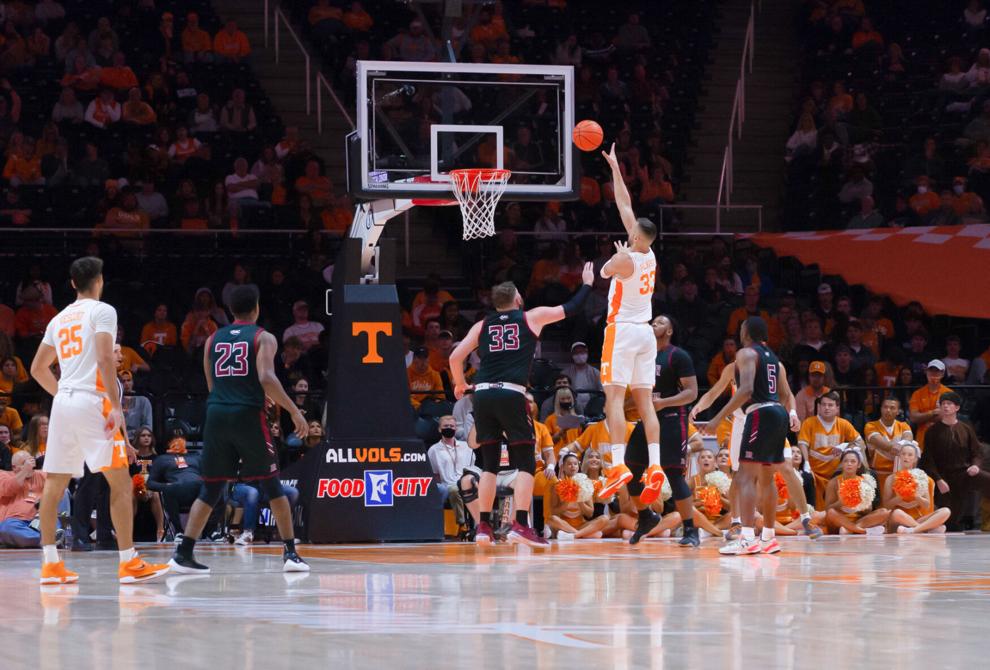 Uros Plavsic started at center in place of the injured John Fulkerson. He played just 17 minutes, but went 4-of-5 from the field and picked up 6 rebounds, 4 of which came on offense.
Olivier Nkamhoua started and played 23 minutes, totaling 12 points and 6 rebounds. He shot 71% on field goals and hit 1 of his 3 attempts from deep.
Junior guard Josiah-Jordan James played the second most minutes of any Vol but scored just 9 points. He struggled with shooting, making just 3-of-10 shots on the day, including a 3-for-9 mark from three-point range. He did grab 5 rebounds and 2 steals.
Senior Victor Bailey Jr. also struggled to shoot in his 17 minutes off the bench. He got a number of open looks, but made just 1-of-6 attempts beyond the arc.
Grade: A-
Offense
Saturday's competition was against a weak Division II team in Lenoir-Rhyne, but it's hard to ignore the overall results. The Vols scored 103 points, shooting over 50% from the field and nearly 40% from three-point range.
The biggest eye-catcher from Saturday was the sheer number of three-pointers the Vols attempted. Tennessee took 46 three-point attempts against Georgia College and made 17 of them. The Vols' 17 makes would have been a program record, and their 46 attempts would have been the second highest total in program history.
All nine Vols that took a three-point attempt made at least one. Chandler and Powell paced the team with 4 makes each. James was second with 3 makes from beyond the arc and six others made at least 1.
That sort of barrage from deep was unexpected for a Barnes-coached team. The Vols will not shoot 46 three-point attempts every game, especially when they face more challenging defenses, but they'll probably take more than they have the past few years. Barnes has encouraged his players to take open shots their given, and sharpshooters Chandler, Powell and Bailey make that possible.
Grade: A
Defense
The only real criticism to make against the Vols' efforts Saturday was some early struggles on defense, particularly from deep.
Lenoir-Rhyne started the first half shooting 45% on three-point attempts, at one point pulling within a point of Tennessee. There was never any drama though, as Tennessee quickly pulled away thanks to Lenoir-Rhyne missing 5 three-pointers in a row.
The Vols corrected their defensive mistakes before the first half was even over, but the issues were still glaring enough for Barnes to comment on missing Yves Pons' defensive presence. Despite that, the Vols grabbed 32 defensive rebounds.
Tennessee did not have its best defensive lineup in for most of the game — Fulkerson's absence was a big part of that — but it's something to watch going forward.
Grade: B+
Coaching
Because the game was against Lenoir-Rhyne, Barnes did not have to be perfect to win. He used the game to get a feel for his players and all the different rotations he'll use over the course of the season.
Once Barnes got the Vols to settle into the game after some early minute jitters, they were off to the races.
Grade: A
Overall
You can nitpick if you want — Barnes definitely will — but this one is pretty self-explanatory. The Vols won by 58 points. There's a few things to improve, sure, but don't overthink this.
Grade: A