It was a busy holiday week for the Tennessee basketball team as the Vols played three games, the most they'll play in a week this season. The Vols went 2-1 with dropping from No. 17 to No. 21 in the AP poll.
Tennessee picked up a win over Chattanooga and No. 20 VCU while dropping its first game of the year to Florida State in the Emerald Coast Classic.
Here's how the Vols graded out.
Backcourt
It was a week of mixed results for the Vols' backcourt that both won and lost Tennessee games.
The way the Vols' guards handled the ball in Friday's 60-57 cost them a chance at another impressive early season win over Florida State.
Lamonté Turner turned it over eight times and Josiah-Jordan James turned it over five times accounting for over half of Tennessee's 22 turnovers in the loss.
The Seminoles length and pressure defense gave Tennessee problems from the first tip as the Vols could never overcome the early double-digit deficit they encountered.
However, credit the response from Tennessee's backcourt the next day against a VCU team known for its guard play and pressure defense.
Tennessee's starting backcourt of Turner, James and Jordan Bowden still combined for 10 turnovers, but they also combined for 10 assists, seven more than they had against Florida State. They scored a combined 33 points on 25 shots.
Also, credit Turner, who despite still struggling with his shot, nailed the game winner as time expired. That shows a lot about Rick Barnes' confidence in Turner that he dialed up a play for his senior point guard despite his 4 of 14 shooting on the day.
Grade: B+
Frontcourt
Speaking of bounce back performances, let's give some credit to John Fulkerson.
He was nonexistent against Florida State, scoring just two points and grabbing only two rebounds but he was perhaps Tennessee's best player on Saturday, scoring a team high 17 points while grabbing seven rebounds over the Rams.
Fulkerson's lone block on the day came in the last minute when Tennessee led by just a point. Fulkerson stayed patient to block the up-and-under, then grabbed the rebound and knocked down two free throws on the other end.
In total, Fulkerson averaged 11 points and 4.3 rebounds on the week.
Yves Pons was the one constant for Tennessee in the Emerald Coast Classic. Pons played 78 of the 80 minutes of the tournament while averaging 11 points and eight rebounds.
It's hard to state just how much better Pons looks this season at the four spot rather than the three. He's keeping the ball moving well on offense and was the only Vol to record two baskets in the first half against Florida State.
Pons also continues to make an impact on the defensive end where he recorded six blocks on the week.
Grade: B-
Offense
It wasn't a pretty week for Tennessee's offense who recorded just 70 points once. The Vols averaged just 62.3 points per game while averaging 14.7 turnovers a game.
Tennessee was absolutely dreadful shooting against Chattanooga and Florida State shooting just 37% and 33% respectably.
Tennessee also shot just 15 of 50 on the week from three-point range as the Vols ability to shoot the long ball has looked shaky since the win over Washington.
In the question of who can be the third scorer for Tennessee, the answer appears to be by committee. Fulkerson and Pons both flashed at times while James appears to up his scoring against better competition totaling nine points against Florida State and seven against VCU, five of which came with Tennessee trailing late.
Grade: C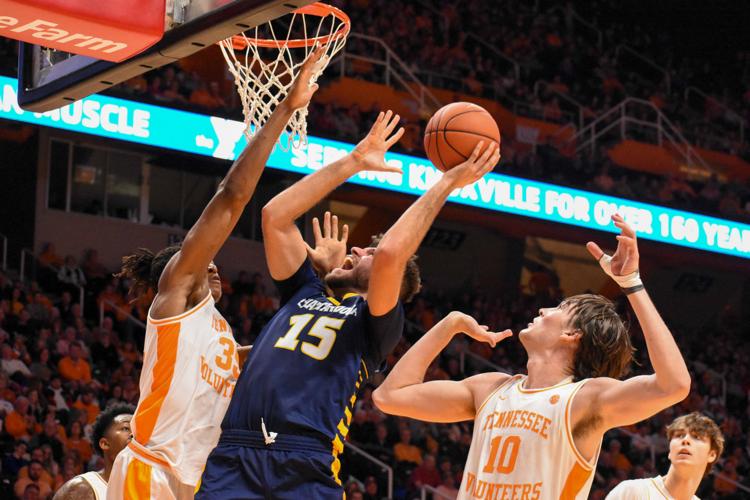 Defense
As bad as Tennessee's offense was this week, its defense was every bit as good if not better.
Tennessee held all three opponents to under 70 points and under 40% shooting from the field.
Despite the loss, Tennessee held Florida State to its lowest points total of the year. Additionally, VCU's 67 points were less than they scored against LSU and its third lowest tally on the season.
The one area the Vols defense struggled with was forcing turnovers as Tennessee's opponents averaged just nine turnovers a game.
As Tennessee struggles to find a rhythm on offense this Tennessee team could easily take on the identity of the 2017-18 team that rode suffocating defense to a SEC regular season title and a three seed in the NCAA Tournament.
Grade: A-
Bench
Tennessee got both minutes and points from is bench this week, though not always in the same game.
Tennessee's bench played 38 minutes against Chattanooga but got just five points all coming from Olivier Nkamhoua.
The Vols got 31 minutes from its bench against Florida State but got only two points and six rebounds while recording four turnovers.
Tennessee flipped the script against VCU playing just eight players, Drew Pember didn't play after receiving 16 combined minutes in the week's first two games. However, the Vols got 41 minutes, 13 points and six rebounds from the bench.
Credit Jalen Johnson who was woeful against Florida State, turning it over twice in just two minutes of action. He bounced back to give the Vols five points and four rebounds against the Rams.
Davonte Gaines has clearly earned some trust from Rick Barnes as the freshman played double digit minutes in both games in Florida and clearly looks comfortable on the court.
Grade: B-
Coaching
Tennessee clearly looked outmatched and not ready to play against the size and athleticism of Florida State early on. While Rick Barnes certainly deserves some blame for that it's also something that's tough to prepare for, especially if you haven't seen it before.
That was the case for a lot of Tennessee's young players Friday evening against the Seminoles.
Barnes continues to try and get his bench more minutes, but that continues to be a work in progress. He did a good job this week of leaning on them as much as he could but sticking with the main five when the Vols needed to make or stop a run.
Credit Barnes for getting his team to bounce back from Friday's loss and being ready to play against VCU.
One criticism, and one you'll see from me any time they fail to do it this season, is the inability of Tennessee to foul up three late in the game nearly cost them against VCU as the Rams drilled a game tying three with four seconds remaining in regulation.
Grade: B
Overall
The one thing that sticks out to me about this team after this week is just its fight. Tennessee played about as poor as they could against Florida State and only lost by three to the top 20 foe.
Defense travels and can keep you in games, we saw that against the Seminoles when Tennessee couldn't do anything well on the offensive end. And credit Turner who was an absolute warrior all weekend dealing with cramps on top of his banged-up shoulder. It's clear he's not going to let his team go down without swinging.
Tennessee may have dropped four spots in the polls but this was a good week for Tennessee. The Vols got a win over an improved Chattanooga team and bounced back from its first loss with its second strong resume win of the year over VCU.
Early this season the Vols have shown that you won't be talking about whether or not they'll be making the big dance, but what seed they'll earn in it.
Grade: B+