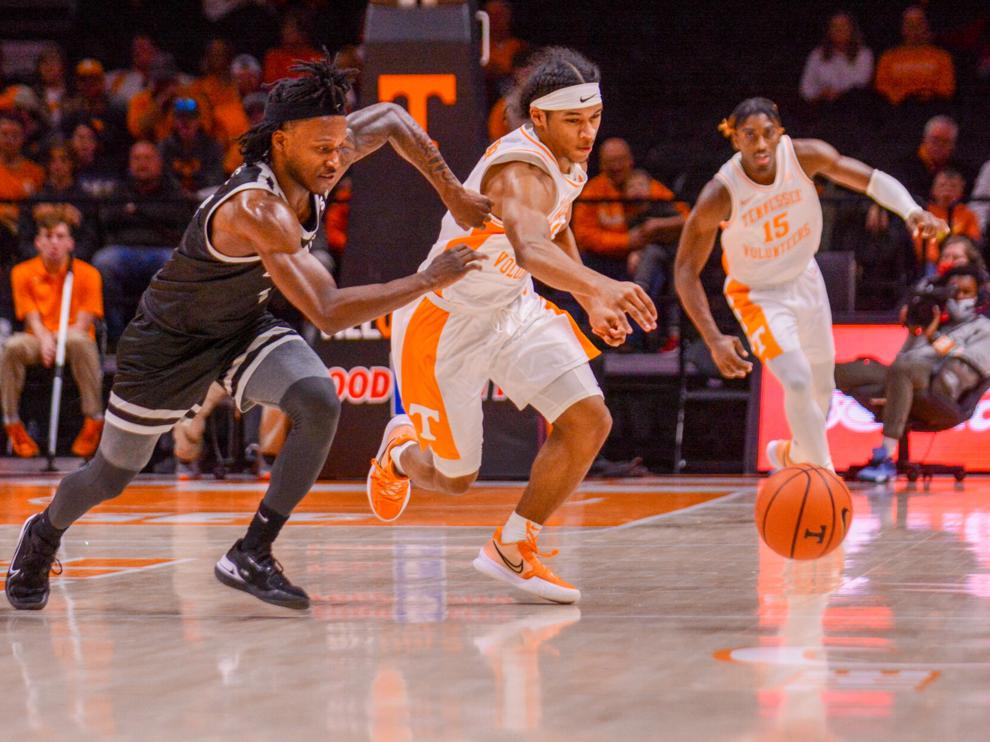 Tennessee's defense continued to show why it's ranked as one of the top units in the nation Tuesday night, dispatching USC Upstate 96-52 to collect its eighth win of the season.
All 15 Vols who played against the Spartans scored and no Tennessee player logged more than 25 minutes of action.
Given the nature of the game, the word of the night for head coach Rick Barnes was "efficient."
"I think we were efficient," Barnes said. "Obviously when you sub as much as we did, sometimes it can get sloppy but I thought our guys really did a great job of trying to stay in their framework of what we were trying to do and really working hard to try to take advantage of the minutes they have on the court."
Freshman guards Jahmai Mashack and Quentin Diboundje took advantage of their first-half minutes, combining for 7 points, 2 rebounds and 4 assists.
It's the first time Mashack and Diboundje have played noteworthy first-half minutes this season, experience that is hard to come by as conference play nears closer.
"You gotta make the most of it," Mashack said. "You get out there and it's not just to do whatever, to just play, you gotta prove to yourself, your teammates, coaches that you can play this game and that you can limit mistakes playing basketball the right way."
"Making sure that I do that has been a big thing for me, and what I was focused on was trying to go out there and really play Tennessee basketball."
Freshman forward Brandon Huntley-Hatfield also saw more action on the court Tuesday night.
The freshman was first off the bench alongside Zakai Zeigler and added 6 points with 8 rebounds in 18 minutes of play. Huntley-Hatfield had usually filled in behind Uros Plavsic in the rotation heading into Tuesday's outing.
"I think Brandon's earned the minutes," Barnes said. "… He will tell you, this is probably tougher than he ever thought it would be, probably going to get tougher. He's learned how to work hard and be more efficient."
"We need him and Olivier (Nkamhoua) to really give us a physical presence the way that they both can, because they're both extremely strong and capable of doing a lot."
Nkamhoua had been quiet in the post recently, combining for just 12 points in three games throughout the month of December.
But by all accounts, Nkamhoua was dominant down low against the Spartans, leading all scorers with 21 points. Nkamhoua was 2 rebounds away from a double-double.
The 6-foot-8 post presence was able to stretch the court effectively as well, splashing both shots from deep to up his total to 9-15 on the year from behind the arc.
"I like it, I think if I shoot it it's going in," Nkamhoua said on his deep ball.
Freshman point guard Kennedy Chandler had an efficient outing as well, notching his first career double-double in a Vols uniform.
The former five-star recruit has been a constant for the Vols this season and Tuesday night was no exception. Chandler dropped 15 points and led the team with 10 assists.
Tennessee as a unit limited what USC Upstate could do by dominating the boards, outrebounding the Spartans 43-30.
The low number of possessions helped Tennessee post its fifth straight game holding opponents under 60 points.
Photo Gallery - Men's Basketball vs. USC Upstate