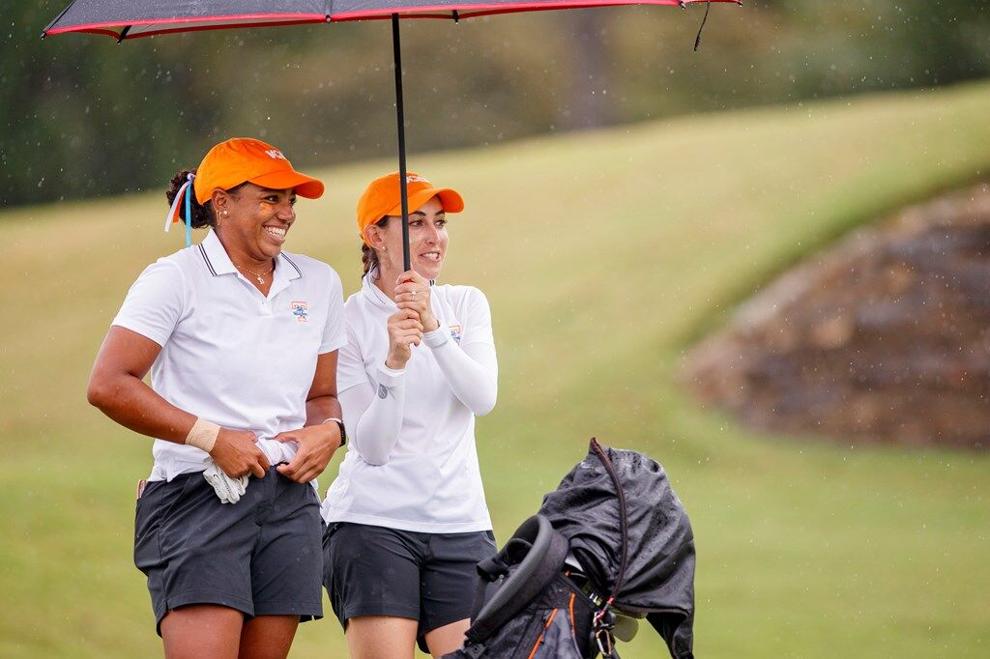 Not many people get the opportunity to play a collegiate sport. Even fewer get to coach at that level. So when Diana Cantu got the chance to return to her alma mater as the head women's golf coach, she didn't hesitate.
"Tennessee is home sweet home to me. I'm just excited to be back," Cantu said.
Cantu was hired in June as Tennessee's fourth all-time women's golf coach. She spent four seasons on Rocky Top as a student-athlete, where she played 130 career rounds — the fifth-most in Lady Vol program history — and was a part of three teams that advanced to the NCAA Championships (2007, 2009, 2010). She even took home All-SEC honors in the 2009 season.
Cantu, a native of Monterrey, Nuevo León, Mexico, spent the past seven seasons as the women's golf head coach at the University of Maryland. Under her guidance, Maryland recorded its best-ever finish at the Big Ten Championships — second — and advanced to the NCAA Championships as a team for the first time in program history. The Terrapins also earned their best-ever national ranking at No. 14, and Cantu was selected as the Big Ten Coach of the Year because of it.
Cantu's return to Tennessee coincides as with the program's 30th season of existence. She inherited the golf team after longtime head coach Judi Pavon's contract was not renewed last year. Cantu's goal now is to restore Tennessee back to the powerhouse in women's golf that it was in the early 2000s, as the Lady Vols have not had a top-5 SEC finish since the 2014-15 season.
For Cantu, the program's turnaround starts with a shift in culture.
"I think letting them know that we care more about them as people than the score that they post, really having a team environment with everybody having each other's backs is going to help them be comfortable with each other and know that even when we have a bad day, we're here for each other," Cantu said in her introductory press conference in August. "What we're going to do is learn from that day and work to get better. I think that's going to let them play freely and play better golf."
Just four weeks into her Tennessee tenure, Cantu has already seen some signs of success. In the Lady Vols' most recent tournament, the 24th Annual Mercedes-Benz Collegiate Championship, the Lady Vols finished day one tied with BYU for first at +3.
Senior Mikayla Bardwell and sophomore Vanessa Gilly led the Lady Vols in the first two rounds, then tied for seventh place going into round three. And Tennessee's bottom-two finishers, Bailey Davis and Kayla Holden, only shot three over for the day.
But as Cantu learned, change doesn't come immediately, it's a slow process. After their great first day of play, the Lady Vols slid to a sixth-place finish in the tournament. Bardwell, who was Tennessee's top performer on day one, finished the tournament seven over par. Gilly had the Lady Vols' best showing at +3.
Finishing strong is something Cantu knows her team needs to work on. She knows what it takes too, since she won the Mercedes-Benz Collegiate Championship twice in her years as a student-athlete.
"We've only been practicing for four weeks," Cantu said after day one of the tournament. "We just got started with the season, and we've got a long way to go, but this is a good team with a strong foundation. It's just about making the little things better and more polished, then we'll be good to go."
Despite the slow finish, women's golf is on the upswing at Tennessee. The Mercedes-Benz Collegiate Championship was held at the Cherokee Country Club in Knoxville for the first time since 2019, after the pandemic shut it down a year ago.
Despite the rain that poured all day, fans still came to show their support for the team and its new coach, and so did new Athletic Director Danny White.
"We just feel super supported," Cantu said. "Danny wants to win, and that's what we want to do. And we will get there. It's just great to see that he's invested in our team, and that he sees the vision that we have as well."
Since the Mercedes-Benz Championship was Tennessee's only tournament in its home city of Knoxville, the Lady Vols might have felt extra pressure to represent themselves, and the city, well in front of the other 16 competing schools. Cantu's top priority, however, was that her players focused on themselves and their mindset, as they prepare for their next tournament, the Blessings Collegiate in Fayetteville, Arkansas on Oct. 4-6.
"I just love coming to Cherokee, it means a lot because we only get to do it once a year," Cantu said. "We just want to do it to the best of our ability. But we also want to play for us and each other, and think about ourselves rather than the pressure of really representing Tennessee strongly."