On Saturday, the final stretch of the three-day Tennessee Relays came to a conclusion, featuring arguably the largest single competition of the entire event.
Former Vols Justin Gatlin and Christian Coleman, as well as TCU alum Ronnie Baker and former Olympian and 100-meter specialist Mike Rogers, had the opportunity to set an American record in the 4x100 relay event.
The standing record, a time of 37.38 seconds, was set in 2012 at the London Olympic games. Gatlin himself was on that record-setting relay squad. Gatlin would match this time once more in 2015 at the IAAF World Relays in Nassau, Bahamas.
The four men, running as "America's Team," together have an incredible amount of experience. Gatlin is a five-time Olympic medalist, while Coleman won all four NCAA sprint titles for Tennessee in 2017.
Coleman is also currently a world record holder in the 60-meter sprint, running a time of 6.34 seconds.
However, the chance to add another prestigious title to their names just barely slipped away on Saturday as the four men ran a time of 38.08, falling just .7 seconds short of tying the American record.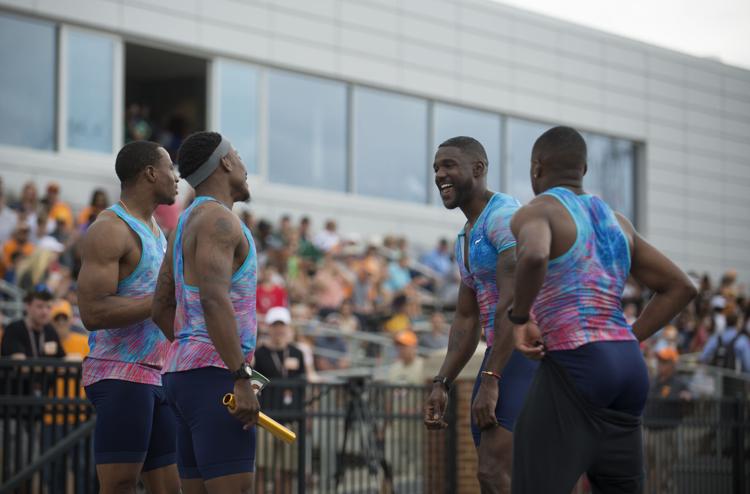 The run was looking strong until the backstretch, when the mild wind blustering around Tom Black Track became a huge factor.
"It was like a 4.1 wind on the backstretch," Gatlin said. "So we had to run through some crazy, hurricane-type wind to hand the stick off."
This was just the first run as a team for "America's Team." They're already slated for two more attempts at the record, with times to be determined.
For Gatlin and Coleman, perhaps the best experience of the relay was being able to return to Tennessee. Though Coleman lives in Knoxville and still trains at the University of Tennessee, he said it was a great feeling for him to get out and run in front of the fans for the first time in over a year.
"Coming out here and running amongst all the fans," Coleman said, "They gave a great atmosphere. It was intense. It felt like we were at a championship out here, so I was just happy to come back home."
Despite coming short of breaking the American record, "America's Team" does now have the fastest 4x100 relay time in the world for 2018 so far, and 37.38 set a record for both the Tennessee Relays and Tom Black Track.
Despite drawing the biggest spectacle, the record-setting 4x100 was far from the only event that Tennessee (or its alumni) took part in.
In the very same 4x100 relay, the Tennessee men's group of Elijah Miller, Kwantreyl McConio, Mustaqeem Williams and Nathan Strother took third with a time of 39.71. McConio, Williams and Strother teamed up with Darryl Harris in the 4x200-meter relay to give Tennessee its first win of the day.
MConio, Strother, Harris and Williams found another podium finish in the 4x400-meter relay, carding 3:07.40, good enough for third.
Tennessee's women, as well, competed in their respective 4x100 and 4x200 relays. The squad of Lenyssee Dyer, Felecia Majors, Maia McCoy and Shania Collins, running together in both events, placed second in both.
Two Tennessee women participated in the triple jump. LaChyna Roe locked down Tennessee's second win of the day in that event, notching a 13.26-meter jump to claim victory. The second of the pair, Cidae'a Woods, secured fourth, jumping 12.93-meters.
Roe would have broken Tennessee's triple jump record, but the jump was ruled ineligible honor due to its not being wind legal. Woods' bound, though, was good enough for second-best in school history.
The women, ranked 17th in the nation, were rolling in the track and field events on Saturday, and this carried through into the discus throw. Junior Stamatia Scarvelis placed third, tossing for 51.94-meters, with Tamia Crockett coming right behind in fourth with a strong throw for 50.63-meters.
Before all the events kicked off, junior Zach Long was given the Chuck Rohe Leadership Award for his strong presence off the track. 
Tennessee's athletes will next compete at the Mt. SAC Relays, hosted at El Camino College in Torrance, California, starting Thursday and ending Friday.