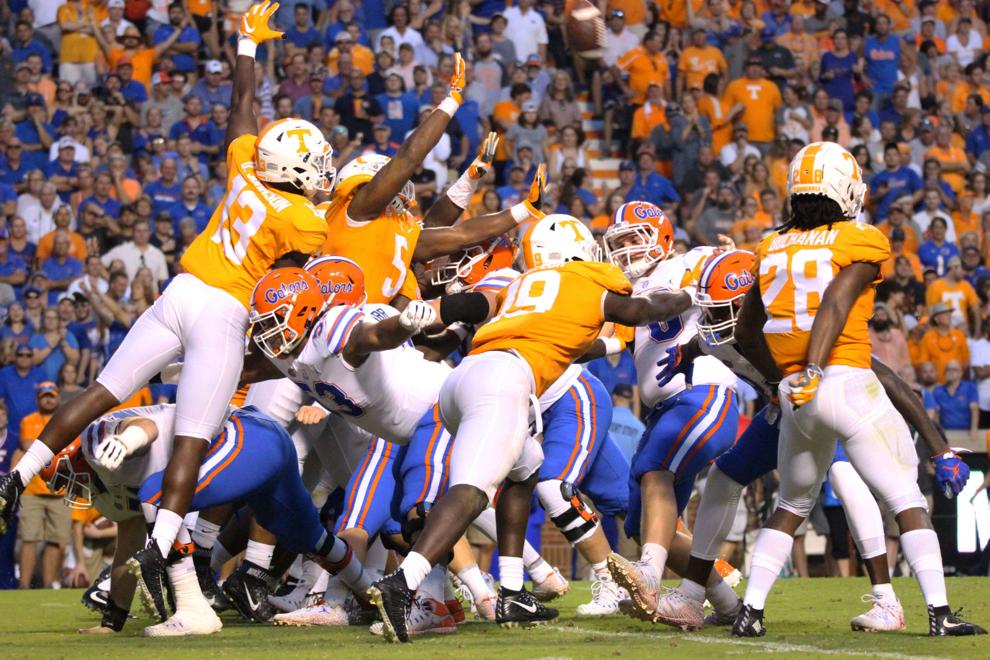 The last time the Vols played Florida was Dec. 5, 2020, and it marked the low-point of their miserable season. Quarterback Harrison Bailey made his first career start for the Vols as they dropped the game 31-19 to Florida in Neyland Stadium.
Bailey passed for 111 yards and a touchdown in limited action, but the story of the game was on the other sideline in Florida's quarterback Kyle Trask. The Gators' signal-caller threw four touchdowns as they clinched their first SEC Championship Game berth since 2016.
Here are two lessons the Vols can learn from their 2020 loss to Florida.
Don't let Florida's quarterback beat you
Trask picked up the Gators and carried them to a win in that 2020 game. The Vols actually shut down Florida's run game that day, so in response the Gators put the ball in their redshirt senior's hands, and he did not disappoint.
Trask completed a career-high 35-of-49 passes for 433 yards on top of the 4 touchdown passes. He was particularly effective on third down, converting 6-of-13 third down attempts, including 3 on third downs 10 yards or further.
But the 2021 Gators don't have Trask anymore. He was selected in this past NFL Draft, and redshirt junior Emory Jones has gotten the starting reps the past three games. Jones has struggled so far as the starter, completing 63.6% of his passes for 459 yards and 2 touchdowns. Turnovers have been Jones' biggest problem. He's thrown 5 interceptions on the season – 2 against both Florida Atlantic and Southern Florida.
Jones was a bit smarter with the football last week in Florida's two-point loss to No. 1 Alabama, but he still threw an interception. With Jones' early-season struggles, many in Florida have called for backup quarterback Anthony Richardson to start, in similar fashion to the Vols.
The redshirt freshman Richardson has impressed the Gators in limited snaps, but it remains to be seen if Jones' valiant effort against Alabama secured him one more week as QB1.
Coming off a dominant 4-interception game versus Tennessee Tech, the Vols' defense will be looking to add more to its total. Jones is definitely no Willie Miller or Davis Shanley at quarterback, but if the Vols play fundamentally sound football, they should be able to stop Jones – or Richardson – from taking the game over the way Trask did.
Don't waste opportunities
Before the Vols' 2020 loss got out of hand late, they actually trailed Florida 10-7 with under four minutes remaining in the first half. Tennessee was driving at midfield with the chance to take the lead, or at least tie the game, but it stalled out and punted on fourth and 16. Bailey was sacked for a loss on third and long on the previous play.
Florida added a touchdown before halftime, and opened the second half with another demoralizing 75-yard touchdown drive. In under five minutes of game time, Tennessee went from a 3-point to 17-point deficit and could forget any thought of an upset.
So what do the Vols have to do to not repeat that same mistake? Not stalling out on a drive with major implications would be an excellent place to start.
Tennessee's dealt with this in its own right this season, most notably in the Pitt game when a first and goal at the 3-yard line turned into a third and goal at the 37 thanks to 3 offensive penalties. Tennessee settled for a field goal, and Pitt took the lead on the next possession.
The Vols were much cleaner against Tennessee Tech in penalties and overall drive efficiency, but it remains to be seen if they can do the same against a Florida team ranked No. 11 in the Coaches Poll.
Simply put, Tennessee cannot afford to shoot itself in the foot with penalties, three and outs, turnovers or whatever else might kill a drive. To pull of an upset in Gainesville, the Vols will need to be near-perfect in every aspect of the game they can control. And scoring on promising drives is a big one.