If you take a moment to hear his coaches and teammates talk about it, it would come as no surprise that Trey Smith is one of 20 semifinalists for the Jason Witten Collegiate Man of the Year Award.
The Vols' 6-foot-6-inch, 352-pound junior guard was announced as a finalist by the organization's selection committee on Wednesday.
Smith is one of three college juniors recognized and just one of four players from the SEC on the award list.
The Jason Witten Collegiate Man of the Year Award is given out to a male student athlete who has demonstrated a record of leadership by exhibiting exceptional courage, integrity and sportsmanship both on and off the field.
It didn't take long for Smith to make an impact when he arrived at Tennessee in 2017, earning Freshman All-American honors after his first season with the Vols.
During his sophomore year, Smith was diagnosed with blood clots in his lungs and was sidelined for most of the season. He was cleared to return to the team in a game-by-game basis ahead of the 2019 season.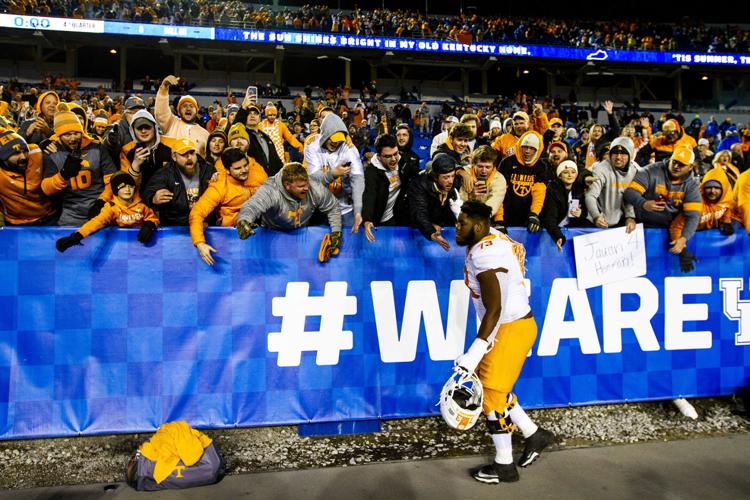 Through ten games this season, Smith has appeared in every contest, getting the start in nine of them.
Off of the gridiron, Smith served as a member of the 2018 SEC Community Service Team and was a Wuerffel Trophy nominee.
Most recently, Smith headed up a coat drive for the Knoxville Area Rescue Ministry and was selected to the VOLeaders 2018 Class.
There will be three finalists announced on Monday, Dec. 16, with the winner being announced at an award ceremony in Frisco, Texas on Feb. 18, 2020.
The winner of the award will receive a $10,000 contribution in his name to the school's athletic scholarship fund. That contribution will come courtesy of former Tennessee and current Dallas Cowboys tight end Jason Witten's SCORE Foundation.