Tennessee at one point led South Carolina by 5 touchdowns in the second quarter. It seemed like a lock that the Vols would cruise to their second consecutive 38-point win, and maybe even push a 50-60 point showing. But, that didn't happen.
South Carolina scored 13 points in the second half to make it close, but Tennessee held on in the end to defeat the Gamecocks 45-20 Saturday at Neyland Stadium. South Carolina was still threatening as late as halfway through the fourth quarter, but a Len'Neth Whitehead touchdown with under five minutes to play sealed this one for the Vols.
"In the first half, all three phases played really well," head coach Josh Heupel said. "There's things in the second half that you can't do. It's a great learning lesson for our players, the competitive edge and how fine of a line it is. You've got to be on the right side of that for 60 minutes."
Clad in the Dark-Mode black jerseys, Hooker turned in another quality start as a Vol. He totaled 225 yards and 4 touchdowns, which tied a career-high. With 3 touchdowns in the air, Hooker already has 13 passing touchdowns as a Vol. That total in just six games is more than Hooker threw for in 10 games in 2019 at Virginia Tech, when he had previously thrown for a career-high 13 touchdowns.
"I knew Hendon was a great quarterback, and now he's just showing everybody what he could do all along," redshirt senior wide receiver Velus Jones Jr. said.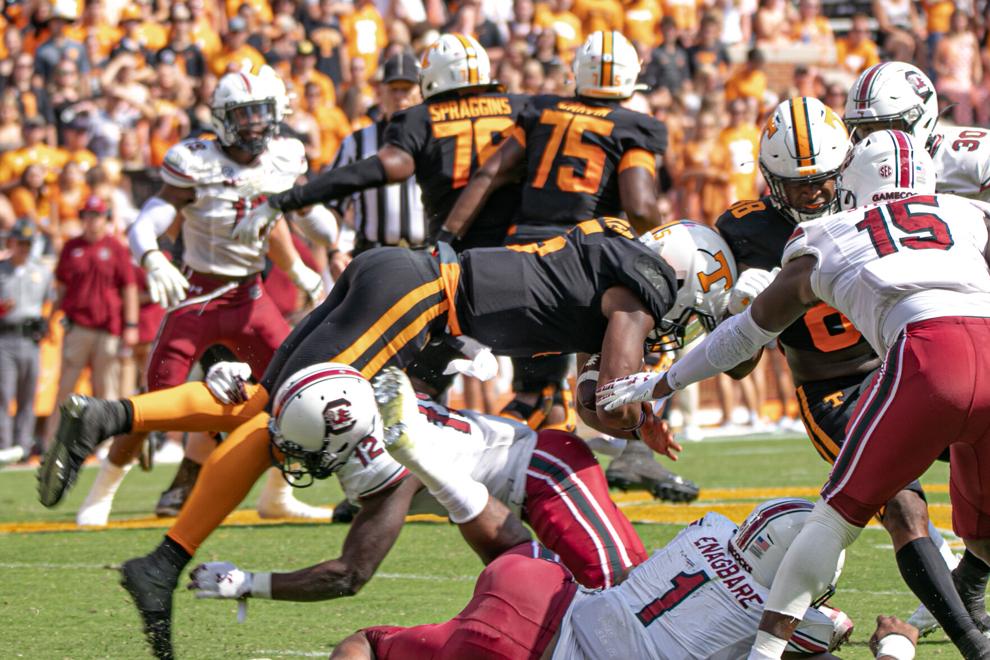 The Vols started the afternoon promisingly enough, scoring on its first 4 drives of the afternoon. Hooker completed touchdown passes to Jalin Hyatt, JaVonta Payton and Jones, running the fourth one in himself on the ground. With his 39-yard, scoring catch, Payton has now caught a touchdown pass in four straight games, the Vols' longest streak since Josh Malone had five such games in 2016.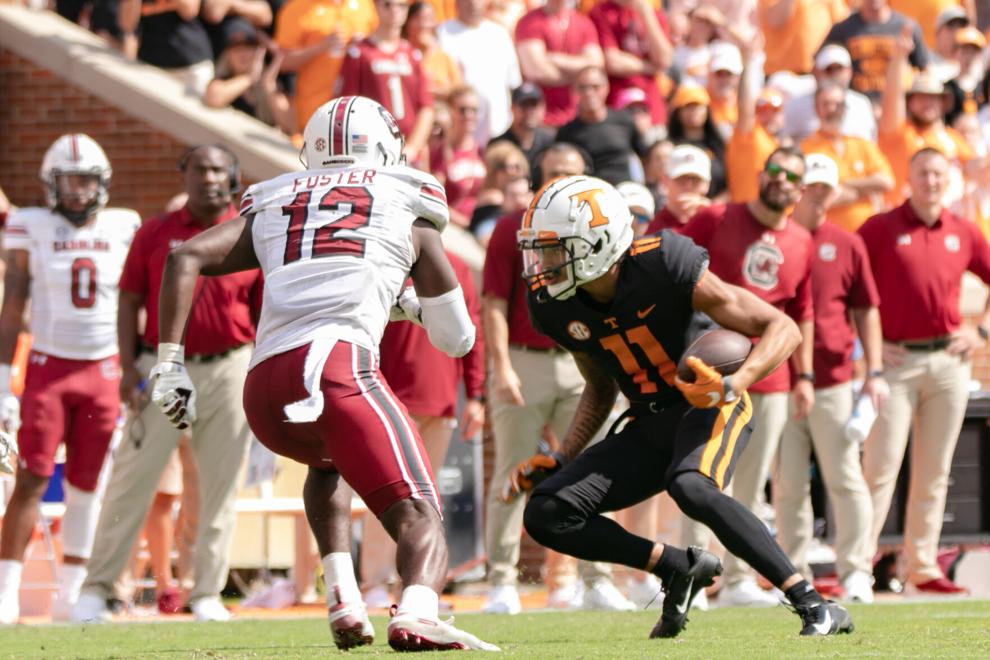 "Great preparation, great focus. Understanding what you're going to see from the other side of the football," Heupel said on the productive first half. "You see something different, being able to adjust. We had to do that last week. And then executing. Those were the great things that we saw early in the first half of the football game."
Hooker threw for 217 yards while completing 75% of his passes in the first half. The Vols rushed for 156 more yards on the ground, converted on 8-of-9 third down attempts and totaled 18 first downs. That dominance ended at halftime.
"Second half not far off, just not all 11. Just being a little bit off and you got to be better there and play a complete 60 minutes," Heupel said.
South Carolina found the end zone on 2 of its first 3 drives of the second half, cutting Tennessee's advantage to 38-20 at one point. South Carolina was finally clicking on offense, and conversely, Tennessee was struggling.
The Vols attempted only 3 passes over the second half, relying more on the run game to eat up the clock. That strategy did not pay off, and Tennessee punted on 4 straight drives.
"There was a portion where we felt like we hadn't gotten in rhythm and had to get that first down for an opportunity to drain the clock," Heupel said.
Tennessee forced a Gamecock turnover on downs midway through the fourth quarter and returned to the up-tempo offense, scoring 4 plays later on Whitehead's first career touchdown. That sealed the game.
"It was important for us to use a little bit of tempo at that time to help us," Heupel said.
For the second week in a row, Heupel's offense came out extremely fast in the first half but tailed off in the second. Last week's second-half drop off against a bad Mizzou team was not as costly, but it came close to hurting the Vols Saturday.
These things are fixable, but Heupel's Vols were good enough to win today, and that's what he wants to focus on ahead of difficult upcoming games against Ole Miss, Alabama and Georgia.
"It's a hard and tough game, with great players and coaches on both sides being highly competitive," Heupel said. "I'm pleased with the effort today. It's a bunch of one-week seasons, and I think our guys will flip the script on Monday and be ready to have a great week of preparation for Ole Miss."