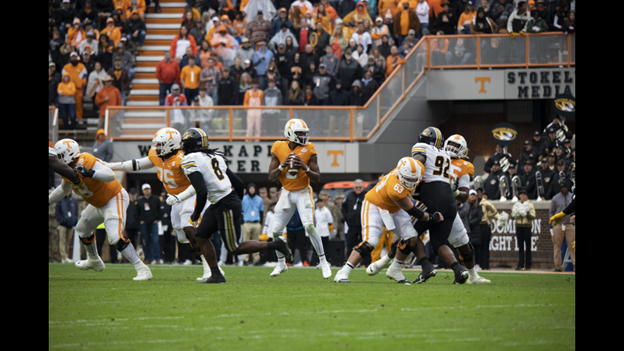 No. 5 Tennessee (9-1, 5-1 SEC) is on the road for its final two games of the season, first taking on South Carolina (6-4, 3-4) on Saturday in Columbia.
The Vols used last week's game against Missouri to remind the College Football Playoff committee that they have one of – if not the best – offenses in the country. Tennessee toppled the Tigers 66-24 breaking the program record for total yards in a game.
Vols' head coach Josh Heupel faced criticism for piling on another touchdown late in the game, but for him, it was more about just playing football than it was about making a statement.
"For us at the end of the day, our two's were in the football game when the ball went down to the 1-yard line or whatever it was," Heupel said. "(Kneeling) absolutely went through my mind.
"I don't know what the right thing to do is in that moment at the end of the day, but our guys continued to play football," Heupel said.
The Vols' offense wasn't the only thing that shined Saturday. The defense allowed just two trips to the red zone on Saturday.
"When it is going good, all 11 are operating as one. You are playing gap sound. You are tackling well," Heupel said. "But that happened because you are in good body positions because your eyes take you to the football."
Heupel and his team now shift their focus to South Carolina, which has had a shaky season but ultimately boasts a solid team and a loud environment at Williams-Brice Stadium.
"We've seen what it was like at Georgia, and moving forward, we know what to expect," Vols' quarterback Hendon Hooker said. "Anytime going into an environment like this, you want to prepare and do different things to get ready for that environment, so crowd noise at practice is a thing.
"But really just going out and locking in and communicating at a high level is what we need to do," Hooker said.
The Vols are focusing on one game at a time, but it's impossible to ignore the fact that Tennessee will need to play its best football to continue to impress the CFP committee. The Vols did it against Missouri, but any slip ups against South Carolina won't go unnoticed.
Individual awards are also something that can't be ignored. Hooker was firmly in the driver's seat for the Heisman, but a rough outing against Georgia meant the race was still on. Hooker is focused on winning first, but he still needs a few good performances to secure the coveted Heisman Trophy.
"He is playing at as high a level as I have ever had anybody, and I've had Heisman guys," Heupel said. "He is in complete command of what we are doing."
"We don't look like we do offensively without him. He certainly is deserving of being in that conversation," Heupel said.
Tennessee has made sure it doesn't look over any of its opponents, and the Vols won't look over South Carolina. This week, the Vols are making sure to stay locked in to control the Gamecocks tough offense.
"For us, we have to do a great job of controlling first and second down, and then play with discipline," Heupel said. "You can't let their tight ends or their wideouts run free. We have to match things out extremely well."