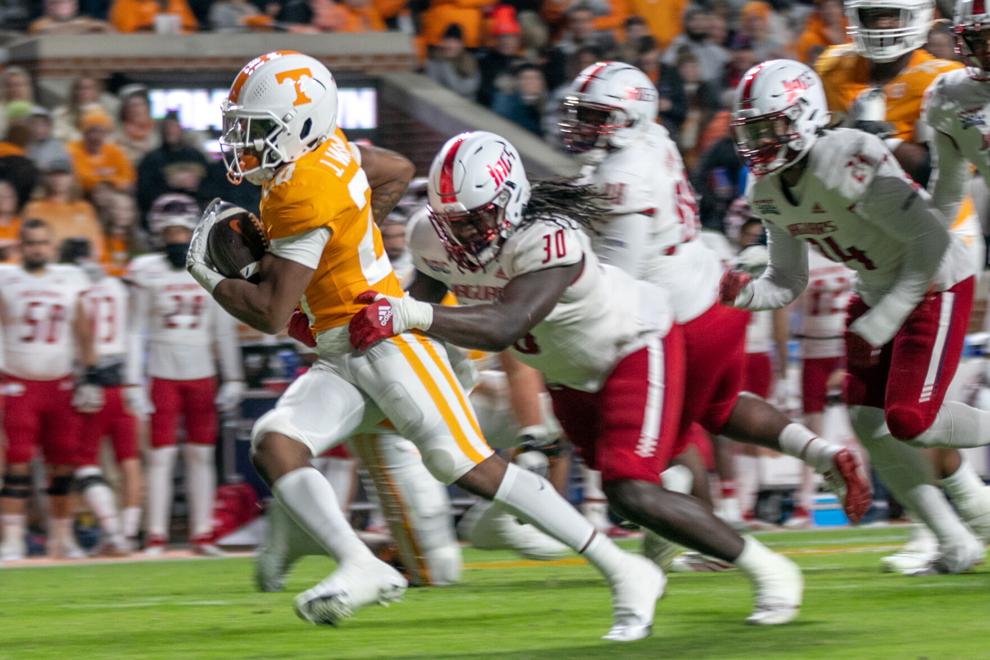 Former Tennessee linebacker Quavaris Crouch lined up in the backfield against Indiana in the 2019 Gator Bowl facing third and goal with a yard to go. The Vols were down 13, staring at a daunting deficit with under four minutes and 30 seconds remaining in the fourth quarter.
Crouch, a middle linebacker in at running back, took the handoff straight up the gut for 6. Moments later, freshman running back Eric Gray recovered a surprise onside kick to give the Vols the ball back with a chance to score to win its fourth straight bowl game.
And Tennessee did just that. Gray was standing in the end zone to give the Vols what would prove to be the game-winning score following the PAT just 3 plays later.
That moment seemed to be a sign of good things to come for the University of Tennessee football program. Instead, Gray, Crouch and a host of other Volunteers would transfer after the following season when the Vols finished 3-7 to kill all the momentum gained in 2019.
A year later, Tennessee fans welcomed Josh Heupel with little expectations in the early-going. The only real goal — win six games and make it back to another bowl game — seemed unlikely after the season many had just seen from the Big Orange.
But Heupel reached that milestone Saturday night against South Alabama. With Tennessee's 60-14 victory over the Jaguars, the Vols are bowl eligible once again.
For some Tennessee players, it was an easy ask. A repeated ideology among the Volunteers was that, "keeping a strong mindset" will always pay off when everybody buys in.
"From the outside looking in, it's been kind of ugly — but I don't doubt the people I go to work with every day," senior defensive lineman Matthew Butler said. "If you show me something that isn't to the standard, I'll address it. If you can raise it to the standard, I don't doubt you."
"If you're not at the standard, you probably aren't with us — people who transferred, who aren't on this team anymore. The people I go to work with I have full confidence in, because they show me day in and day out."
Vols receiver Cedric Tillman, then a redshirt freshman, rode the bench for most of the Indiana game. The Las Vegas, Nevada, native was a two-star athlete out of high school, and had hauled in just 4 catches for 60 yards in his 2019 campaign.
Now, the standout receiver leads the Vols with 51 catches and 825 yards in his redshirt junior season with the Vols.
Tillman stayed hot following a 200-yard performance against No. 1 Georgia in week 10, snatching 5 catches for 100 yards and a touchdown against South Alabama.
It doesn't stop there for the former undervalued two-star recruit. With his 27-yard touchdown reception to start the second quarter, Tillman completed his fifth straight game with a touchdown — the first such streak since Josh Malone did it to end the 2016 season.
Of course, none of that happens without the man under center. Virginia Tech transfer quarterback Hendon Hooker was back to his usual ways Saturday after a rough performance against Georgia.
Hooker finished with as many touchdowns as incompletions against a worn Jaguars defense, throwing darts to Tillman and tight end Princeton Fant before using his legs to give the Vols a 49-7 lead with seven minutes remaining in the third quarter.
"He's a great competitor. He would bounce back and learn from everything," Heupel said. "He's going to keep being aggressive too, and that's a sign of maturity. He had a great game."
Senior receiver Velus Jones Jr. also had a night to remember Saturday. The USC transfer led the team in receiving with 6 catches for 103 yards.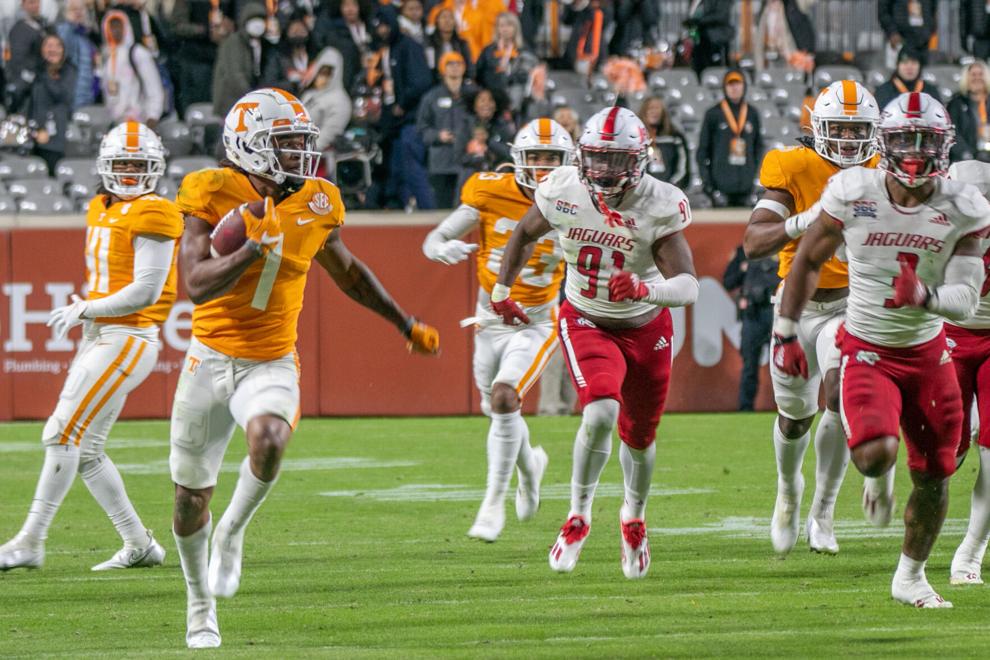 Jones returned a South Alabama kickoff 96 yards to score his first kickoff return touchdown as a Vol with just over a minute remaining in the first half. The Vols would head into halftime following Jones' return up 35-7.
"It's all about making memories and moments with my brothers," Jones Jr. said. "I give my blockers all the credit, without them that kickoff return wouldn't have been possible."
Tennessee played strong defense in the second half, holding the Jaguars to just one score from talented senior wide receiver Jalen Tolbert.
The Vols defense recorded back-to-back safeties to end all scoring, adding 4 points to the already commanding 56-14 lead.
Heupel and the Vols can't exactly be described as a rag-tag group, but certainly misses the talent lost in the offseason. Tennessee has achieved six wins with a shot at seven heading into a season without the services of its starting quarterback, running backs, receivers, linebackers and several members of either line from a season prior.
But Heupel excelled with the hand that was dealt to him, something the head man believes would have been impossible without the veteran players who stuck with the University of Tennessee when the going got tough following the 2020 season.
"For me coming in and not knowing them, they've been instrumental in communicating and setting the standard of what our program was going to look like," Heupel said "Just knowing what they've been through and where they want to go, what's true to who I am in our program."
"They care deeply about the Power T, they care about their teammates. It's a really special group."
Photo Gallery - Football vs. South Alabama