TUSCALOOSA, Ala.- The sounds and smells were familiar to Jeremy Pruitt.
In a room tucked away beneath the stands of Bryant-Denny Stadium late Saturday, cigar smoke seeped through the cracks and crevices, making the area smell more like a billiard hall than a post-game press conference.
Outside the door, fans, who had stayed behind nearly thirty minutes since the game had officially ended, continued to belt out their rendition of the band Alabama's song, 'Dixieland Delight.'
Pruitt, a former Alabama assistant coach, had been on the winning side of those traditions many times before. On this chilly, third Saturday night of October however, he was not.
He took to the podium, upset and even regretful about some of what transpired out on the field where his Tennessee team had just fallen to No. 1 Alabama on, 35-13.
UT vs. Alabama
The Vols lost 13 to 37 to No. 1 Alabama on Saturday, October 19, 2019 at Bryant-Denny Stadium in Alabama.
But Pruitt knows that the score board didn't tell the whole story. His embattled Vols team (2-5, 1-3 SEC), who has suffered through both embarrassing and gut-wrenching losses in 2019, was a play away from pulling within a score of the heavily favored Crimson Tide (7-0, 4-0 SEC) on their home turf in the fourth quarter.
"I think our guys learned a lot about themselves tonight," Pruitt said. "I couldn't be happier with the effort they played with...We had a chance there, going into the fourth quarter to cut it down to one score and we didn't take advantage of our opportunities."
Close, as they say, but no cigar. Those went to Alabama, instead.
Redshirt junior quarterback Jarrett Guarantano, who for the second-straight week was thrust back into action after true freshman Brian Maurer left the game early with an apparent head injury, decided to call his own number on fourth and goal down 28-13.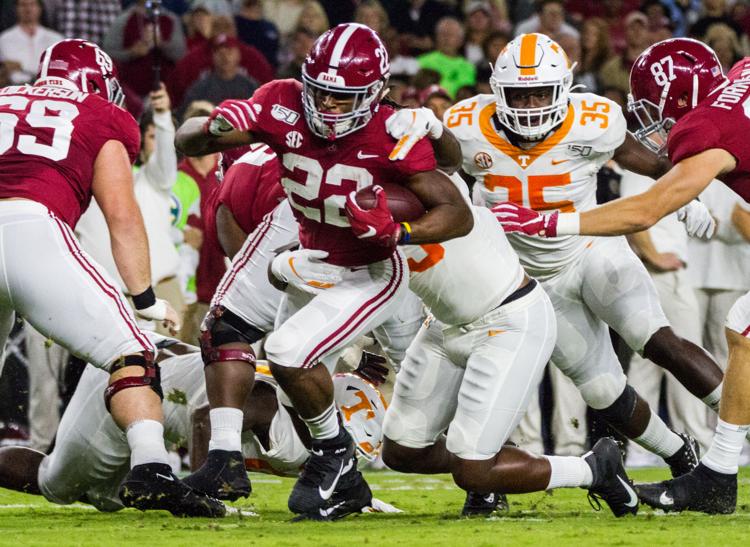 As he tried leaping over an impenetrable wall of crimson jerseys, the ball rolled into the back of the end zone. It was picked up and returned 100 yards the other way by Alabama defensive back Trevon Diggs.
Score: Alabama 35, Tennessee 13.
"We're close down there on the goal line," Pruitt said. "We had an opportunity to run the (quarterback) sneak and put the ball in there. There was some miscommunication out there. We talked on the sideline, elected to run the sneak. (Guarantano) shouldn't have jumped over the top, should have pushed it there."
It wasn't the only costly mistake the Vols made in the game, and a touchdown there wouldn't have guaranteed that Tennessee could have stopped Alabama's offense, but it certainly would have helped their chances.
The other mistake came late in the third quarter with the Crimson Tide holding on to a 21-10 lead and struggling to move the ball with sophomore quarterback Mac Jones, who replaced starter Tua Tagovailoa after he went down with an injury in the second quarter.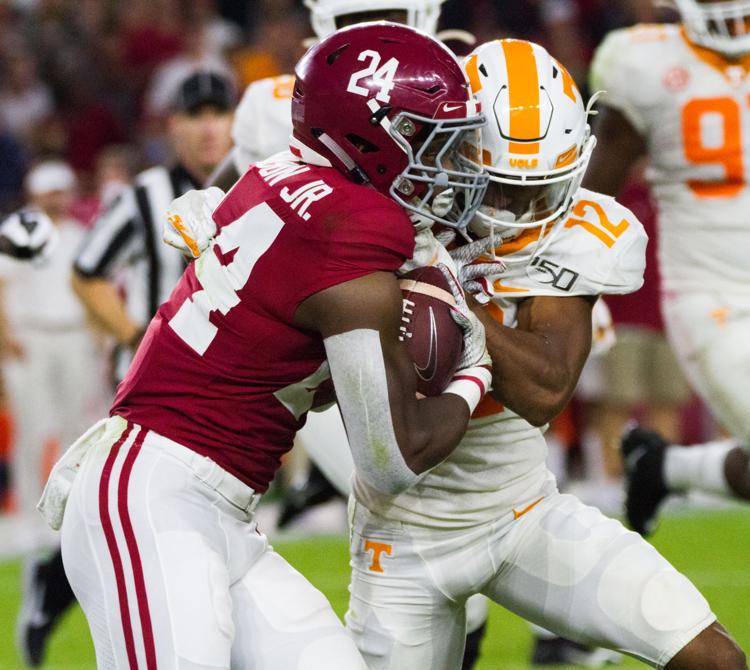 Tennessee outside linebacker Darrell Taylor came around the edge of the offensive line, completely unopposed before hitting an unsuspecting Jones for a sack. After getting off of Jones, Taylor was penalized for unnecessary roughness, turning an Alabama fourth-and-long into 15 yards and automatic first down.
The Crimson Tide went on to score and extend their lead to 28-10.
Upon review, the call was more than questionable and prompted a response from Pruitt, both immediately after the play and in his postgame presser.
"We got a sack there. It was a big part of the game, right there," Pruitt said. "It was a one-score game. We stopped them two times in a row. I don't know what happened, but they hit our quarterback (Maurer) and he got a concussion and there wasn't a flag. I don't know."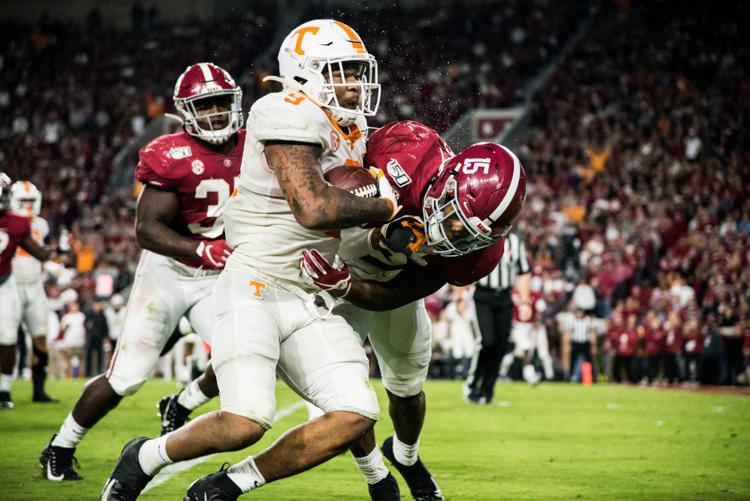 The crucial penalty on Taylor that kept Alabama's drive alive was just one example of the adversity Tennessee had to find an answer for all night.
After a three-and-out on offense to start the game, the Vols found themselves giving up a very quick, four play, 35-yard touchdown drive to put the Crimson Tide up 7-0.
Tagovailoa and Alabama were knocking on the door of extending that lead just a few drives later, but a strong Tennessee pass rush forced the Heisman-hopeful to throw a ball into the end zone where safety Nigel Warrior was waiting.
Warrior returned the ball down the sideline before being taken down around Alabama's 41-yard line.
"The tight end came across the field and Bryce (Thompson) ended up taking him," Warrior said. "I squared up, looked at the quarterback and he was throwing the ball. I just did what I had to do."
What Warrior did was give Tennessee's offense their best starting field position of the game up to that point.
The offense took advantage.
Converting on a pair of third downs, Maurer finished off the drive with a two-yard quarterback sneak to tie the game, 7-7.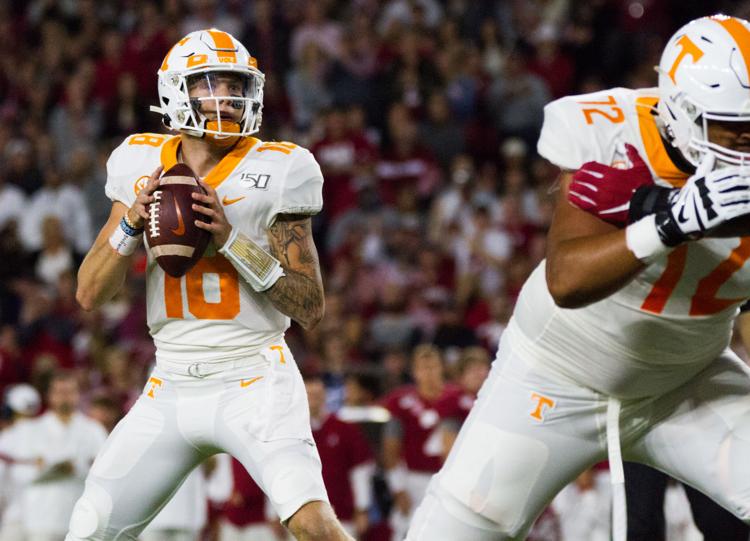 "I thought offensively, our offense line allowed us to run the ball better than we have all year," Pruitt said. "We got some push up there. They created some explosive runs against a good defense. It was really positive."
Alabama clapped back with two touchdown drives, but Tennessee kicker Brent Cimaglia connected on a 37-yard field goal to go into the half at 21-10.
The Vols last score of the game came on their first drive of the second half with another Cimaglia field goal to pull within eight, but the Crimson Tide were able to sustain a 76-yard scoring drive following the penalty on Taylor. The Guarantano fumble on fourth-and-goal put the game away for good.
"This was a tough fought game," Warrior said. "I'm pretty sure a lot of people didn't expect us to play the way we played. I think, in my heart we gave them a run for their money."