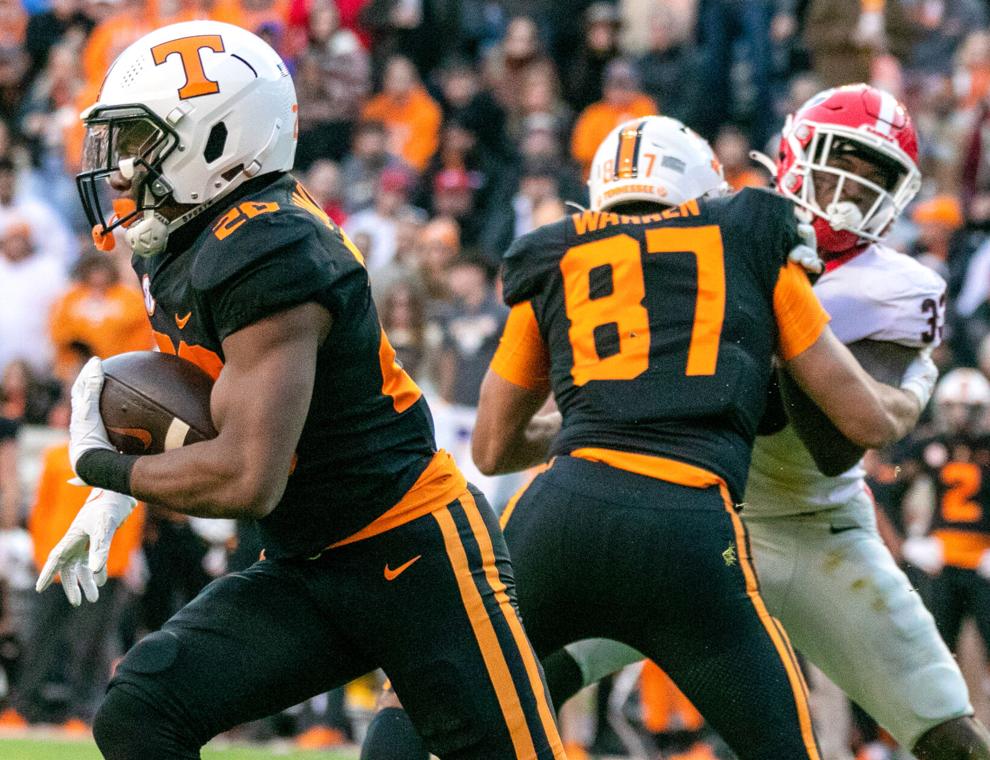 Tennessee didn't quite have the firepower necessary to down the top-ranked Georgia Bulldogs in week 11, dropping a mostly one-sided affair 41-17 Saturday night at Neyland Stadium.
Tennessee's fifth consecutive loss to the Bulldogs started out well, seeing the Vols jump to an early 10-7 lead at the end of the first quarter. The Vols faltered in the final 45 minutes of play, surrendering 34 straight points to fall to 5-5 on the season.
Here are three takeaways from Tennessee's failed upset bid of No. 1 Georgia.
Bennett outduels Hooker as a game manager
Tennessee wide receiver JaVonta Payton went down with what looked like a shoulder injury early in the first half. Payton has been one of Tennessee's better wide receivers this season, catching a touchdown in six of Tennessee's past seven games leading up to week 11 against the Bulldogs.
A big reason why Payton has been so effective is his breakaway speed. Opposing defenders have had a tough time containing the Mississippi State transfer this season, especially in one-on-one situations.
That speed was missed against Georgia. Tennessee quarterback Hendon Hooker struggled without perhaps his greatest weapon against a tough Georgia defense, missing deep balls to Jalin Hyatt and Ramel Keyton that likely would have been designed for Payton's speed.
"He's been a huge part of what we've done offensively," Tennessee head coach Josh Heupel said. "Ramel (Keyton) stepped in and did some really nice things, but doesn't have the same game experience as JaVonta. Next man up, man — it's the nature of the game."
It wasn't just a lack of speed at the receiver position that held Hooker back, though. His worst pass of the season was overthrown and picked by Bulldogs defensive back Derion Kendrick, a throw that marked a major turning point in the game.
Georgia was in the end zone with a 2-possession lead a few plays later.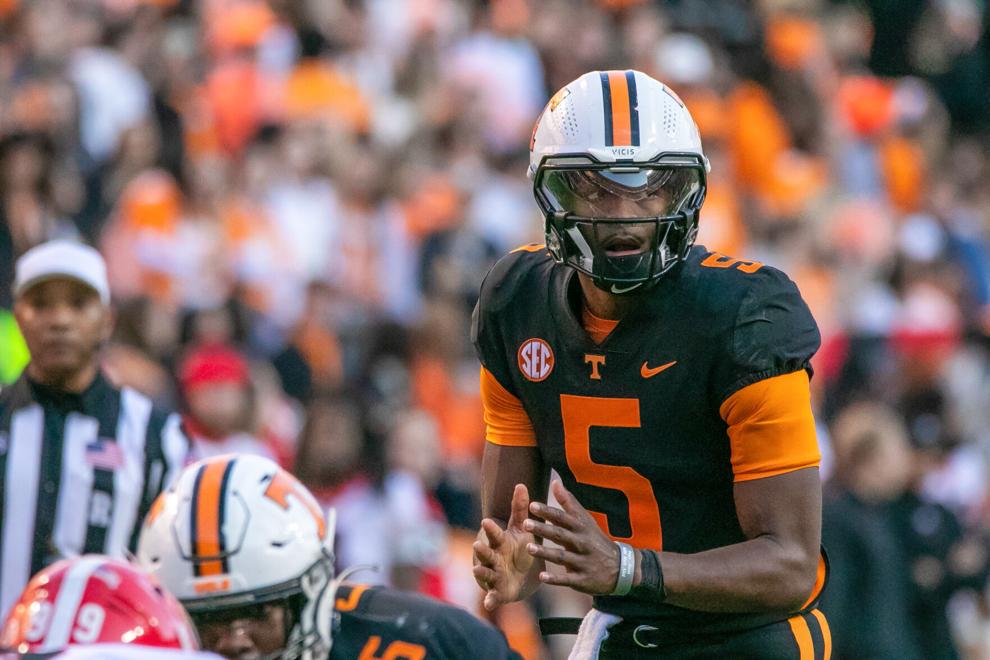 Hooker did not have a bad performance when compared to the national standard. The usually calm, collected Hooker went 24-37 for 244 yards with just 1 touchdown, an interception and a fumble in the later stages of the game.
In short, Hooker was just good against the Bulldogs — Tennessee needed him to be great to knock off the No. 1 team in the country.
Georgia's talent made that aspect of the game easier on their quarterback. The Bulldogs simply needed Stetson Bennett to manage the game, limit turnovers and make a few big time throws — and he did just that.
Bennett finished 17-29 for 219 yards and a touchdown. Most importantly, the Bulldogs quarterback didn't turn the ball over once.
"Football is a game of ups and downs, nobody is always going to be up," Tennessee receiver Velus Jones Jr said. "You just have to move forward and look forward to the rest of the game. Mistakes happen, that's the beauty of football … you can make up for it."
"We fought hard. Hendon fought hard."
Vols continue first quarter hot streak
Tennessee may have allowed 34 straight points from a shaky Georgia offense, but the Vols, as per usual this season, came out hot to start their homecoming matchup.
The Vols have outscored opponents 148-45 in the first quarter this season, adding three to the differential with a 10-7 score to end the opening quarter against the Bulldogs.
Tennessee has only trailed twice at the end of the first quarter this season by a combined 4 points, 10-9 against Ole Miss and 10-7 against Florida.
The Vols have scored a touchdown in every first quarter they have played this season, seven of which came on the first drive of the game. Only Tennessee Tech, Florida and Ole Miss have held the Vols scoreless on the first drive.
The Vols took just three minutes and 17 seconds to score out of the jump Saturday evening, marching down the field for a 10 play, 77 yard drive that ended with a 12-yard out to Jones Jr.
The Vols are one of only three teams to score 2 touchdowns on Georgia's defense this season, also scoring the most of anyone the Bulldogs have faced.
"We may have scored more than what other teams have averaged, but we expect that," junior receiver Cedric Tillman said. "We like to think that we are one of the best offenses in the country."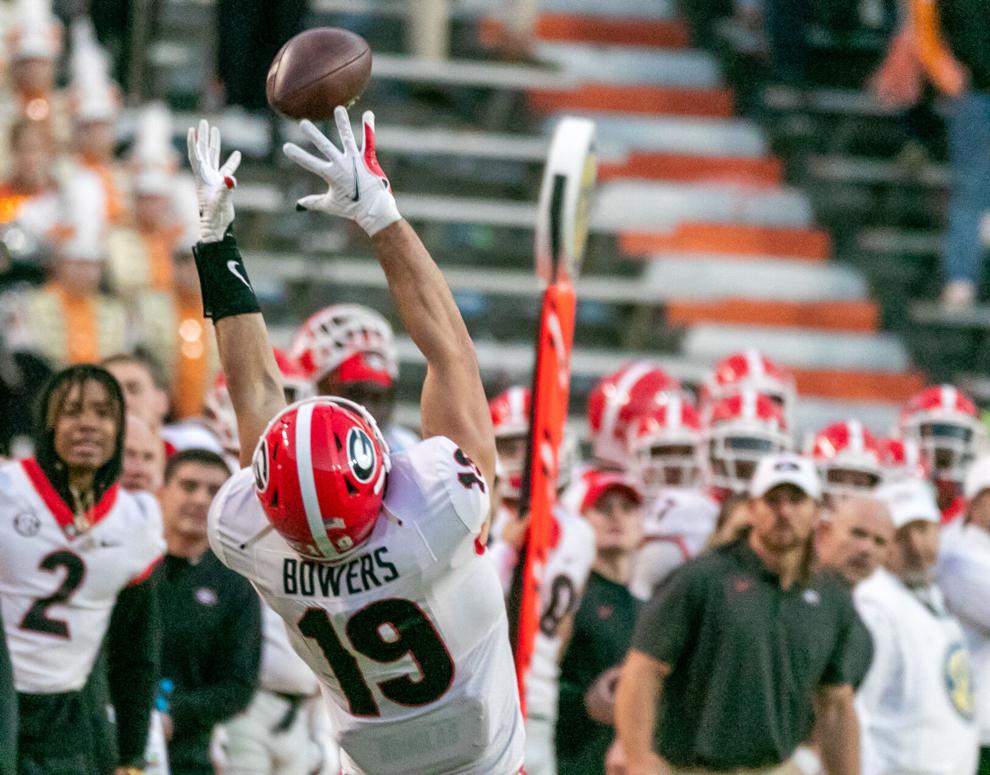 "We had our moments, but we have to get better."
Few crucial plays prove costly for Vols
A lot of Tennessee's struggles after the first quarter stemmed from Hooker's interception that eventually led to a Georgia touchdown to put the Bulldogs ahead, 17-10.
Tennessee was unable to answer, and Georgia scored once again to take a 24-10 lead heading into halftime.
"We got the next drive going, air-mailed the ball and ended up throwing a pick," Heupel said. "When it's going good the guys are doing ordinary things at a high level, but when it's not it's probably something along those lines."
By no means was the game over at that point, but the small mistakes were starting to pile up for the Vols.
Tennessee had a chance to cut the lead to 7 following a three-and-out from Georgia to start the second half. Facing fourth down, Hooker rolled to the left and threw an errant pass over the head of Princeton Fant to turn the ball over on downs.
That play was met with plenty of boos that rang throughout Neyland Stadium, frustrated with the drive as a whole. Tennessee's offense, known for its tempo, had gone too fast for its own good.
Georgia, as it was the entire night, pounced when the Vols were down. The Bulldogs used the turnover on downs to jump to a 17-point lead to effectively put the game out of reach.
"Tonight wasn't our best football," Heupel said. "I don't want to take anything away from Georgia. They're really good at all three phases of the game."
"We'll look at it and get ready for the next one."
Photo Gallery - Football vs. Georgia