Tennessee's second win of the season came in dominating fashion. The Vols blitzed Tennessee Tech, 56-0 to improve to 2-1 on the season heading into SEC play against Florida next week. Tennessee has held the Golden Eagles scoreless through their last three matchups dating back to 1951.
Here are three takeaways from the Vols' commanding performance against Tennessee Tech.
Hooker shines in starting role
Hendon Hooker impressed in his first career start at quarterback for Tennessee. The fifth-year senior totaled 199 yards passing on 17/25 attempts for 3 touchdowns. Hooker also led all rushers with 64 yards and a touchdown in the third quarter.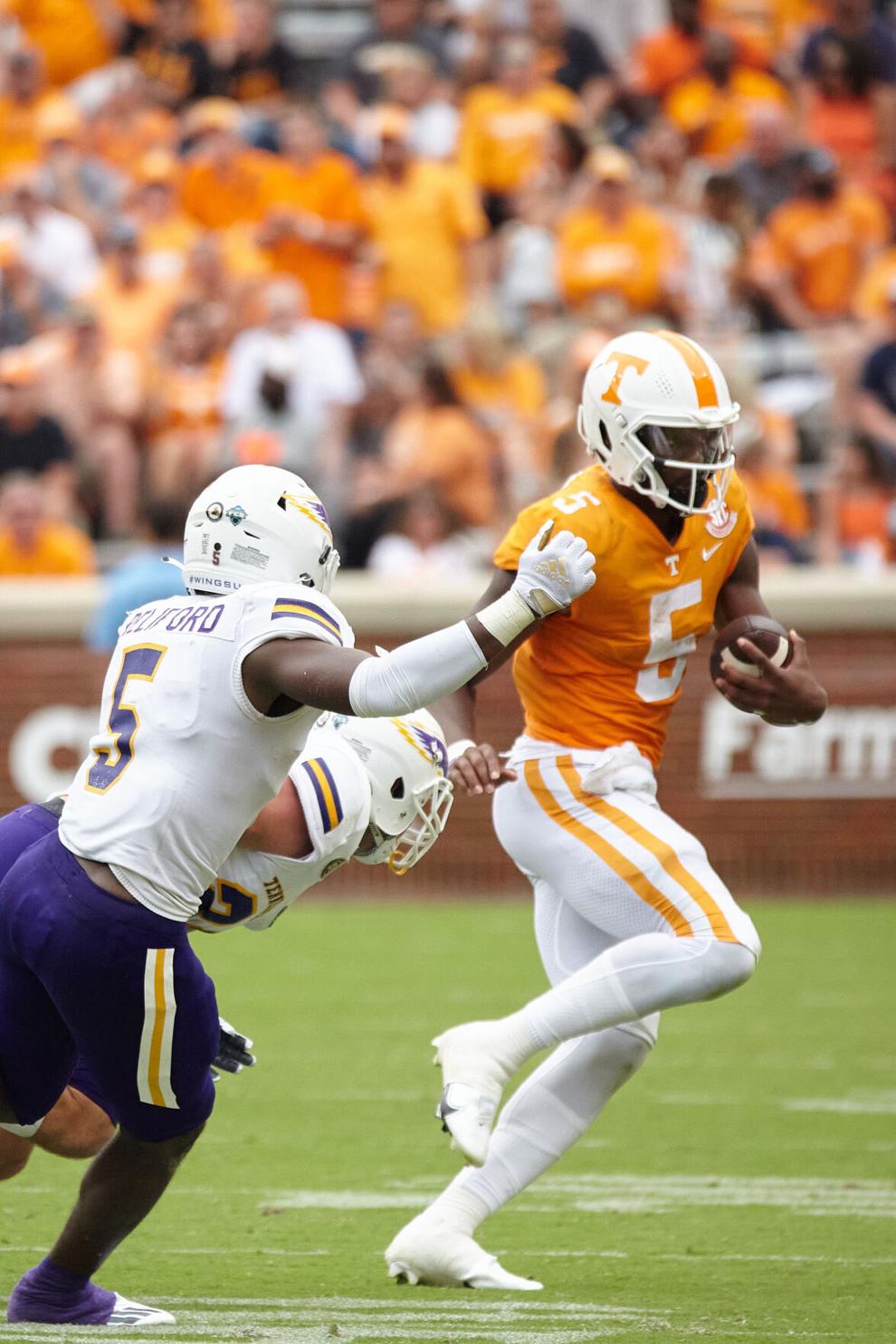 Hooker's 4 touchdown performance against Tennessee Tech is the most scored by a Tennessee quarterback since Joshua Dobbs in 2016.
His dual-threat ability is what set him apart, especially necessary behind a makeshift offensive line. His ability to scramble resembles that of Dobbs, something he showed off early in the first half with a 25-yard scramble that was just a yard short of scoring.
As with any quarterback, he had his fair share of struggles as well. Hooker fumbled late in the second half after a huge hit from Allen Jayvian.
"(There were) some real positives. He's decisive and accurate at times, and did a good job using his feet as well, but the turnovers can't happen," head coach Josh Heupel said postgame. "We're not connecting on some plays, we have to make those."
Regardless, Heupel may have a decision to make when it comes to his starting quarterback next week against Florida.
Injuries are starting to pile up
Tennessee is heading into a week four matchup against Florida with a long list of players that have suffered injury problems.
To start, Jabari Small, Joe Milton III and Cooper Mays were all declared inactive pregame. Others, such as Juwan Mitchell and Bryson Eason, were withheld for unknown reasons.
A few Vols exited early due to injury as well. Cedric Tillman left the game late in the second quarter.
No position group has been hit harder than the offensive line so far this season, however. Cade Mays and Kingston Harris, who was in for previously-injured Cooper Mays, both left the game late in the second quarter.
"The health of the offensive line will always concern me," Heupel said postgame. "We have to get our guys healthy."
The Vols have yet to play a relatively healthy game thus far this season. Last week's loss against Pitt came without the services of Tennessee's top two running backs, center, edge and wide receiver.
Preserving the shutout
Saturday was Tennessee's first shutout since 2019's 45-0 victory over Chattanooga. The Vols have outscored the Golden Eagles 184-0 in their last three matchups.
Tennessee Tech failed to reach the redzone and only had one shot at scoring – A Devin Parker field goal attempt that sailed wide right.  
Tennessee Tech had trouble moving the ball downfield all game, but turnovers did the Golden Eagles no favors. Tennessee's defense came up with four takeaways, highlighted by a pick six courtesy of fifth-year senior Solon Page in the third quarter.
The Vols allowed just 179 total yards, most of which came when the game was well out of hand. Even with a commanding lead, the Tennessee reserves sought to preserve the shutout in later stages of the game.
"Don't let the foot off the gas, we want the shutout," Jaylen McCollough said postgame. "We just trusted in those guys."
Tennessee's 56-0 performance is the Vols' largest margin of victory since 2018's 59-3 rout of ETSU.