Tennessee football picked up right where it left off last Saturday against Mizzou in the first half of their week six matchup with South Carolina. The Vols went into halftime with a dominating 38-7 lead.
The offense faltered in the second half, but Tennessee still held on to win in convincing fashion, 45-20.
Here are three takeaways from Tennessee's second straight SEC victory.
A tale of two halves
It was déjà vu for Tennessee fans in the first half. Tennessee was quick out of the gate, scoring on 6 of their 7 early drives – 5 of which were touchdowns.
The Vols totaled 383 yards of total offense in the first half and held the Gamecocks to just 181. For the second week in a row, Tennessee had a 30-point halftime lead.
That's where the similarities stopped. Unlike last week's game at Missouri, Tennessee sputtered out of the break. The Vols posted 2 three-and-outs on their first drives.
The defense let their foot off the gas, too. South Carolina's second touchdown of the day came off a 44-yard fake punt reception.
"Obviously, the first half we played really well, but there's things in the second half that you just can't do," head coach Josh Heupel said. "It's a great learning lesson for our players, just the competitive edge – just how fine of a line it is and how you've got to be on the right side of that for 60 minutes. Some things we have to be better at."
Tennessee tightened up in the fourth quarter but was still outscored 13-7 in the second half.
Hooker impresses yet again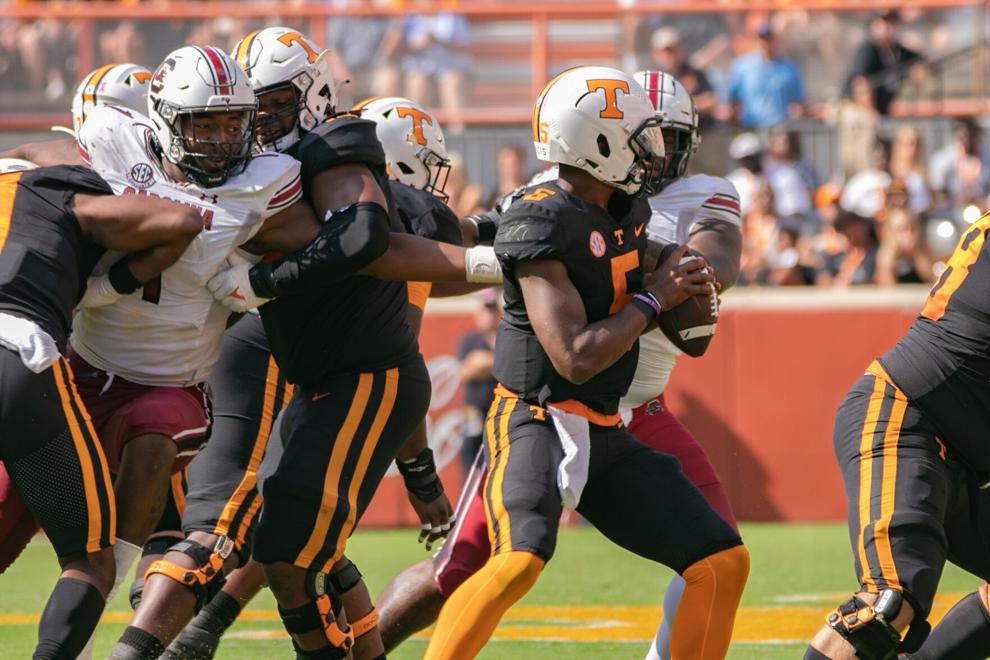 Starting quarterback Hendon Hooker had another impressive game to add to his breakout season at Tennessee, completing 17-of-23 passes for 3 touchdowns and no turnovers.
Hooker has been excellent for Tennessee this season at the helm of the offense. The Virginia Tech transfer has totaled 1,058 yards, 13 passing touchdowns and 1 interception in his five appearances at quarterback this season. On top of that, Hooker has 282 yards rushing and 3 touchdowns on the ground.
Hooker's 13 passing touchdowns has already tied his career high, which he achieved at Virginia Tech in nine games in 2019.
Hooker orchestrated three of Tennessee's first four scores of the game. The first was a 3-yard bullet to Jalin Hyatt, who made a tough catch in traffic to put the Vols up 7-0.
His 39-yard score to JaVonta Payton was the highlight of the afternoon for the Vols. Hooker faked a delayed handoff before lofting a pass to Payton, who was wide open in the South end zone. It was the duo's fourth touchdown connection of the year.
"I knew Hendon was a great quarterback, now he's just showing everybody what he's been able to do all along," senior receiver Velus Jones Jr. said. "I feel like he is real comfortable, has all the confidence in the world."
Jones found the end zone via Hooker with 12 seconds remaining in the first quarter. He took a shallow route 21 yards to the house.
Next man up
The Vols had a lengthy list of inactive players on Saturday. Lineman Elijah Simmons, running back Jaylen Wright, linebacker Juwan Mitchell and defensive backs Theo Jackson, Doneiko Slaughter and Christian Charles were all unavailable against the Gamecocks.
Brandon Turnage started at STAR in place of Theo Jackson and thrived in his role. The Alabama transfer led the team with 14 tackles and 2 tackles for loss.
"Honestly it was just truly a blessing," Turnage said. "Coach, every day every week just talks about everybody being ready, everybody being prepared. My name was called, and I just went out there and did what I had to do."
The Vols have had their share of injury problems this year and that depth has been something that has shined through in relief. Charles, who stood in for Trevon Flowers, had a strong first start against Mizzou in week five.
Heupel had some high praise for those who stepped up big on defense against the Gamecocks.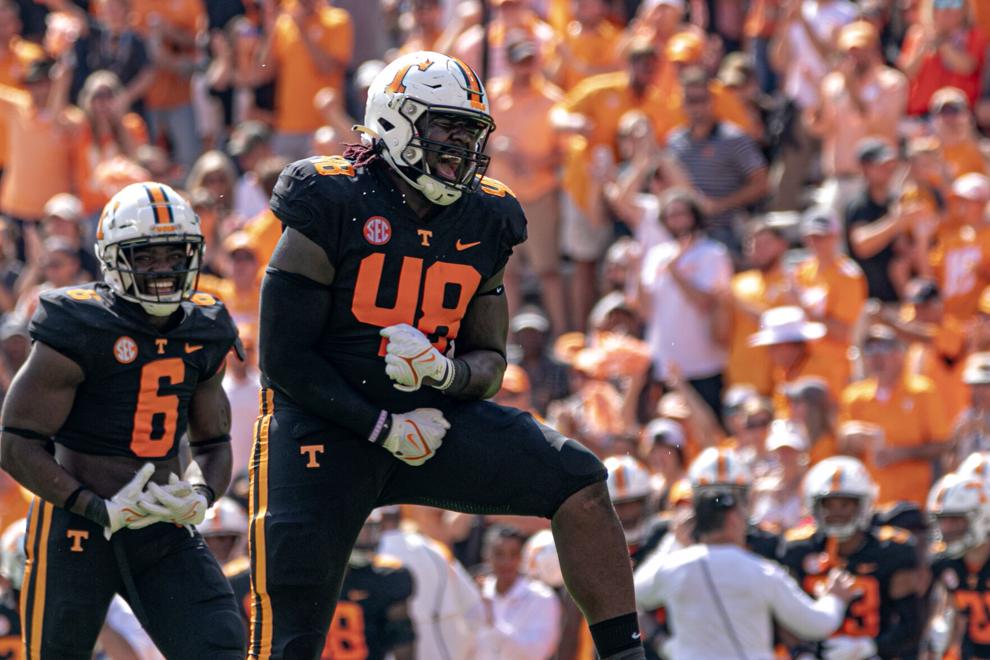 "You look at the defensive side of the football with all those guys out – starters, maybe a guy that was a backup, there were some new guys out there today," Heupel said. "They showed up, they played hard … there's a lot to be proud of."