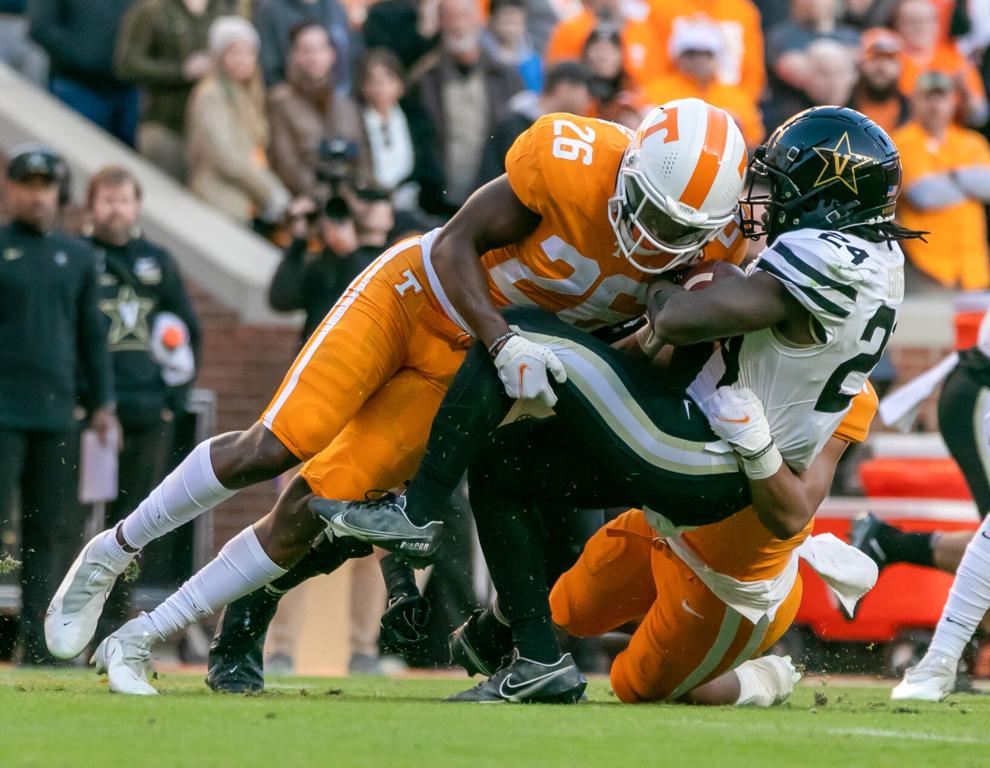 Theo Jackson said earlier in the week that this week's matchup with Vanderbilt would be personal for him.
Jackson grew up in Nashville, lived 10 minutes from Vanderbilt's stadium and was a standout player at Overton, a nearby high school. Jackson lost to Vanderbilt his first two season at Tennessee, and he didn't want a repeat of that experience.
On Senior Day, the Vols' fifth year senior Jackson made sure Tennessee ended its regular season with a win, snagging a first quarter pick-6 as the Vols cruised to an 45-21 win over in-state rival Vanderbilt Saturday evening at Neyland Stadium.
"It was crazy. Theo talks a lot about making a play like that," wide receiver Cedric Tillman said. "So I was just happy and excited for him to get a pick-6, especially on Senior Day. It was definitely dope."
Vanderbilt's offense looked better than usual on its first drive of the game. The Commodores (2-10, 0-8 SEC) quickly gained a first down, as Mike Wright completed 2 passes that brought them to midfield.
Wright dropped back to pass on the next play, but he was hurried by Tennessee linebacker Jeremy Banks. Wright rushed the throw and Jackson jumped across to pick it off. He ran it back 55 yards virtually untouched, the Vols' third pick-6 of the season. It's the first time since 2013 the Vols had three pick-6's in a season.
"The play prior to that he threw the same exact ball," Jackson said. "Coach (Willie) Martinez got onto me about not getting out there fast enough. Once I seen that they ran the same play to the other side, I knew I had to jump it. And then the only thing I seen in front of me was green, so I knew I had to score."
Jackson's defensive score helped alleviate an underwhelming day from the Tennessee offense. The final score is a bit deceiving, because for most of the first quarter, Tennessee (7-5, 4-4 SEC) could not establish its offense.
The Vols gained just 51 yards in the first quarter, going 1-for-3 on third down and 0-for-1 on fourth. Hendon Hooker had just 19 passing yards. With enough cushion because of Jackson's score, the Vols were able to figure things out. They outscored Vanderbilt 17-0 in the second quarter and never looked back.
For Jackson, the best part of the interception was that he did it in front of his family. Jackson's family sat at the end of the north end zone, the same end zone Jackson completed his first career pick-6. Jackson having his extended family there for his Senior Day made the play even more special.
"Once I cleared everybody, I was looking straight at them," Jackson said. "That was really the best feeling that I could ever have, scoring a touchdown right there in front of my family. And then I had everyone here, so that made it even better."
Jackson and the rest of the seniors took care of business during the regular season, so now they'll have a chance to play in Tennessee's first bowl game in two years, the specifics of which will be announced in early December.
Jackson always has the option to sit out of whatever bowl game Tennessee attends to preserve his health ahead of the NFL Draft, but he loves football and his team too much to do so.
"I love football too much to sit out," Jackson said. "It's really good, just knowing that us seniors built up the foundation from where it was," Jackson said. "Heup coming in and getting a bowl winning season. It's really good to go out the right way."
Photo Gallery - Senior Night Football versus Vanderbilt