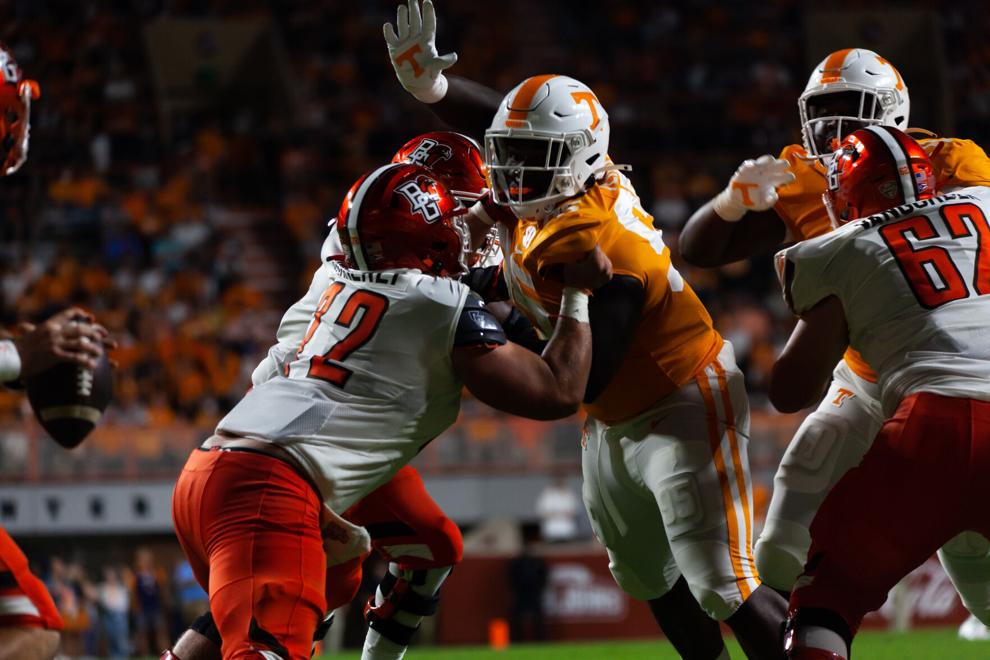 Tennessee head coach, Josh Heupel, met with the media Monday afternoon for his weekly press conference. His Vols improved to 1-0 Thursday night against Bowling Green State, 38-6.
Here are three things we learned.
Heupel: Tennessee will look to emphasize "operating as one"
The coaching staff was generally pleased with how their players performed in Tennessee's rare Thursday night opener. The Vols were dominant for three quarters and the final score reflected that, despite a poor second quarter.
As with any leader, coach Heupel wants to see more from his young squad.
"Collectively, we could be a lot better, but a lot of positives," Heupel said. "When it looked good, all 11 were operating as one. When it didn't, somebody was off. We've got to have great fundamentals and technique, learn from those things and get better this week."
Heupel really pushed the idea that no team is a team if they are not on the same page. Thursday's postgame conference placed a heavy emphasis on efficiency, a concept that goes hand-in-hand with Monday's comments.
One area where Tennessee can act on that challenge is in the passing game. Joe Milton and his receivers saw stretches of miscommunication in Thursday's game, especially in the second quarter.
Updates on player availability Saturday
Cooper Mays went down in Tennessee's week one matchup and didn't return to the game. Coach Heupel provided an update on Mays, as well as sophomore receiver Jimmy Calloway and linebacker Byron Young. Both Calloway and Young were unavailable in week one.
"Cooper is in the building today and moving around," Heupel said. "As the week unfolds, we'll continue to get a better feel if he will be at 100% for kickoff."
Ollie Lane filled in for Mays after he left the game late in the first quarter. The offensive line struggled for much of the second quarter, aiding a momentum shift that saw the Falcons outscore the Vols 6-0 going into halftime.
The relief in Mays' absence tightened up in the third quarter. Jerome Carvin slid over to center and stabilized the struggling group.
"I thought Jerome sliding over executed and performed at a really high level inside, did a great job of communication and getting everybody on the same page," Heupel said.
Calloway is expected to be available for week two, while linebacker Byron Young is still pending National Collegiate Athletic Association (NCAA) approval to compete.
Pitt presents tough defensive challenge in week two
The Pittsburgh Panthers out of the Atlantic Coast Conference (ACC) present a tougher challenge in Tennessee's second contest of the year. Pitt's defense is especially tough and presents a change of pace for transfer quarterback Joe Milton and the rest of the offensive unit. The Panthers beat UMass 51-7 last week.
"You're going to see a bunch of man-press based out of quarters, but they'll play multiple coverages out of it," Heupel said. "They're a well-coached team in all three phases of the game. They're going to be tough and physical on the perimeter and inside the core, too. You have to be tough, you got to have strain, you got to play with a physical presence."
The Panthers had an excellent defense last season, one that allowed just 24 points per game. Their primary objective against Tennessee will be to slow down the Vols' volatile offense and force Milton into a lot of uncomfortable situations.
Heupel is focused on building off last week's mistakes and improving in preparation for Pitt.
"The focus this week is on Pitt," Heupel said. "It's really on us correcting the things we can control."
The officially dubbed "Johnny Majors Classic" kicks off at 12 p.m. EST.