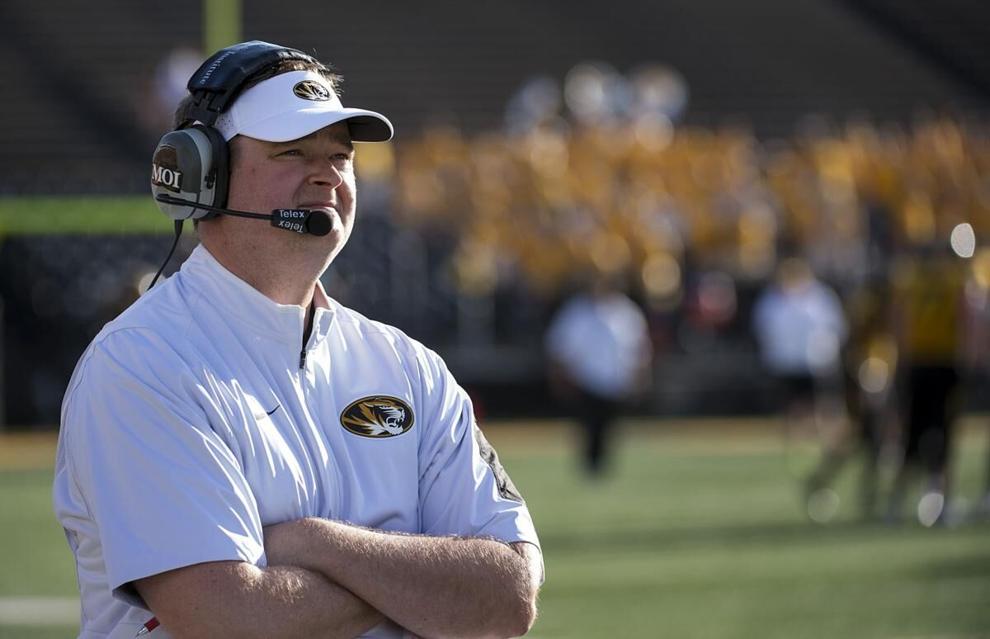 Tennessee has hired a new football coach. The university announced Wednesday morning that Josh Heupel will be the program's next head football coach. Heupel will take over following the firing of Jeremy Pruitt on Jan. 18 for multiple Level 1 and Level 2 NCAA violations.
Heupel brings a lot of experience to Knoxville. He was the head coach at the University of Central Florida for three years and was hired at UCF in 2017 by Danny White, who was the athletic director there at the time and is now the Vols' AD.
Heupel had a standout career as a quarterback at Oklahoma under head coach Bob Stoops. In 2000, he finished as the Heisman Trophy runner-up, as well as an All-American, the AP Player of the Year and a Walter Camp Award winner. Heupel led the Sooners to an undefeated season and a national championship that same season.
After a brief stint in the NFL, Heupel returned to his alma mater as a graduate assistant to Stoops. In 2006, he was named the quarterbacks coach at Oklahoma, where he had great success. Heupel coached Sam Bradford in 2008, his Heisman Trophy winning year.
In 2010, Heupel was promoted to the Sooners' co-offensive coordinator, where he was in charge of calling plays. He served in this role until 2015, when he was fired following an 8-5 season.
"It gave me a chance in some ways," Heupel said of his firing. "Just to kind of restart and look at what I want to do on the offensive side of the football. . . . It gave me an opportunity to re-shift my focus on what I wanted to be as far an identity on the offensive side of the football."
Heupel spent one season as the offensive coordinator at Utah State and two seasons in the SEC as Missouri's quarterbacks coach/offensive coordinator, where the Tigers led the SEC in total offense.
That brings Heupel's career up to 2017, when as mentioned earlier, he was hired by White as UCF's head coach, following the departure of Scott Frost. In his first season, the Knights went 12-0, before losing to LSU in the Fiesta bowl. He followed that up with a 10-3 record in 2019 and most recently went 6-4 in the shortened 2020 season.
Though Heupel has just three seasons of head coaching experience, he has been a winner at every stop of his career. He is an offensive-minded coach, and his time at UCF says as much.
The Knights have ranked in the top-eight nationally in scoring offense and have averaged at least 42.2 points per game in all three seasons he's been at the helm. They averaged at least 522.7 yards of total offense in his time there. And even in the uncertainties of the year 2020, Heupel had offensive success.
The 6-4 record does not look great, but it is somewhat deceiving. UCF lost three regular-season games by a combined 12 points, before being blown out in the Boca Raton Bowl by BYU.
As a former quarterbacks coach, Heupel knows how to work with his quarterbacks. UCF ran a fast-paced, explosive offense that was second in passing, averaging 373 yards per game. Heupel's quarterback Dillon Gabriel, a former three-star recruit, also ranked second in passing yards per game at 335.3 behind Florida's Kyle Trask. Other quarterbacks Heupel has coached include Drew Lock, McKenzie Milton and Landry Jones.
Heupel's style of offense doesn't match the pro style Tennessee ran under offensive coordinator Jim Chaney. However, the 42-year old isn't concerned about implementing his offense.
"We've done it successfully multiple times, different places that I've been," Heupel said. "Your coaches have to get caught up to speed on what your doing if they haven't been inside of the system. You got to coach your coaches. And then your coach has got to put in time with your players. And there's only one way to get where you need to be, and that's time effort and energy. And our players have to be willing to go above and beyond to get to where we need to be. We will be able to get there, no question in my mind."
For a program like Tennessee, which has had numerous problems at the quarterback position these last few seasons, having a coach that can get the best out of his passer will be a welcome change.
Heupel's recruiting does not stand out as a great strength the way that Pruitt's did when he was first hired. In his three seasons at Central Florida, his classes were ranked 62nd, 60th and 75th respectively, by 247 Sports. He did not land any four or five-star recruits during that period.
However, with the way Heupel can develop offensive personnel, specifically quarterbacks, recruiting might not be the biggest issue for the Volunteers. Tennessee already has a former four-star quarterback in Harrison Bailey on its sideline. With the potential Bailey showed in his limited playing time last season and Heupel's coaching, Tennessee might have one of the top offenses in 2021.
Heupel is a great offensive mind, but one area of concern from his time in Central Florida was the defensive play; now that's not totally his fault, but it should be important to UT, which finished in the middle of the SEC in team defense last year and recently lost linebackers Henry To'o To'o and Quavaris Crouch to the transfer portal.
In Heupel's first year at UCF, his defense was No. 95 in the nation. In 2019, his defense was much improved, ranked at No. 42 nationally, while holding its opponents to 346.1 yards per game. The group took a step in the wrong direction last season, falling to No. 123 of 127 after allowing 491.8 yards per game. Of course, that is not his primary area of concern, but those numbers are somewhat alarming. 
Nevertheless, the potential Heupel brings to Knoxville kicks off a promising era of Tennessee football.